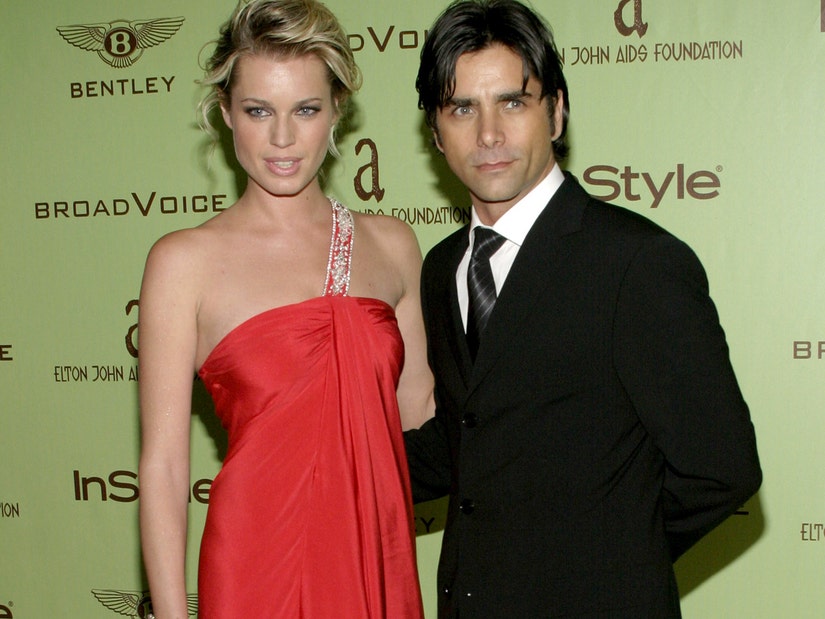 Getty
John Stamos looks back on his six-year marriage and divorce from Rebecca Romijn, saying that while at the time of their split he felt she was "the devil," he's since changed his perspective.
While discussing his new memoir, If You Would Have Told Me, with People, Stamos recalled his relationship with the fellow actress and the divorce that "shattered" him.
"My first marriage was shattering to me. I was shattered for way too long, too," Stamos, who was married to Romijn from 1998 to 2004, told the outlet. "I mean, a year, okay, good. But it went on [for] years and years."
He continued, "In my mind back then, she was the Devil, and I just hated her. I couldn't believe how much I hated her, and it ruined my life. Looking back, and I talk about it [in the book], because it's one of the steps in AA where the fourth step is you lay out all your grievances, everything that people did to you. I go like, 'None.'"
While the Fuller House actor admitted that it was "really difficult" to write about his failed marriage to Romijn, over time, he came to accept the part he played in their breakup.
"You start thinking, it's like, 'Oh, she wasn't the Devil. Maybe I was as much to blame as her,'" he said. "It was very public, and that was very painful. I didn't write much about that, but it's hard."
"It was very much the opinion that she dumped me because her career was going great and mine wasn't, and that's humiliating," Stamos added. "I don't blame her for it. It was just the perception that people took, and maybe they weren't wrong. She was doing great at that time and I wasn't."
TooFab has reached out to Romijn's rep for comment.
Stamos turned to drinking and would go on to struggle with alcohol for some time in what he called an unhealthy healing process. But without that dark time, he said, he would've never been able to be with someone like his now-wife, Caitlin McHugh.
"I never would've known what a real love is, and I would've never straightened up to get someone like Caitlin in my life," Stamos shared.
He added, "If I didn't go through all the things, all the heartache, I wouldn't be who I am today. That's what I hope people take away from it."
If You Would Have Told Me hits shelves October 24.