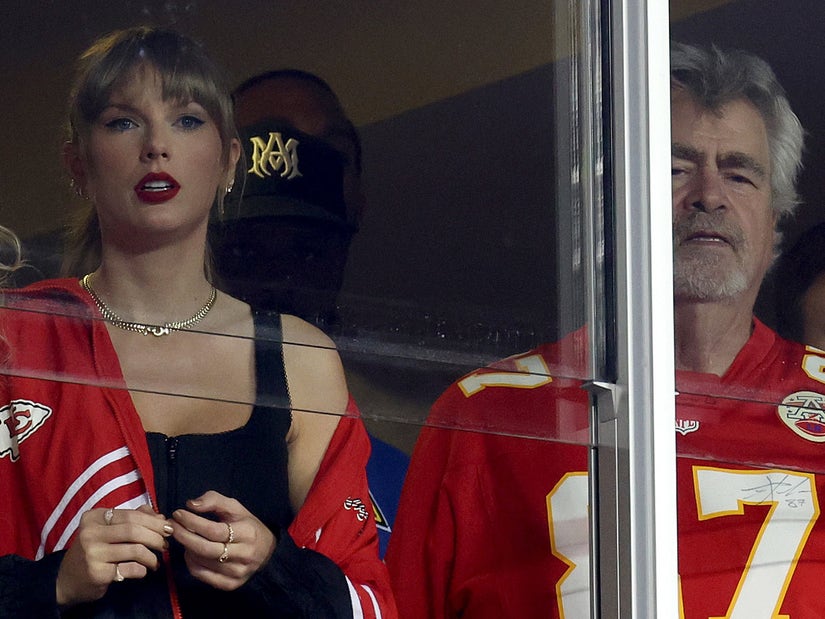 Getty
One thing she did in particular really made an impression on Travis' dad, Ed Kelce, and it has to do with the "diva memo"
Fans have heard Travis Kelce's mom, Donna's thoughts on her son's relationship with Taylor Swift, and now his dad, Ed Kelce, is weighing in.
In a new interview with People, Ed revealed his thoughts on Travis' romance with Travis -- and it's safe to say he's a fan! The NFL player's dad only had good things to say about the pop star, calling her "a very, very sweet, very charming, down-to-earth young woman."
Ed first met Taylor when she attended a Kansas City Chiefs game on October 12, with the Kelce patriarch and singer both seen together in a suite at Arrowhead Stadium. Ed -- who said Taylor is "very genuine" -- opened up about his first encounter with the "Cruel Summer" singer.
"I'll tell you something very special that I noticed about Taylor the first time I met her," Ed told People. "We're sitting in the suite, she gets up and in the front room, she gets up to go get a drink or something and she starts picking up empty bottles, cans, plates that are scattered around. Because in the suites everybody gets stuff and you empty it down wherever you can."
"And I'm just thinking, I don't think she got the diva memo. She didn't get the spoiled musician. She doesn't know how to pull that off. And that really to me said a whole lot," he continued, adding, "She's very smart. I mean, very. That comes through right away."
Taylor's romance with Travis has taken over the world after it kicked off last month. While it hasn't been very long since the Grammy winner, 33, and NFL star, 34, first sparked romance rumors, Travis has been eyeing the popstar since July, after he attended Swift's Eras Tour stop at Arrowhead Stadium and watched her perform on the Kansas City Chiefs' home turf.
Although he didn't get the chance to meet her after the show, he later revealed that he had intended to slip her his phone number by way of one of the beaded bracelets.
Even though they didn't connect at the concert, Taylor still got the message, and it wasn't long before dating rumors were swirling.
The two were then seen out in New York City together. Taylor and Travis attended Saturday Night Live together, and both made surprise cameos, before the couple were spotted holding hands at an SNL afterparty. The next night, the singer and football player then were seen getting dinner together at the Waverly Inn.
Taylor has since attended four Chiefs games in total, appearing at her fourth on Sunday. While watching Travis play against the Los Angeles Chargers, Taylor was seen wearing a friendship bracelet that featured Travis number 87. Following the Chiefs' win, Taylor was spotted giving her beau a kiss on the cheek as they posed for a cute photo.