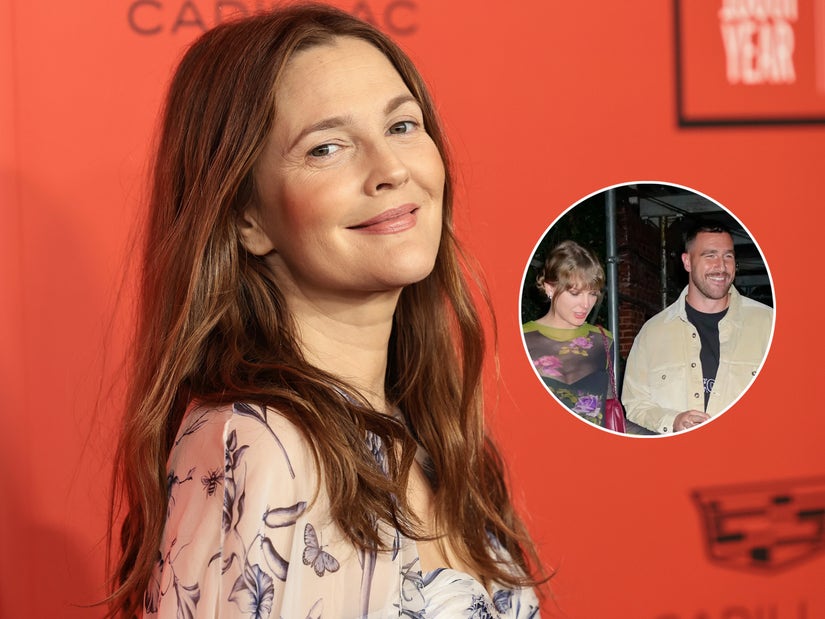 Getty
"Seeing her on that first date out there in the box with his family, I really had a very big Oprah aha moment," the talk show host said.
While Drew Barrymore has been fairly open about her dating life on her eponymous talk show, she's now revealed something she's been keeping a secret.
In a preview clip for Monday's episode of The Drew Barrymore Show, the talk show host shared she's been "sort of" seeing someone on and off for three years, admitting that Taylor Swift and Travis Kelce's public romance inspired her to take more chances in her own love life.
Barrymore shared the revelation while talking with her guest Gwyneth Paltrow at Goop HQ about her marriage to Brad Falchuk, with Paltrow telling Barrymore, "We need to get you on like Bumble right now or something," to which the latter said she met the man she's dating on Raya, the members-only dating app.
"Funny enough, the one person I have been seeing sort of in and around the last three years I met on Raya," she told Paltrow, who replied, "This is the new way."
Barrymore went on to share that she invited the mystery man to be her date to a wedding.
"I invited him to a wedding next weekend, and he said, 'Wow after three and a half years you are going to invite me to a wedding?'" she said, adding, "Something about Taylor Swift dating like a normal person and not being a dark horse about it. I was like, 'I overthink everything, I should just go on a date.'"
In another teaser for Monday's episode, during a preview clip of her Drew's News segment, Barrymore and her cohost Ross Mathews shared their thoughts on Swift and Kelce's romance, with Barrymore praising the singer for having her first public appearance with Kelce be in front of the world when she showed up to a Chiefs' football game last month.
"I just went to take my daughter to the Eras movie that came out in the theaters, the concert, and everyone in the theater was dressed up and dancing around, and it was not your garden-variety movie-going experience," Barrymore recalled. "There's something about this human being that's kind of pushing people to express themselves in a very joyous, positive way."
"I just want to say for me, personally, I have been single for seven years -- happily -- seeing her on that first date out there in the box with his family, I really had a very big Oprah aha moment," she continued.
The 48-year-old actress said that since Swift -- one of the most famous women in the world -- was able to confidently go on a date in public, she can too.
"There was something so normal about it, and obviously Taylor Swift is everything but normal, but it was just like, 'I'm a female, I'm going to go out on a date with a male, I'm not going to overthink this. I'm not going to be the dark horse and be secretive and weird about it,'" Barrymore said. "It was, like, she just went out on a date, and it made me think I could just go out on a date."
She added. "This was evidence of not being affected by what other people think…it was so calm, and confident, and normal that it just made me think, 'I should do this too.' And I thank her for that."
Barrymore was previously married to Will Kopelman from 2012 to 2016. The former pair share daughters Olive, 11, and Frankie, 9. Before Kopelman, the Charlie's Angels star was married to Tom Green from 2001 to 2002 and Jeremy Thomas from 1994 to 1995.
Meanwhile, Swift's romance with Kelce has taken over the world after it kicked off last month. While it's only been a few weeks since the pop star, 33, and NFL player, 34, first sparked romance rumors, Kelce has been eyeing the popstar since July, after he attended Swift's Eras Tour stop at Arrowhead Stadium and watched her perform on the Kansas City Chiefs' home turf.
Although he didn't get the chance to meet her after the show, he later revealed that he had intended to slip her his phone number by way of one of the beaded bracelets.
Even though they didn't connect at the concert, Swift still got the message, and it wasn't long before dating rumors were swirling. Although Swift and Kelce haven't officially confirmed their romance just yet, it's clear there's something going on between the pair.
As previously mentioned, in September, Swift attended a Chiefs football game, and was seen hanging out with Kelce's friends and family. And when Kelce's team played in New Jersey in October, Swift brought her whole crew to the game.
The two were then seen out in New York City together last weekend. Swift and Kelce attended Saturday Night Live together, and both made surprise cameos, before the couple were spotted holding hands at an SNL afterparty. The next night, the singer and football player then were seen getting dinner together at the Waverly Inn.
Check out all of Swift and Kelce's must-see date night pics in the gallery, below!