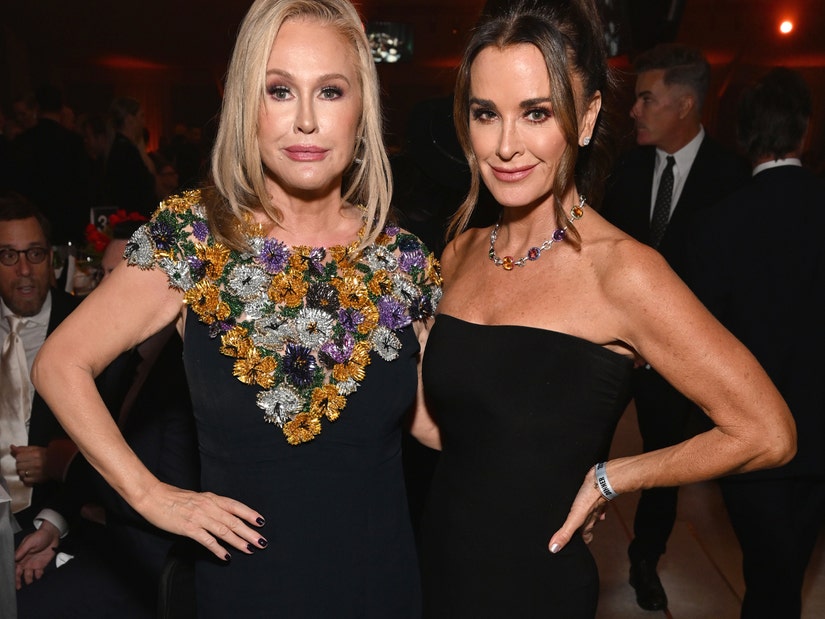 Getty
"I'm not gonna allow you to continue to treat me like this," Kyle shared on the premiere, before opening up about their recent run-in.
The explosive reunion ended with Kyle in tears, after Lisa Rinna accused Hilton of badmouthing the entire cast -- including her sister -- during a trip to Aspen. Both Rinna and Hilton then quit the show, with Kyle returning without getting real resolution with either of them.
On the premiere, the women all went on a wellness retreat where they aired their grievances with one another. When Kyle was up, she said she didn't feel supported by the other women at all during the reunion -- saying she hoped both Sutton Stracke and Dorit Kemsley would speak up in her defense. When Garcelle Beauvais then asked why Kyle didn't go after people who were going after her family at the time -- ie Rinna -- Richards said she didn't want to come off as defending her sister.
"There's a time where you say enough. I'm not a punching bag. I didn't feel like defending someone who's hurt me repeatedly, so I kept my mouth shut," she told the group.
In a confessional, she then added, "I've had so many incidents where my sister has called me and lost her temper. When the phone will ring and see her name, I get sheer panic. It affects me like a child."
Later in the hour, while at Dorit's home, Kyle opened up about running into her sister at Sutton's holiday party.
"It was fine, civil, but I'm at a place now where I'm not going to be mistreated by anybody," Richards told Kemsley. "I didn't deserve what she said about me. I didn't do one f--king thing to deserve that. I said, you know what, enough is enough."
In a confessional, she went on to say that her sister was "used to a lot of people allowing her to get away with certain behavior."
"Growing up as the baby sister, I also allowed that because I'm not speaking up to my big sister," she continued. "It's taken me this long to be like, I'm not gonna allow you to continue to treat me like this."
"I'm at a point in my life where I don't have to explain anything to anyone anymore, including you," she told him. "I went from doing everything my mom wanted me to do to being a mom myself and being a good example to my girls and I realized you can do all that and things can still go to s--t."
"I don't know if it's what happened with my sister or what, but I just don't feel like I have to answer to anybody," she told him.
New episodes of RHOBH air Wednesdays on Bravo.