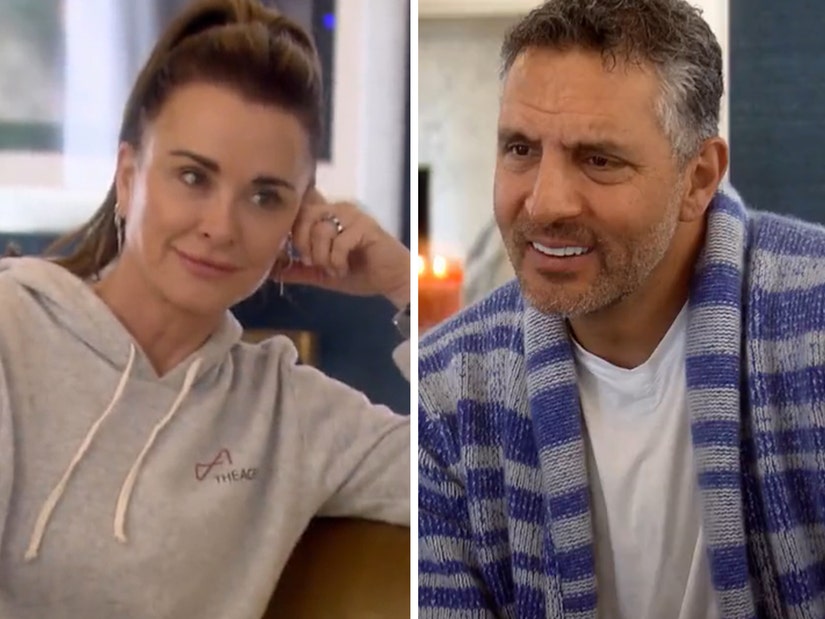 Bravo
"I'm at a point in my life where I don't have to explain anything to anyone anymore, including you," she told Mauricio during a very tense RHOBH moment, after opening up about "feeling disconnected from my husband."
Signs of a split between the two were evident throughout the opener, with Kyle first opening up about sometimes feeling she and her husband wouldn't make it in the long run while speaking with Dorit Kemsley.
Dorit first brought up her own husband PK spending a lot of time in London when she really needed him, while suffering from PTSD from her terrifying robbery ordeal. She said there were times in the past year where she felt they "weren't connected," leading her to think "for the first time ever" they could split.
"I've had those thoughts, I think it's normal to have those thoughts," Kyle told her friend. "I think there's time in your relationship where life happens and it can pull you apart and you can either grow in different ways or you can pull together like you guys have and start from scratch and put in the work like you're doing with a therapist and come out the other side."
Dorit said there wasn't "an incident" that led to her feeling that way -- like an affair or something nefarious -- but just there being "a period of time where I needed him and he wasn't there."
Later in the hour, Kyle was seen at home with her husband, as they sat down together to talk about their upcoming plans.
"Sounds like you're really booked up," Richards told Umansky, before he invited her and the family to join him on a trip he had coming up to Portugal; Richards, however, couldn't make it.
"Mo and I have had a challenging year together. He has been working non-stop, I've been working," she explained in a confessional. "When you have to schedule a meeting to go over your schedule, it's a problem."
He went on to comment on her appearing, talking about how "amazing" she looked thanks to changes in her life like working out more, dieting and cutting out alcohol completely. When it came to her workouts, Kyle said "you need to find an outlet" when dealing with a number of pressures, including "feeling disconnected from your husband."
She then began to show off all her new tattoos, with Mauricio admitting he only knew about three of the five pieces she's recently added to her body.
"Maybe you should be looking at my body closer," she told him -- before adding in a confessional, "This is a big symptom of not spending time together. Years ago he would have noticed a freckle on my body, now he doesn't know I have two more tattoos"
This led to a tense exchange between the two, as he told her she has enough tattoos and shouldn't get anymore.
"If I want to, I will," she adamantly responded, before he said he "would not allow it." She was steadfast, however, telling him, "If I want one, I'm going to get one, it's my body!"
He continued to tell her she didn't need anymore, before she admitted to feeling "irritated" about the conversation in a confessional.
"I'm at a point in my life where I don't have to explain anything to anyone anymore, including you," she then told him. "I went from doing everything my mom wanted me to do to being a mom myself and being a good example to my girls and I realized you can do all that and things can still go to s--t."
"I don't know if it's what happened with my sister or what, but I just don't feel like I have to answer to anybody," she added, before he agreed that she didn't, while also warning her not to do something "out of rebellion."
"I am very f--king clear right now," she hit back. "I'm not rebelling, I'm just really clear."
The episode ended on that awkward conversation, before a teaser for next week showed Mauricio's mother talking to Kyle about seeing too many rumors in the press about them separating. It's clear this will be a season-long storyline -- and one that's still unfolding in real life.
New episodes of RHOBH air Wednesdays on Bravo.