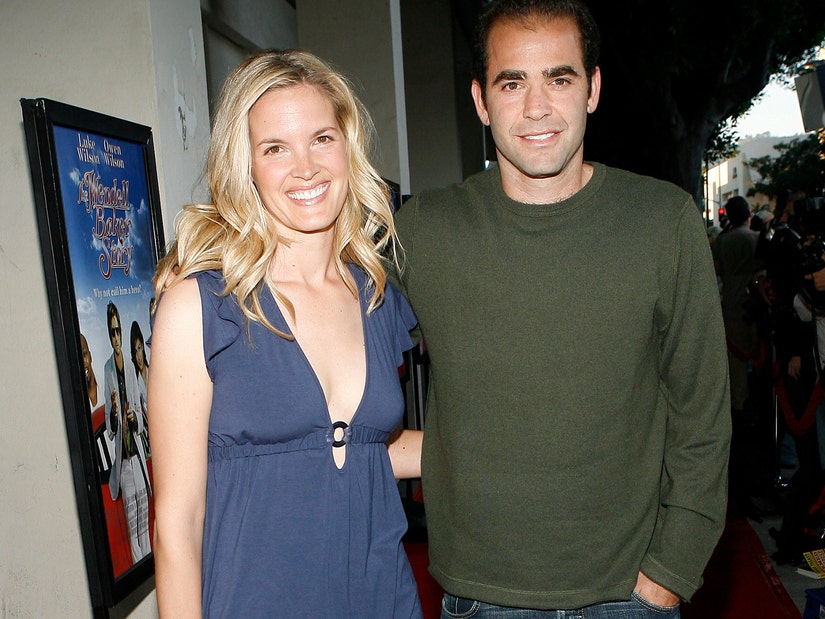 Getty
Sampras praised the actress -- who appeared in films including Billy Madison, The Wedding Planner and Mortal Kombat -- as "inspiring" for how she's handled the, until now, private battle.
Tennis great Pete Sampras opened up about his wife Bridgette Wilson's secret battle with ovarian cancer.
The athlete took to X (formerly Twitter) on Sunday to reveal his family's private struggle for the first time. Sampras and Wilson have been married since 2000 and share two sons; Christian, 20, and Ryan, 18.
"As most have come to know, I am a pretty quiet and private person. However, this past year has been an exceptionally challenging time for my family and I have decided to share what's been going on," Sampras began.
"Last December, my wife, Bridgette, was diagnosed with ovarian cancer. Since then, she has had major surgery, pushed through chemotherapy and continues with targeted maintenance therapy," he continued.
"It is hard to watch someone you love go through a challenge like this. However, seeing our boys step up and be such strong supporters of Bridgette, myself and each other has been amazing."
He went on to praise his wife, saying that "watching Bridgette continue to be an incredible mom and wife through it all, has been inspiring."
"I have also learned that it is very hard to reach for support when something is simply too hard to talk about," he concluded. "With that said, I will end this by humbling asking for good thoughts and prayers for our family as Bridgette continues to thrive on her healing journey. Thank you."
Wilson, 50, made a name for herself as an actress in films including Billy Madison, Mortal Kombat, The Wedding Planner and I Know What You Did Last Summer, before she retired from the business to focus on her family.
Though she retreated from the spotlight, she still often joins her husband at tennis events like the US Open and Wimbledon.