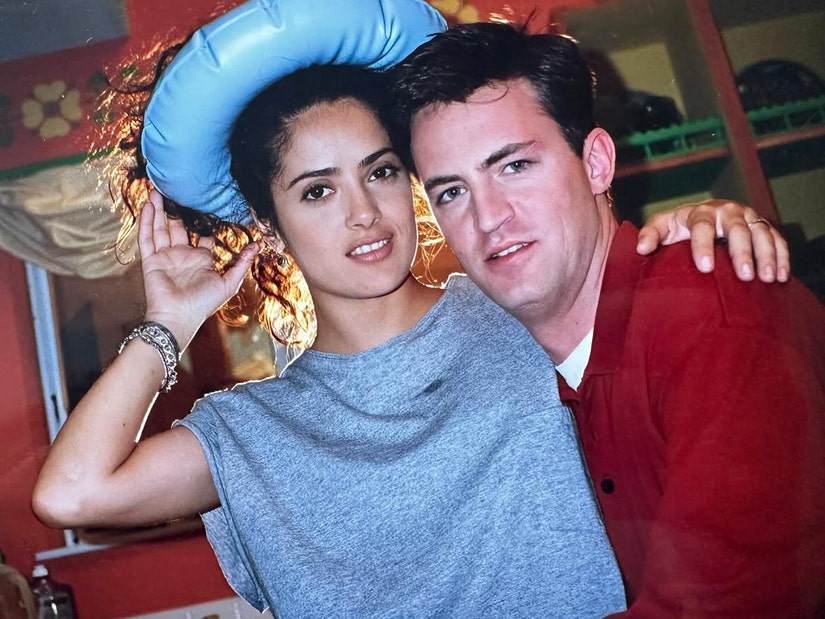 Instagram
"There is a special bond that happens when you share dreams with someone, and together you work towards them," Hayek shared of her Fools Rush In costar
The actress shared a tribute to her former costar on Monday, following news of Perry's untimely death.
The Friends star died by an apparent drowning at his Los Angeles home over the weekend. Immediately upon news of his death, social media was flooded with tributes to the actor, whose life and work had touched millions across the globe. Many of the posts were from colleagues who had worked with Perry over the years.
Hayek added her tribute to the sitcom icon with a series of throwback photos alongside a moving caption.
"Two days ago, I woke up to the shocking news that Matthew Perry is no longer with us," Hayek began. "It's taken me a couple of days to process this profound sadness. There is a special bond that happens when you share dreams with someone, and together you work towards them."
"I was very moved last year when Matthew shared on his Instagram Stories how much he loved 'Fools Rush In,' and how he thought that that film we did together was probably his best movie," she continued. "Throughout the years, he and I found ourselves reminiscing about that meaningful time in our lives with a deep sense of nostalgia and gratitude."
"My friend, you are gone much too soon, but I will continue to cherish your silliness, your perseverance, and your lovely heart. Farewell, sweet Matthew, we will never forget you," she ended her note.
Waiting for your permission to load the Instagram Media.
Fools Rush In was Perry's first film after the wild success of Friends, which saw him and his fellow castmates rocket to global stardom in the sitcom heyday of the mid '90s. Perry's unforgettable mannerisms and distinct delivery as Chandler Bing earned him a place among some of television's greatest comedians.
The 1997 film with Hayek was based on the real-life experience of Hollywood producer Doug Draizin, with a few small tweaks.
The movie follows Hayek and Perry's characters navigate a one-night stand that leads to an unexpected pregnancy.
Draizin recently reflected on the making of the movie and his time with Perry, upon news of the actor's passing. In one sweet anecdote, Draizin told the New York Post: "[Perry's] way of releasing tension [on set], he and I would play Wiffle ball; we'd go into the back lot or, if we were on location, kids would come running out of their houses because there was Matthew Perry of 'Friends' hitting a Wiffle ball in their street."
"A lot of kids would come and pitch to him," the producer recalled. "He loved having people come around when we were on location. He was really friendly . . . and he was very genuine."
"His dad, John Bennett Perry, was also in the movie, and I remember they had such a reunion on the set, spending that time together," Draizin told the outlet. "Matt came from a very difficult divorce, so having his father there and working together . . . I know it really made him proud."
The producer went on to say he still has a poster of Fools Rush In on his wall.
"I've got this beautiful poster of Matt and Salma Hayek and now, when I look at it, instead of elation, I feel sadness. This kid I'm staring at is dead."