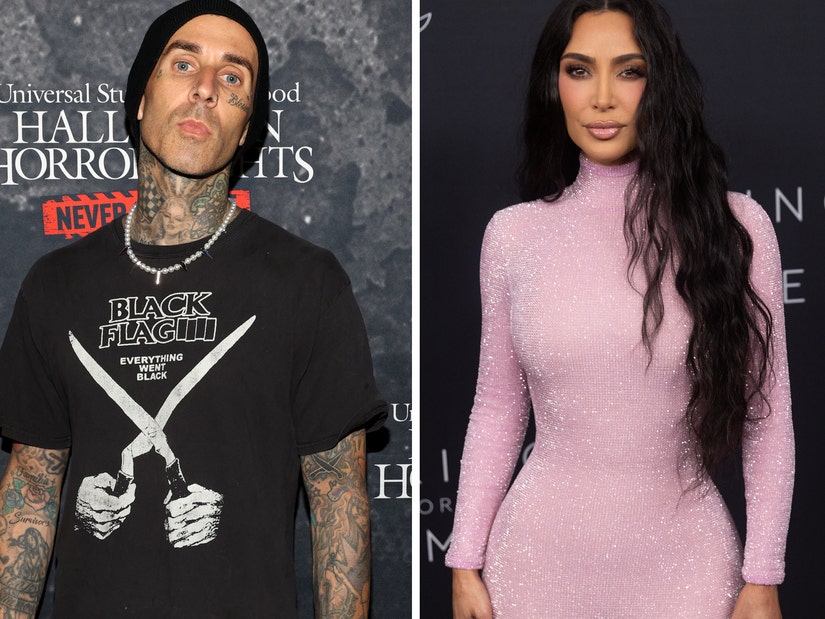 Getty
Barker, who previously opened up about having a crush on Kim in his 2015 memoir, has come out to bust some myths
"That's her sister," Barker told the outlet, referring to Kim. "[Kourtney] knows we used to talk. Nothing bad was going on. You give people a little information and they think they've solved the mystery of 'this is why they're fighting.' It's just so ridiculous."
The rocker also addressed Kourtney's fans and their concerns over the Poosh Founder's marriage to Barker, adding, "It's like, 'Kourtney's fans are worried about Travis. He's a womanizer.' Stop it."
"I obviously shared all that stuff because I wanted to move past it," Barker, who previously opened up about having a crush on Kim in his 2015 memoir, Can I Say: Living Large, Cheating Death, and Drums, Drums, Drums, said.
Barker revealed that while he was linked to Paris Hilton in 2006, he had eyes for Kim, who worked as Hilton's closet organizer at the time.
"I kept on secretly checking out Kim, telling Lil Chris, 'I don't care if she's the closet girl, she's f---ing hot,'" he wrote, detailing a trip to Amsterdam with the reality star.
After returning to the States, Barker admitted that he stayed in contact with Kim, even going on dates with the SKIMS founder, but denied getting physical.
"We went to dinner, we went to lunch," Barker writes in the book. "You might think I would be doing the worst things with this girl because of her tapes, but it was the exact opposite of any other encounter I've had with a woman: with Kim, I wanted to be nothing but a gentleman to her. It was so weird."
While Barker is adamant that nothing happened between him and Kim, his ex-wife, Shanna Moakler, has said otherwise, previously citing the musician's alleged romance with Kim as the downfall of their marriage.
Barker and Moakler called it quits in 2006 after two years of marriage, but dated on-and-off for two years before finalizing their divorce in 2008.
"I divorced my ex because, I saw them -- I caught them having an affair," Moakler alleged to Us Weekly in 2021, referring to Barker and Kim.
Though the blended family's relationship seems to be in a better place today, Moakler, who shares son Landon, 20, and daughter Alabama, 17, with Barker, previously blamed the Kardashians for breaking up her family.
"I don't have any jealousy. I divorced for a reason… People don't break up their families for no reason at all… My family's broken because of this family, and now my kids are alienated from each other because of another sister in this family…I don't care about Travis and Kourtney in any capacity whatsoever," Moakler told TMZ that same year. "All I care about are my children -- mending and healing my relationship with my children and moving forward. I don't even think twice about them."
Meanwhile, Barker and Kourtney, who got married in May 2022, are currently expecting their first child together -- a baby boy -- due in the coming weeks.