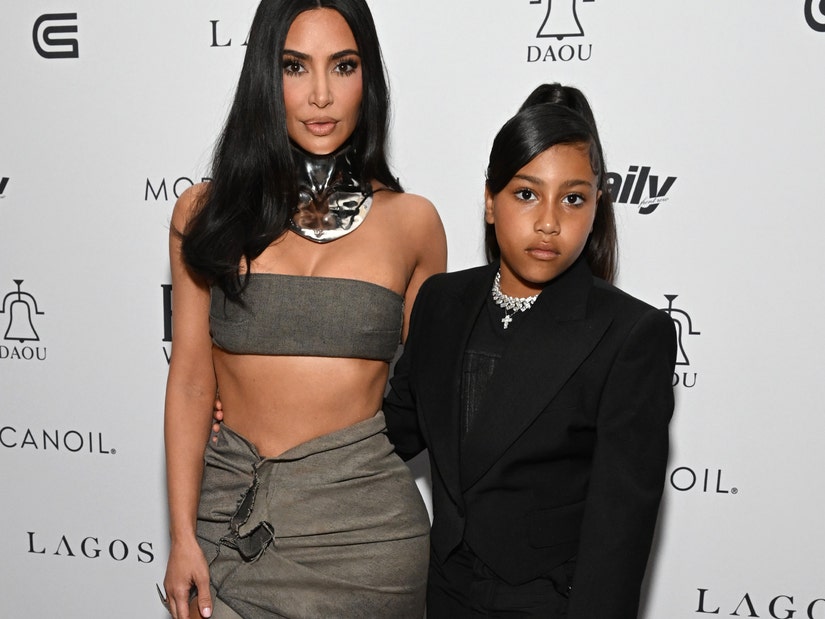 Getty
"A basketball player, a rapper, um... Well, when I was seven, I wanted to be a boxer. But now I don't want to be a boxer. I'm going to do art on the side," North says of her future ambitions
The 10-year-old daughter of Kim Kardashian and Kanye "Ye" West starred in her first-ever solo magazine cover shoot for i-D Magazine's The New Wave Issue, out now, where she opened up about her plans for the future, her famous family and more.
Speaking about her parents, North, who has already put both her performance chops on display, said she actually enjoys singing, a talent she believes she gets mostly from herself, with a little help from her dad.
"Yeah, I like singing. Performing is my favorite," North said, before crediting herself for her singing skills. "Sometimes, mostly from me though. And then a little bit of my dad."
Waiting for your permission to load the Instagram Media.
As for her mom, Kim has the kind of closet North would like to raid, adding that the one item of clothing she'd like to have that she doesn't have yet lies in her fashion-forward parents' closets.
"My mom's clothes and my dad's clothes, if they fit me," North noted, adding that her go-to attire these days are vintage t-shirts and "Spider sweats."
While North loves showing off her artistic side, the 10-year-old is a bit of an athlete, and has long played basketball -- which for her, is much more than a hobby.
"I just love basketball so much," North gushed. "It's not a hobby, it's a lifestyle."
While she considers herself "the best ever," North still has lots of plans for her bright future ahead, some of which see her following in her mom and dad's footsteps.
"A basketball player, a rapper, um... Well, when I was seven, I wanted to be a boxer. But now I don't want to be a boxer. I'm going to do art on the side," North said when asked what she wants to be when she's older. "When I'm, like, thirteen, I want to walk dogs, to make money to buy art supplies, because everything around here is so expensive."
She continued, "So a rapper, a basketball player, and I'm going to make artwork that I sell. Also, one day I want to own Yeezy and SKIMS, and I want to be a business owner."
For more from the Kardashian family, check out the gallery below.