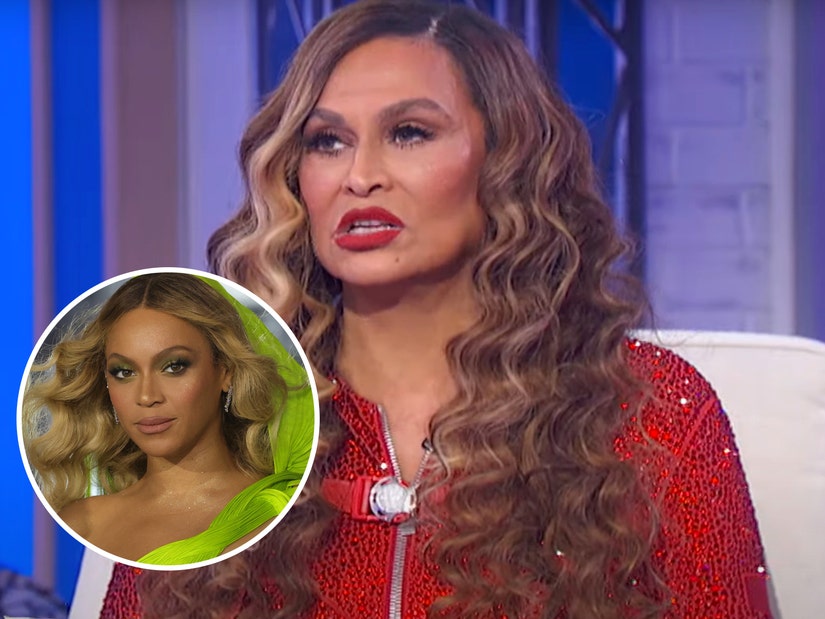 YouTube / Getty
Tina Knowles clarified some of the comments she made about her daughter, Beyoncé's hit tour, after calling the singer "mean" during some of the show's intense backstage moments.
During the Halloween episode of the daytime talk show, Mama Knowles shared some stories from Bey's sold-out Renaissance tour. While the tour seemingly went off without a hitch during its nearly five-month run, things got a little hectic backstage, Tina revealed, especially where quick changes were concerned.
Tina said that Bey, who changed into a myriad of glittering and glamours fits throughout the show, was "mean" to her and those backstage with her during those tense outfit changes, where time was of the essence.
"I was saying, 'Girl, you get really mean back there,' and I am really happy that I don't have to be back there anymore,'" Tina told host Sherri Shepherd Monday.
"We'd laugh because she used to do 'Flaws and All.' She would say, 'I'm a (b---h) in the morning,' and I'll be like, 'and the evening too!'" she said.
Although it would sometimes get crazy backstage, Tina said that Beyoncé would always apologize for things she said in the heat of the moment.
"She'll be like, 'Mama, I'm so sorry,' and I'm like, 'I know,'" Tina added. "Sometimes she'll be crying, and I was like, 'She crying because she know she just said some crazy stuff to us.''
She continued, "But that's the heat of the moment, because you're trying to get your shoes on, and everybody's waiting, and if somebody's messing up or they lose the shoes, then you messed up the whole show. So, I understand it."
Now, Tina is walking back some of her comments, telling her followers that much of what she said was said in jest.
"You know, I'm gonna get in trouble when she sees this. So I would just clarify that she is not the only one fussing we all are. But it's all love after she hits that stage and looks fabulous. But Quick change is not a place for people with sensitive temperaments. You have to be gangsta.!!! ❤️❤️ also don't misunderstand, let me clarify! she would not be crying because she got on our case, because we were screwing up," Tina wrote on Instagram Monday, after the episode aired.
While the proud mom said her daughter doesn't mess around when it comes to her shows, she did make clear that she was joking about Bey crying over being mean to her and members of her of crew that helped with the quick change.
"I was joking that when she was singing flaws and all that when she would cry on the song. My joke was that it was because she had been mean to us, but that was just a joke people. She don't play when it comes to her shows! She is a perfectionist, because she feels like she and her fans deserve the best," she continued. "You have to have your stuff together to work for her? She is a boss at all times and will not hesitate to get in your stuff if you mess up. ❤️❤️"
Waiting for your permission to load the Instagram Media.
She also revealed that her daughter had over 100 costumes that she didn't wear during the course of the tour.
"We had over 600 costumes to choose from, and so she still has maybe 150 costumes that she hasn't… But every night, she did at least five, four to five new costumes," Tina, who helped style her daughter on tour, shared.
Fans will get a chance to check out all the looks Bey wore, in theaters, when her new concert film, Renaissance: A Film By Beyoncé, debuts next month.
The "Alien Superstar" singer will be holding two premieres ahead of the film's December 1 release -- the first in Los Angeles on November 25, and another in London on November 30.