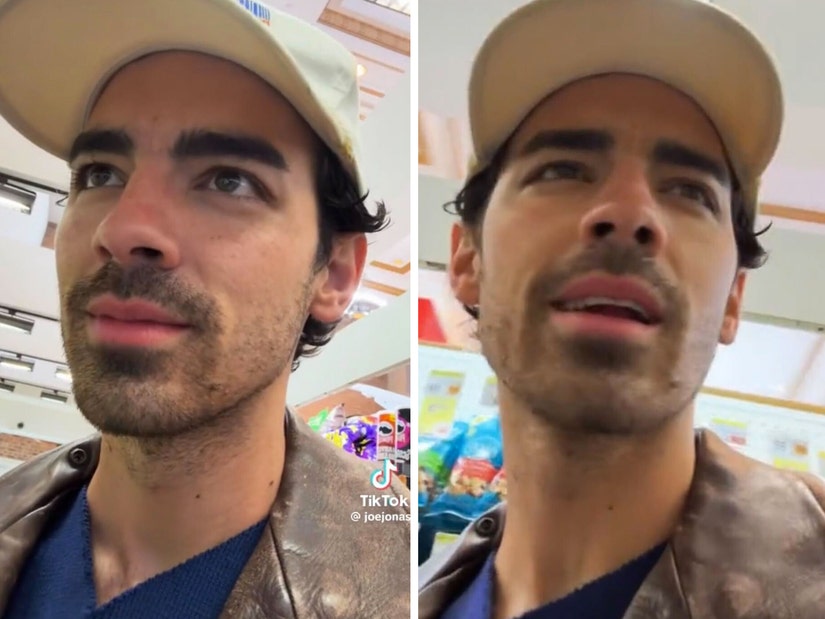 Instagram
"I don't know. Is that a compliment?" the singer asked in the clip, which caught the eye of CVS Pharmacy's official Instagram account.
Joe Jonas is recalling an interesting encounter he had with a security guard at a CVS recently.
Earlier this week, the Jonas Brothers member posted a short video to TikTok, in which he shared how he was left confused after a security guard told him he looks "crazy in person." In the clip, Joe, 34, walked through an aisle of the pharmacy, and recalled the brief exchange to the camera.
"I just walked into CVS, and the security guy goes, 'Oh! Joe Jonas?' And I said, 'Hey man, what's going on?'" he said. "And I shook his hand, and he goes, 'Man, you look crazy in person.'"
"I don't know. Is that a compliment?" Joe then asked, before writing a similar question in the caption of the video: "Is it a compliment? Yes or no? 😂"
Fans took to the comments section to react to the post, with many suggesting that they believe the man's words didn't come out as he intended them to.
"I think he probably meant 'it's crazy to see you in person' .. he must have been nervous!! 😂😂," a person wrote.
"ITS PROBABLY CRAZY SEEING SOMEONE SO FAMOUS IN REAL LIFE HE WAS JUST SHOCKED," a fan added, while another said, "he probs meant Its Crazy to see you in person. Like in Real Life..I guess like Shocked that he got to see a celeb."
"Yes. He definitely was just starstruck 🤩," another user commented.
Joe also shared the video on Instagram. Fans expressed similar thoughts in the comments section of his post as they did on TikTok. However, one user who chimed in was none other than the official CVS Pharmacy Instagram account, writing, "🎶When you look me in the eyes, and tell me I look crazy...🎶."
If you're not a longtime diehard Jonas Brothers fan, the comment is a reference to one of the band's OG hits, "When You Look Me in the Eyes."
The Jonas Brothers -- including Joe and his brothers Nick and Kevin -- are currently on their Five Albums. One Night. The World Tour.
During the band's concert in Anaheim on Sunday night, Joe paused the show to officiate a wedding for their percussionist, Molly Lopresti, and her fiancé, Nick Shirm. Check out the sweet moment in the TikTok, below.
This comes amid Joe's messy divorce from estranged wife Sophie Turner. In September, the "Burnin' Up" singer filed for divorce from the Game of Thrones actress after four years of marriage.