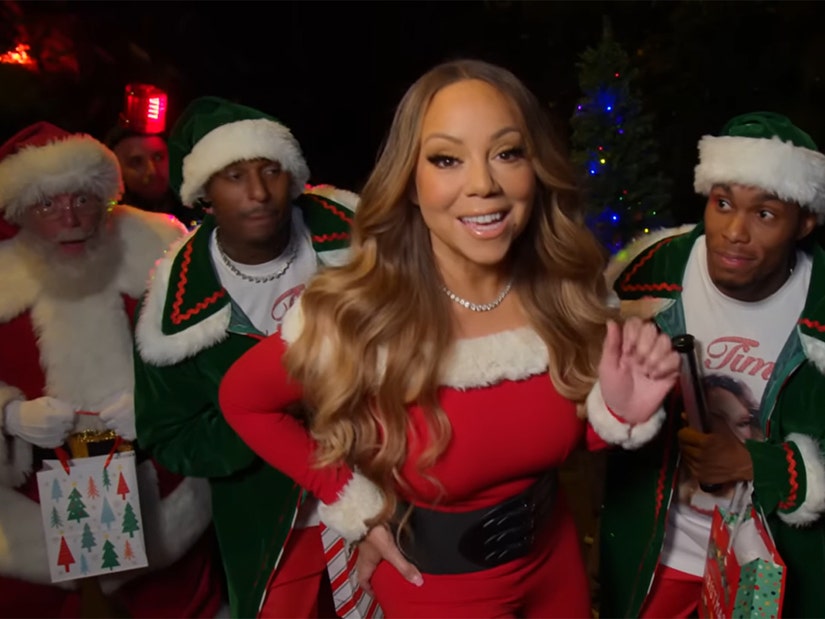 ABC
In the tradition of Rihanna and Miley, Mariah Carey is the latest superstar to sneak into Jimmy Kimmel's house and surprise him awake, this time with Santa and other holiday pranksters in tow to ring in Christmas season with her classic track.
Mariah Carey continues to cement her status as the modern-day Queen of Christmas by ushering in the holiday each year as her classic holiday tune climbs the charts. This time, she took it a step further, by bringing Christmas straight to Jimmy Kimmel's bedroom ... at 2am!
If Jimmy wants to get upset about it, he needs to look at two women, and neither of them is Mariah. Rihanna was the first celebrity to crash into his bedroom in the middle of the night to wake him up with their music.
She was followed by Britney Spears, Dua Lipa, and Miley Cyrus. So, he can always look back at Rihanna for starting this whole thing. But mostly, he needs to look at his wife, Molly.
She's the common thread in all of these videos, inviting all these people and camera crews into her home and helping them sneak upstairs and all the way into the bedroom to torment her unsuspecting husband.
And don't for one second think she's at all hesitant or reluctant about getting involved in this. She can always be seen laughing and dancing and having a great time as groggy Jimmy tries to figure out what's going on.
This year, Mariah showed up in her signature Santa outfit with a whole crew from the North Pole, including jolly old St. Nick himself, to bring lots of holiday cheer and fake snow to Jimmy's bed as he tried to make sense of it all.
"Come on, we've bathed together," Mariah quipped as he started at her. "This was the next step."
That came about back in 2016, per Billboard, when she told Jimmy that she'd started taking a bath in a swimming suit because her twins, who were five at the time, were really into "discovery." In response, Jimmy rolled out a giant tub and they climbed in together.
She also joked that she "defrosted just for you." Mariah has embraced her icon status as the Queen of Christmas, with her "All I Want for Christmas Is You" climbing to the top of the Billboard charts year after year.
This year, she even premiered a video of herself literally encased in ice and breaking out the moment Halloween was over to usher in the holiday season. "It's tiiiiiime!" she wailed.
Waiting for your permission to load the Instagram Media.