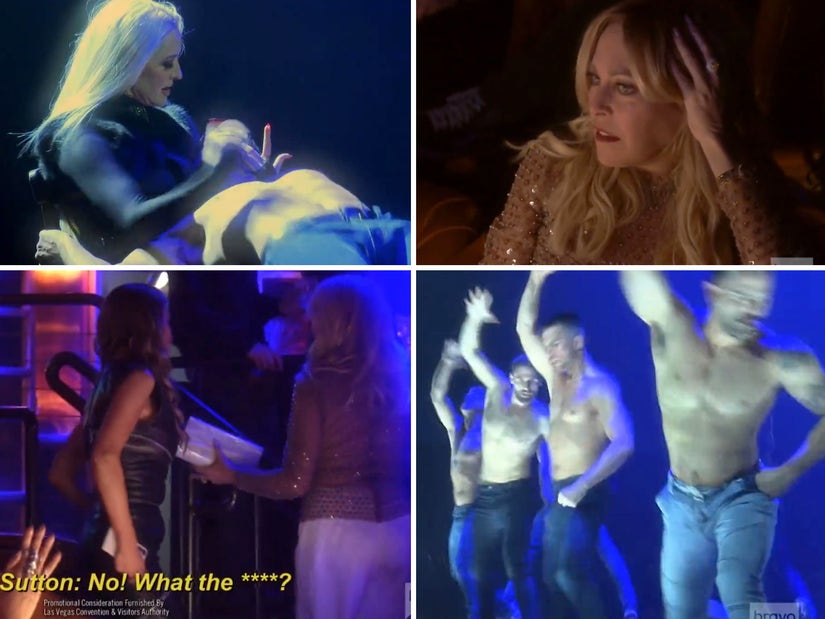 Bravo
Sutton Stracke threw a tantrum at the strip show as Erika Jayne and Crystal Kung-Minkoff got lap dances -- saying she was "uncomfortable" and it wasn't her "brand" before storming out of the show.
With the entire cast in Sin City for Crystal Kung-Minkoff's 40th birthday, Erika Jayne organized a night out at the male revue. Before the show, she warned the women that they needed to wear pants if they wanted to possibly be picked to go up on stage with the dancers, advice Sutton made very clear she followed.
During the show, it was Erika and Crystal who were selected to go up on stage -- which shouldn't have come as much of a surprise since Jayne was friends with one of the dancers and Cyrstal was the birthday girl. As they got their lap dances, however, it became clear Sutton had an issue with something.
"I wore pants for f--king nothing!" she exclaimed, as Garcelle Beauvais asked whether she was okay, noticing her sour demeanor. In a confessional, Garcelle guessed, "I think it may have hurt her feelings she wasn't one of the cool girls chosen to go on stage. And she wore pants!"
Sutton then got up and walked out.
"That's not okay. What the f--k?! What the f--k was that? What the f--k was that?" she said to herself as she stormed out of the show. "I am on the board of the American Ballet Foundation. I don't do that f--king s--t."
While Dorit Kemsley said it was just another example of Stracke "making herself the center of attention," Garcelle followed her out and into the bathroom to ask -- again -- what was wrong. "I'm f--king pissed. That f--king sucked," Sutton vented, before Garcelle said it seemed like they were all having "a good time" laughing and dancing before "all of a sudden" something set her off.
"It was a fun show until I saw my two friends, they had their legs wide open, the man's face inside their crotch," Stracke told Beauvais. "I'm on the board for American Ballet Theater, I don't have friends that get up on stages and have men's faces in their crotch. Y'all can have fun, you can clap along and think it's great. I live by a different standard for myself. For myself."
As this was going on, Erika and Crystal returned to their seats and had no idea what was going on. Kyle Richards was then called onto the stage next and got a lap dance of her own. FYI: One of the dancers told TooFab he was initially supposed to give a dance to Sutton, but something happened and he went with Kyle instead -- suggesting Stracke would have been pulled up had she not stormed out.
Kyle then went out and asked Sutton what the problem was, adding -- after Stracke said she "didn't like that" -- "You wouldn't have liked what just happened then! I just had whipped cream licked off of me."
"That's fine, whipped cream licked off of you is silly and stupid. Spreading your legs open ... no," she said.
In confessionals, both Garcelle and Kyle said they felt her reaction was too extreme, believing Sutton was just jealous and also upset about wearing pants. "All of a sudden she's freaking out in the bathroom, she's yelling in the lobby. Hurricane Sutton is here! I mean, my god," exclaimed Beauvais. Sutton, however, was adamant "this had nothing to do with the pants!"
"You all enjoy the strip club show that you all came to see, I don't want to! My brand is not that," she then told the women. "We're not gonna blame the pants, that's not what this is about. I am very uncomfortable with that whole thing. Sorry, call me a prude ... I don't care. I don't care, it's who I am."
Kyle then told Sutton to stop making a scene, adding she only came out to go to the bathroom. "You can ... shut up!" Stracke then hurled at Richards, who responded by saying, "Don't be a bitch, Sutton!"
As Garcelle suggested to go back to the sprinter van waiting outside, Kyle texted Crystal that "Sutton is upset" and "we need to go." While Crystal came out, both Erika and Dorit stayed to watch the rest of the show ... and had a great time doing it!
The "bitch" putdowns kept coming when Kyle brought up Sutton's "brand" comment -- something Stracke denied saying despite it being on camera moments earler. "You're such a bitch, you are and you hit really low, Kyle," Sutton said, "Here we are again with Kyle, she's walked into a conversation she did not hear."
"Now you're being a bitch!" exclaimed Kyle. "Don't you be a f--king bitch to me!"
It didn't take long for each of them to apologize to one another once inside the sprinter van, as Garcelle feared Erika's reaction when she finally came out, knowing the history between her and Sutton. Though Erika did refer to Sutton as "the sourpuss in the van" and "Judge Judy," she was actually pretty cool, calm and collected after Sutton said she was offended by the "spread eagle" moment in the show. Erika defended herself by saying the dancer is one she's worked with "from forever," adding that they were all consenting adults at a strip who and "knew what we were getting into."
In a confessional, Erika added, "I told you guys, I gave up fighting for lent."
Dorit, meanwhile, pointed out how rude it was that 80% of the group got up and walked out during the show, while Crystal asked how Sutton felt about the fact none of them were upset about what happened. "I guarantee our husbands won't feel offended," added Dorit, as Kyle echoed that sentiment about Mauricio in a confessional.
The night went pretty smoothly from there, as the women all grabbed some sushi and played a party game where they answered some TMI questions at the dinner table.
Sutton was pretty damn chatty during the game, revealing that she would be having sex "Twice a day" if she had a boyfriend, felt she had great nipples and owned "a lot" of sex toys. The comments caught Dorit off guard especially, considering how innocent she was acting earlier that same evening.
A preview for next week showed the drama will continue, as Erika puts Sutton on the spot and makes her apologize to the dancers when they run into them later in the trip. Kyle is also seen telling her, "You have a habit of losing your s--t in ridiculous circumstances."
Real Housewives of Beverly Hills airs Wednesdays on Bravo.