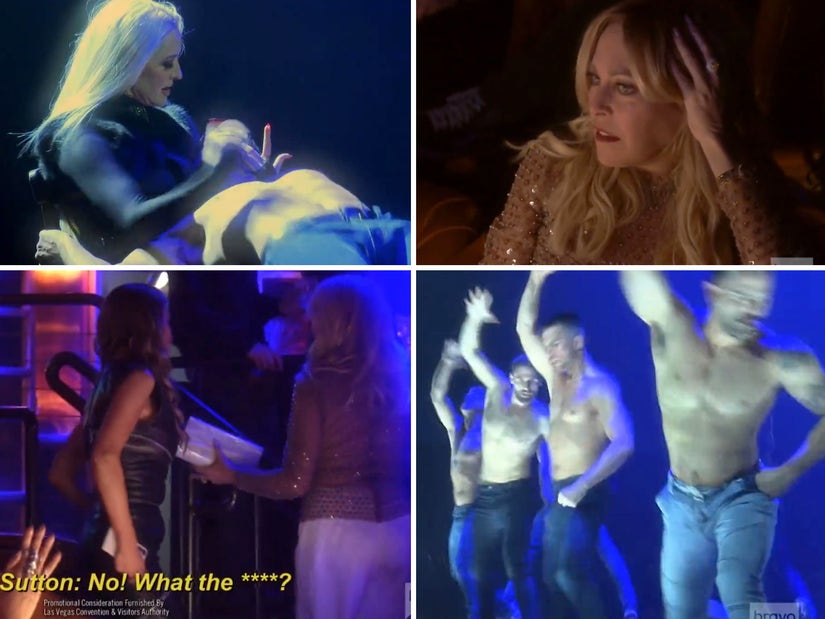 Bravo
A preview for next week's episode shows Sutton storming out of the show in apparent disgust, as Erika lives her life getting a lap dance on stage.
What happens in Vegas ... ends up on Bravo!
A preview for the new hour shows the women going to the male revue, before something sets off Sutton Stracke. As Erika Jayne lives her life getting a lap dance on stage, Stracke gets out of her seat and exclaims, "What the f--k? What the f--k is that?! I want my f--king mic off."
After Kyle Richards asks if she's upset she wasn't asked to go on stage after putting on pants -- an apparent requirement for a chair dance -- she says, "This has nothing to do with the pants," before Erika calls her "Judge Judy."
While it's unclear what sparked the whole incident, a few people who got a front row seat to the action teased the drama while speaking with TooFab at BravoCon in Las Vegas over the weekend. Magic Mike Live dancers Brandon Foster and Jah'Meek Williams, as well as host Jaclyn Marfuggi Caprio, spilled on what they saw go down.
"I wouldn't say right away we knew what was going on behind the scenes. I was in the middle of a number. I had Erika on stage with me, doing some stuff. And shortly thereafter, it was -- Boom! -- I don't know what happened."
"I was hosting the show and they were sitting in their VIP balcony and one by one I could see one get up and run in and run out," said Marfuggi Caprio. "I was like, what is happening? It's gonna be juicy, that's all we'll tell you."
Jaclyn said Williams was supposed to give a dance to Sutton, but "there was a little issue." They said he then danced with Kyle instead, though the preview does show him with the birthday girl, Crystal.
"I just know, one minute I was on her and the next minute, she went off the stage and I was a deer in headlines like what the hell is going on," said Williams. "Like she said, you would look up and one was gone. By the end of the show, five of them were gone. I was like, what the hell is happening?"
Marfuggi Caprio is adamant they were all "having fun" because the Vegas show is "amazing." That being said, "there was drama" -- though it may have taken all the women a moment to realize that was the case.
"I don't even think Erika knew what was going on," said Foster. "She went back to her seat, she stayed the rest of the show, she was there the whole time and was like, 'Wait, what happened?' She went on stage, went back to her seat and they were all gone."
The host went on to call Dorit Kemsley "a great sport" who was also "in it to win it," before calling Garcelle Beauvais "amazing" as well. Viewers, meanwhile, will have to tune in next Wednesday to see what really caused the meltdown.
Before dishing on RHOBH, the trio actually hit the main stage at BravoCon to teach the men of The Real Housewives of New Jersey a dance alongside panel host Jerry O'Connell.
"They're so on brand with us. They're all tanned, they have muscles, they're funny, they're all about their women. They killed it," Marfuggi Caprio told TooFab.
"They did a good job. They gave it all they got. They did good to me, they can come to the show," added Williams, before Foster praised their confidence.
"Regardless of whether the moves were right, they had the confidence, so they sold it to us. They sold it to the crowd," he added.
While the host said she thought they could throw them into the main show, this is one job probably best left to the professionals.
For more BravoCon coverage, check out the links below: