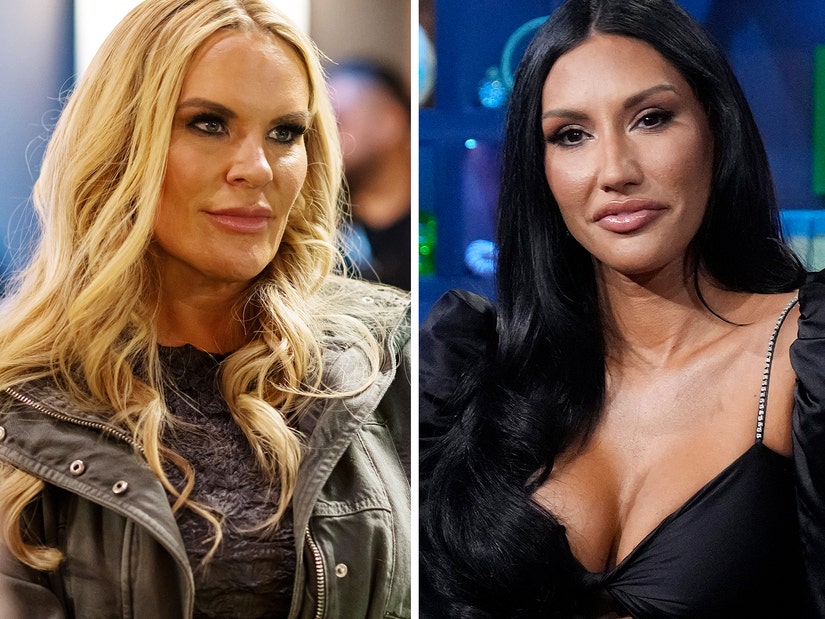 Getty
Beauty Lab sued Monica first, alleging she stiffed them $2K for "cosmetic injections"; Garcia's lawyers, however, argue the lip and nose procedures were "botched" and the lawsuit is due to Gay's "personal animosity" toward the RHOSLC newcomer.
According to a pair of lawsuits, she and Heather Gay -- or at least Gay's med spa business, Beauty Lab -- have been fighting it out in court since before the current season premiere.
Legal documents obtained by TooFab show Gay's Beauty Lab and Laser LLC filed suit against Garcia back in August 2023, claiming she entered into a contact with them back in 2019 for $2,449 worth of "cosmetic injections." The deal, per Beauty Lab's lawyers, was set up in a way where Garcia paid around $449 up front, before making $200 payments monthly for 10 months for the balance. While they say Garcia paid $449, they also accuse her of failing to make any other payments.
The lawsuit claimed Beauty Lab has "suffered, and continues to suffer, significant losses and damages, as described above, because of Defendant's breach of the covenant of good faith and fair dealing." Beauty Lab is seeking "an award of damages in an amount to be determined at trial, but not less than $2,000," as well as attorneys fees and additional relief.
The filing came about three weeks before Garcia made her debut on RHOSLC. In September, following the season premiere, Garcia's attorneys responded and filed their own countersuit.
In their response, Garcia's lawyers said she made "no further payments" beyond the initial $449 because she "received defective, negligently given injections, which did not have the intended, promised result." She claimed the parties involved "reached an oral accord and satisfaction wherein Monica paid for another, competent party to fix the damage to Monica's nose and lips caused by the incompetent, negligent actions of Beauty Lab's staff, and Beauty Lab was entitled to no further payment."
Her team alleges Beauty Lab failed to "provide the services it promised, in a competent way; and, Beauty Lab's services fell below the standard of care for such procedures in the industry and the care and result Beauty Lab promised Monica." They also said Beauty Lab "offered to fix the damages it caused Monica," and argued any claims by the business are "barred by set-off" because "Monica suffered more damages than has Beauty Labs."
They concluded that Beauty Lab's "claims are barred by its unclean hands because it seeks payment for procedures it botched and negligently performed."
In the countersuit, meanwhile, her lawyers say Beauty Lab "promised to provide cosmetic injections in Monica's nose and lips in a medically proficient manner, similar to the way a plastic surgeon would perform such a task, to enhance the appearance of Monica's nose and lips, whereupon Monica would pay Beauty Lab for its medical services."
They say the procedures were done in "a negligent, medically deficient manner" and the appearance of both Monica's nose and lips were "diminished, not improved." The suit says she went to another medical provider to fix her issues, a cost greater than the amount being sought by Beauty Lab in their own claim.
While the initial countersuit in September included negligence as a cause of action, that was amended in an updated version submitted this week -- following BravoCon. Negligence was replaced with Breach of Independent Duty of Care. They're also countersuiing for breach of contract, breach of duty of good faith and fair dealing and accused Beauty Lab of making their claims "in bad faith."
"Beauty Lab knew or should have known its claims and causes of action alleged in its complaint in this action have no merit because of the negligent manner its medical procedures were performed on Monica, the substandard results, causing Monica to seek competent medical care from a third party," they wrote, before things took a more personal turn.
"Beauty Lab's complaint has been made because of the personal animosity towards Monica of Heather Gay, an officer and director of Heatherentertainment, Inc., a member of Beauty Lab and Laser, LLC," say Garcia's lawyers, "not because of the claims in the complaint, which Beauty Lab and Heather Gay know to be unfounded."
Her team is seeking relief for "general and consequential damages Monica has suffered as a result of Beauty Lab's negligence, breaches of contract, and bad faith claims in an amount to be determined at trial" less than $50,000, as well as attorneys fees and other relief.
TooFab reached out to Beauty Lab's attorney for comment. The legal battle was first reported by The Sun.
We caught up with Monica at BravoCon over the weekend -- before anyone knew about the lawsuit -- where she said she wasn't necessarily on speaking terms with everyone on the cast.
"For sure. We're in the middle of the season, so obviously there's a lot of things going on, a lot of dynamic shifts. A lot of stuff to come that will kind of explain all of that," she teased of the shifting group dynamic.
So far, she has yet to really face off against Gay on the show ... but had a pretty epic fight with Lisa Barlow on this week's episode.