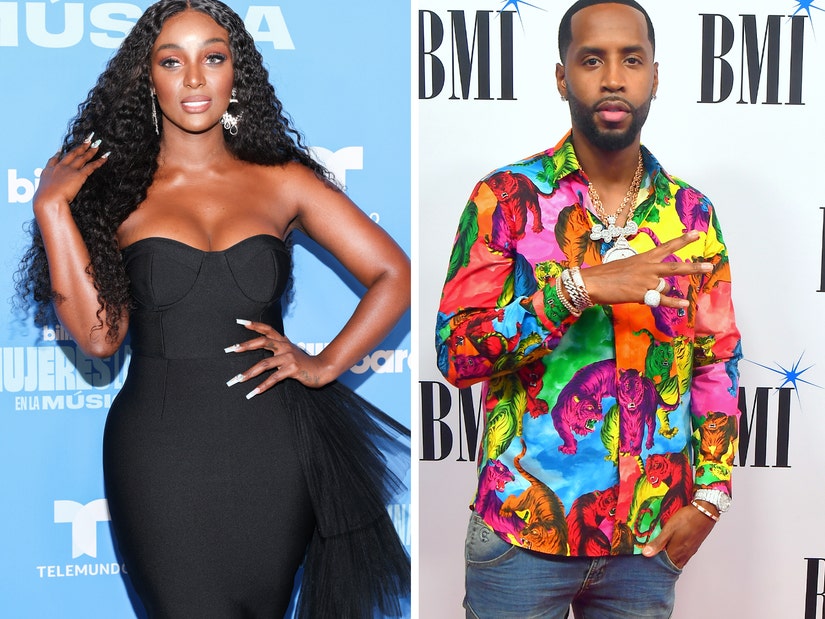 Getty
Amara La Negra also teases more drama to come in the second half of Love and Hip-Hop: Miami's fifth season, and shares her dating experiences as a single mom to two girls under two.
After viewers saw Amara and Safaree get in an intense back-and-forth on the show's mid-season finale last month, Amara backtracked when it came to the validity of their relationship.
What started out as "testing the waters," quickly became a just for TV relationship, but Amara tells TooFab, that there was something there, with the mother of two revealing that she pulled the plug on their short-lived romance after Samuels started "acting single."
"I think that in that moment, because of a lot of other personal things that I was going through... I just kind of felt like, you know what, 'You're embarrassing me,'" Amara explained.
She continued, "You're out here acting all single and talking to other women and doing all types of things make me look... Verme como una estúpida. So I'm like, 'Oh, You know what? Never mind. I had nothing to do with him. And if you want to act single, pues, so am I."
A lot of the drama, Amara said, came from Safaree's previous relationship with Erica Mena, with whom Safaree shares two children. Though the pair are divorced, Amara said she was often dragged into their drama online.
"There were a lot of other things happening in his past -- personal life, with things that occurred," She added, alluding to his contentious relationship with Mena. "Someway, somehow, people were trying to drag me into a situation that had nothing to do with me either, so I guess it was just me trying to protect myself from all the negativity that was happening in that moment."
As for what fans can expect from the second half of Love and Hip-Hop: Miami, Amara said lots more drama, and a closer look at what really went down between her and Safaree.
Viewers will also see Amara have a sit down with the father of her twin daughters, Sualtesa and Sumajestad, 1, whom she welcomed in March 2022, and the drama that has unfolded with him since their birth -- part of which motivated her to deny her relationship with Safaree.
"A lot of people did get to see at one point, that I had conflicts with the father of my children. I've been very respectful on the way that I treat that matter," Amara explained. "Even though at one point, I actually feel very terrible that I didn't know how to control my anger -- my anger, my disappointment, my hurt as a woman, as a mother. And I went on Live and exposed and said a lot of things that I probably shouldn't have."
She continued, "And then this season, you'll see me have that confrontation, that one-on-one conversation with him. Which is also part of the reason why I denied my relationship with Safaree."
There's a lot people don't know, Amara said, and a lot she's kept private because of her girls, telling TooFab she's working as hard as she possibly can for them.
"I work so much, but my girls made me even more ambitious. They made me even more like, 'Let's go get it.' 'Cause I know that they depend on me," Amara, who has been using Latin dating app, Chispa, in hopes of one day finding that Mr. Right, said. "Me siento bendecida. I honestly feel so blessed. That's also another reason why I feel like I also wanted to come into Chispa."
"I don't know if the fairytale exists, but I would love to find someone that can really love me, that can love my girls. And that's something else that happens, like me, there's a lot of other women on Chispa that now, we're mothers," she continued. "You can't just date anyone. You can't just bring anybody home. You really have to get to know them. Especially, I have two little girls."
Amara added, "Maybe, eventually, God will bless me with a good man that my girls can see as a father figure. Y todas esas cosas. But my girls have really motivated me to become the best version of me, honestly."
Her one dating must-have? Treat her like a lady. Amara tells TooFab, when it comes to a first date, she doesn't want to have to split the bill.
"I feel like if we're going on a date, I want to feel like I'm being treated out for dinner. I want to feel like a lady. Give me the whole experience. That's just me. I'm more traditional in that aspect," Amara explained. "Some people feel that if it's a first date, we're still getting to know each other, we're still like on friendzone, and it's OK to split the bill... NO."
She added, "Even the smallest thing like that, those are important things to talk about before you actually go out on a date. Where's your mindset? How do you visualize things? That whole, 'What do you bring to the table' conversation, maybe that's something that needs to be had before going out on a date."
The first half of season 5 of Love and Hip-Hop: Miami is currently available to stream on VH1.