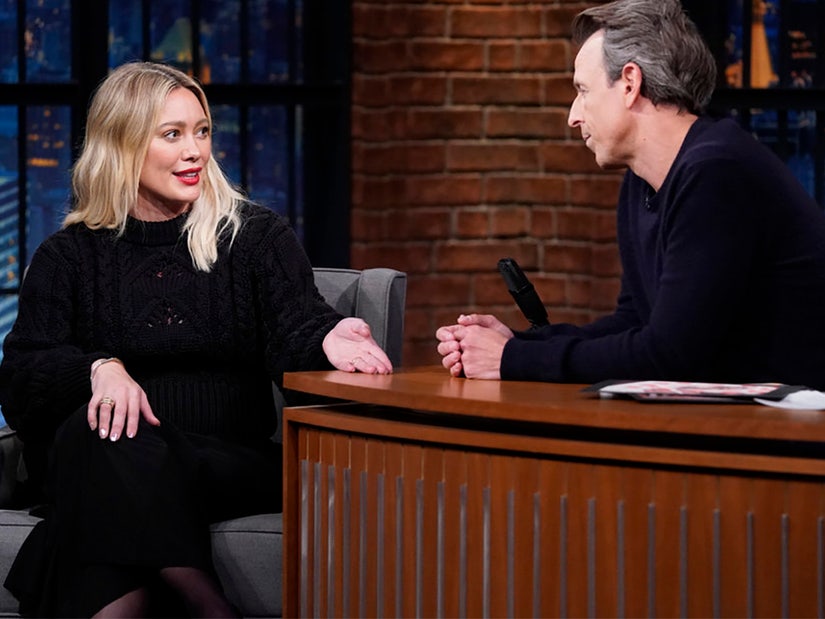 NBC
Hilary Duff shared with Seth Meyers on Late Night that daughter Banks picked out the card all by herself and her father, Duff's husband Matthew Koma, said it was the "best birthday card."
Hilary Duff will have a birthday card to cherish and remember forever after her husband Matthew Koma stood by her five-year-old daughter Banks' unexpected choice, much to Seth Meyers' delight on Late Night.
The big day went down in September, with the How I Met Your Father star receiving the card from her daughter and -- we're speculating here, but we know we're right -- her husband dying laughing somewhere nearby, or at the very least dying inside.
"Banks got you the best birthday card," Duff said her husband told her. She said she was anticipating the card "was gonna, like, sing to me or something." But that's not what happened. Not at all.
Meyers shared a picture of the card from Duff's Instagram Stories, which featured a birthday cake with a message printed on it. The key to why this story works so well is that Banks can't yet read. But Koma certainly can, which is why it's such a perfect little moment of familial happiness.
"Happy Birthday D--khead" was printed in a lovely script across the cake. What makes this so beautiful to imagine is that you just know Koma was grinning nearby as Hilary had to keep it together in front of Banks.
Little Banks has no idea what message this card is trying to send to her other. She loves her mother and wanted to honor her on her birthday. And she's probably super proud that she picked the card out all by herself. How could anyone ruin this moment?
"I was really surprised," Duff said of the card, adding, "Love it, had to post it."
Meyers said that Koma should have had Banks write the same message on the inside, too, so "then you saw it again in her handwriting. So she's like, 'No, it wasn't a mistake, that was the sentiment.'"
Duff was on hand to celebrate the publication of her second children's book, My Sweet Little Boy, which came out on Tuesday. The book is a follow-up to My Brave Little Girl, which came out in 2021.
Meyers joked that Duff was probably pushed to write this book by her older son Luca. Duff shares Banks and two-year old Mae with Koma, and 11-year-old Luca with ex-husband Mike Comrie.
Duff joked that he wasn't as happy about the book as her young daughter, with Meyers realizing, "Oh my god you wrote the book about the little one first?"
"I know, I know," Duff replied. "I like to keep them grounded by doing horrible things."