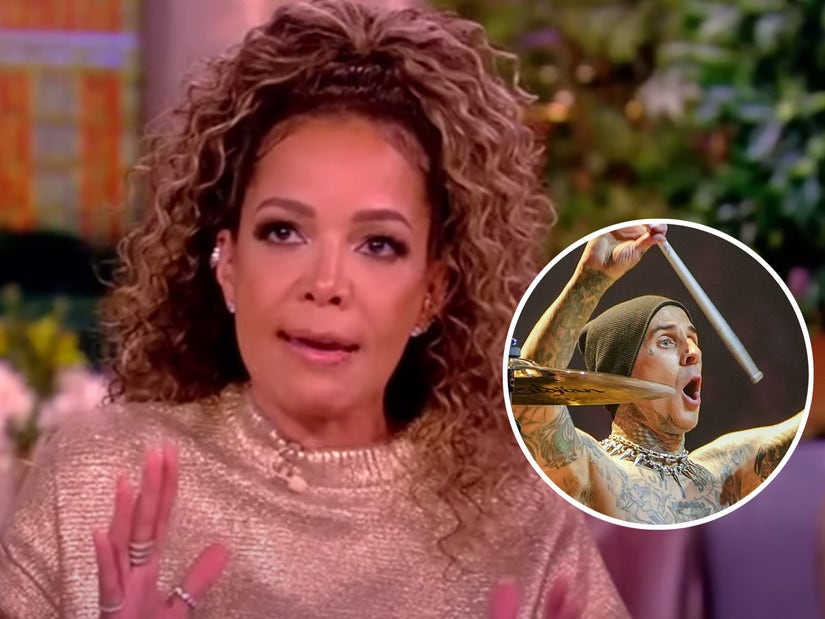 ABC/Getty
"When you are in labor and you are birthing, you need, like, zen," Sunny said while she and her View cohosts discussed Travis' recent TikTok video of him drumming in Kourtney Kardashian's delivery room.
On Friday's episode of The View, Sunny and her cohosts discussed Blink-182 drummer Travis Barker's recent TikTok video, in which he played the drums on a stool in wife Kourtney Kardashian's delivery room. And while Sunny said it's nice that Kourt seemed to be a fan of her husband's drumming, she would definitely not have had the same reaction.
"If she likes it, I love it for her," she said, jokingly adding, "I personally would have wanted to punch him in the throat because when you are in labor and you are birthing, you need, like, zen."
"You're going through a lot of emotions," she continued. "You may be going through a lot of pain. Your epidural may not have taken [or] worked yet."
Sunny -- who is mom to son Gabriel, 21, and daughter Paloma, 17, -- went on to note that drumming, in particular, grinds her gears.
"My son, for his third birthday, got a drum [set], and I wanted to die," she joked. "It's so loud! It's not calming! But I love it for [Kourtney] if she loves it."
Like Sunny and her cohosts, many fans had similar reactions to Travis' TikTok video, which he shared on Thursday.
"Kourtneys patience are angel like," a person wrote, while another fan commented, "That would've driven me up the wall😂 Kourtney has the patience of a saint. Congratulations!!!!!"
"This would overstimulate me 😂😂," another user added.
"I would be literally so annoyed I couldn't do it," a commenter said.
Travis, 47, captioned the clip, "Practicing to my babies heartbeat 🥁."
The musician and Kourtney, 44, recently welcomed their first child together, a baby boy. Sources confirmed to TMZ last Saturday that the reality star had given birth.
This news came just one day after TMZ reported that they had growing evidence the happy couple had already welcomed their son -- likely named Rocky -- into the world ... after they obtained pictures of Travis and Kylie Jenner arriving at Cedars-Sinai Medical Center in L.A.
While this is the couple's first child together, they were both already parents. Kourtney shares Mason, 13, Penelope, 10, and Reign, 8, with ex-partner Scott Disick, while Travis is dad to Alabama, 17, Landon, 19, and stepdaughter Atiana De La Hoya, 24, from his marriage to ex-wife Shanna Moakler.