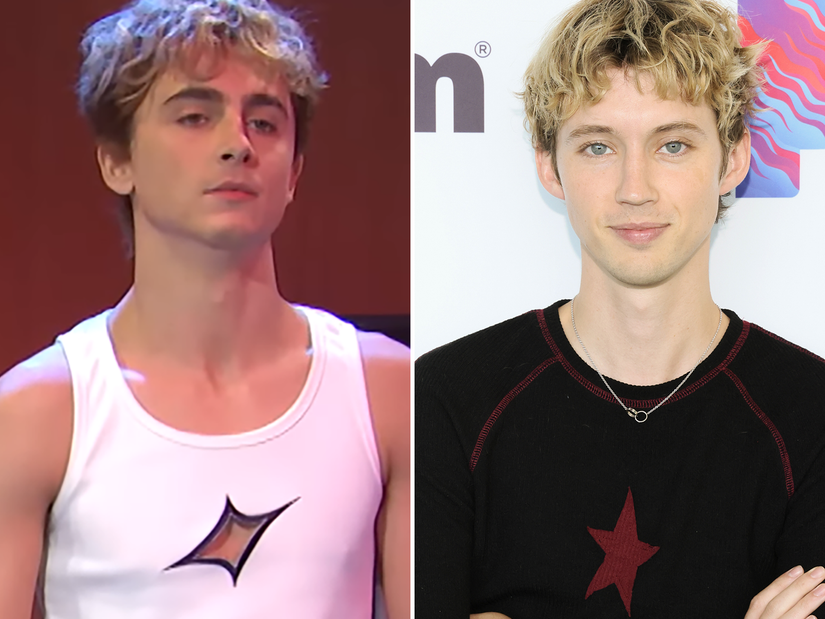 NBC/Getty
The "gay famous" social media star and Grammy nominee was not prepared for Timothée Chalamet and Boygenius all doing their best impressions of him on SNL, complete with dancing in tiny t-shirts and showing off their red undies.
Is this real life? Troye Sivan clearly wasn't sure after he tuned in to see Saturday Night Live host Timothée Chalamet doing his best impression of him on the venerable sketch show. Ironically, considering the sketch had him as a sleep demon, Troye said he felt like he was dreaming.
The Australian singer, who is explained as "gay famous" in the sketch -- but slowly breaking into the mainstream -- took to his social media platforms to react to Timothée and the ladies of Boygenius all doing their takes on his look and signature dance moves, including peeks at their red undies.
He shared stills and video of himself watching the sketch (which you can find in the link above) to his Instagram Stories, captioning one of them, "Pure shock." The sketch even made it to his main grid, with Chalamet captioning the share, "WHY IS LIFE SO WEIRDDDDD RN LMAO IM DEAD."
Waiting for your permission to load the Instagram Media.
He offered a little more of his reactions to it in video over on his TikTok page where he played a snippet and then spoke directly to the camera (his comments are NSFW for strong language).
"The only way I can describe this," he shared, "is it's like a weird f--king dream. Like, it's like imagine ... Timothée Chalamet was in my dream and he was wearing my clothes and he was doing [my dance moves]."
Sivan may have to get used to being a part of the mainstream now as the "gay famous" icon is also celebrating his first-ever Grammy nominations. The Australian singer picked up two for his song "Rush" in the categories of Best Pop Dance Recording and Best Music Video.
For the first, he'll face off against "Don't Hurt Me" by David Guetta, Anne-Marie & Coi Leray, "Miracle" by Calvin Harris, "One in a Million" by Bebe Rexha & David Guetta, and "Padam Padam" by Kylie Minogue.
On the video side, his competition includes The Beatles' "I'm Only Sleeping," Billie Eilish's "What Was I Made For," Kendrick Lamar's "Count Me Out," and Tyler Childres' "In Your Love."
Comments are still active on his Grammys reaction post, where you can see the love from Kylie Minogue, Chrisell Stause, Naomi Campbell, Charli XCX, Zara Larsson, and more.
Waiting for your permission to load the Instagram Media.