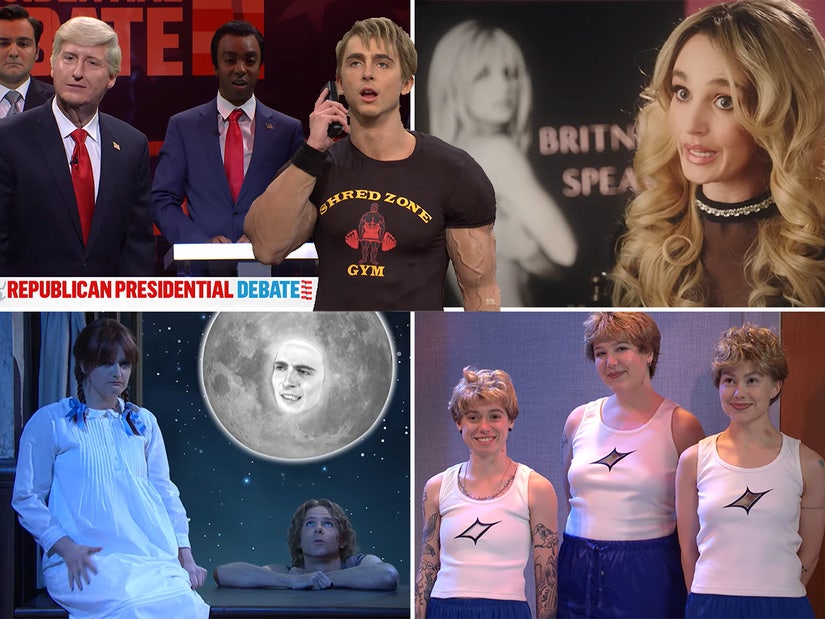 Getty
Saturday Night Live framed a whole sketch around "gay famous" Troye Sivan, while fans got a sequel to perhaps the most memorable sketch from Timothée Chalamet's previous hosting appearance in 2020 -- plus, newcomer Chloe Troast breaks out with epic, bizarre showcase.
It was a mixed bag as Timothée Chalamet returned for his second time to host Saturday Night Live, and his first time without either a pandemic or a strike to impede what he could do or say. They even managed to tweak the monologue to embrace the possibilities of "shameless self promotion."
Alec Baldwin made a surprise appearance on the show, as did Please Don't Destroy's John Higgins, taking on the Ron DeSantis impression. Who knows how long these Republican candidates will last, so we're enjoying them while we can. We're especially creeped out by Ego Nwodim's Vivek Ramaswamy because she's too good in the role, as is Devon Walker's robotic Tim Scott.
The show dropped an unexpected sketch around the enigma that is "gay famous" Troye Sivan -- if you don't know, it might benefit you to at least familiarize yourself with what he's all about -- as well as a whole slew of cast celebrity impressions reading excerpts from Britney Spears' memoir. Cast newcomer Chloe Troast finally had her breakout moment in a showcase piece that solidified her incredible potential.
And for fans of Timothée's previous SNL hosting appearance back in 2020, there's an unexpected sequel to one of that night's most memorable sketches. You might not have known you needed it in your life, but you definitely did. We all did.
As usual, we're ranking all the sketches from worst to first, including the Monologue, Cold Open, "Weekend Update" and any sketches that were cut for time but made their way online. We'll skip the musical guests, because they're not usually funny -- unless Ashlee Simpson shows up. We wrap up with a look at the cast-member who had the strongest week.
They had something with this one featuring some genuine rap pioneers and experts like Punkie Johnson's Mary J. Blige and James Austin Johnson's Rick Rubin sitting on a panel with a ridiculous social media rapper (Timothée reprising his Soundcloud rapper $mokedCheddaDaAssGetta from his previous SNL appearance), but it didn't quite come together for us. We actually enjoyed Timothée more when he was mumbling under a mask than spouting off nonsense. His terrible rap was pretty funny, as was Kenan Thompson's Dr. Cornel West spanking him, but the rhythm of this piece didn't dig deep enough into the true spirit and legacy of hip hop, or the ridiculousness of some of these sideshows. Something just felt off. Maybe it was the lack of laughs. Or we're just missing Pete Davidson's Guaplord.
We've seen these voiceover sketches before with Andrew Dismukes in the control room, but this one was even weird than usual. Timothée played himself, trying to record a calm, soothing audiobook for people to sleep to written by Punkie Johnson's character, but the story was anything but calm. Andrew's characterization was aggressive and weird and the whole thing just stayed weird. And then Alec Baldwin showed up. Like, the real guy. He was a funny addition to the idea of someone being calm, considering his notorious past being not-at-all calm, but that was the only strong piece, and you had to infer all of that in the final second. Before that it was just … yeah, weird is the best we got.
Cold Open: Republican Debate
This was a fun twist on the inevitable Republican Debate sketch. Ego Nwodim looked terrifying as Vivek Ramaswamy, while Please Don't Destroy's John Higgins made his sketch debut as Ron DeSantis. And we have to give props to Devon Walker for really selling the awkwardness of Tim Scott. Here's the thing, though, none of this really mattered because they barely got a chance to get started before James Austin Johnson literally paused the sketch to come out as Trump and rip into each and every one of them. He even broke the fourth wall a bit to talk about Ego and John's impressions. It was a little slow compared to previous rambling appearances, but sprinkled with enough quality jokes to keep us smiling. We were hoping for something a little more in the way it wrapped. At least this appears to confirm our theory that Mikey Day is taking over Biden so he and James' Trump can go at it (as their counterparts inevitably will)
Well, that went in an unexpected direction as Sarah Sherman's sleep paralysis demon was actually "gay famous" Troye Sivan, who is slowly making his way into the mainstream. We kind of loved Timothée confessing that he can't do an Australian accent as he portrayed Troye's tiny t-shirts, huge pants and odd dances (including peeks at his red underwear). The whole sketch was totally silly -- and we're not sure how it would play for those who've no idea who Troye is -- but it was an infectious kind of silly. Bowen Yang was clearly enjoying his role as the doctor analyzing Troye, while the women of Boygenius dropped in for an adorably unexpected cameo at the end.
The Woman in Me Auditions
The latest excuse for the cast to show off some celebrity impressions was a Chloe Fineman showcase with the versatile performer portraying Britney, Natasha Lyonne, Julia Fox and even host Timothée Chalamet. Molly Kearney brought the overused Kevin James meme to life, while we also got some fun takes on Ice Spice and Fred Schneider, while Sarah Sherman dropped a pretty spot-on John Mulaney and Michael Longfellow tried his hand at former cast member Bill Hader. The commentary itself was hit or miss, but it's always fun seeing some of these solid impressions -- Bowen Yang absolutely nails B-52's Fred Schneider, as random as that is.
Please Don't Destroy: Jumper
An unexpectedly awkward -- well, they're all kind of awkward, aren't they? -- installment as the boys come across a would-be jumper on the streets of New York City. Timothée plays the jumper who's depressed because he's afraid to share his music and his girlfriend dumped him (for cheating) and his mom died. The music itself is … a statement, which is the problem for the guys, trying to be supportive. As always, PDD knows how to stick the landing, so aside from the escalating awfulness of the guy himself, they brought it back around perfectly to what they do. It wasn't as laugh-out-loud funny as some of their videos, but it maintains their consistent tone.
Heidi Gardner almost kept it together until Sarah Sherman showed up at the very end of this clever sketch about meatheads working at a gym. It was a simple enough premise, with Heidi calling to try and see if her Lululemon bag was there. But everything she said was too much for first Mikey's gym rat and then Timothée. When they got on a three-way call, we were losing it, but none of the three lost it at all. It was just the ridiculousness of Sarah's closing cameo that finally broke the sketch, but in the funniest way. This was just the right amount of time to spend on such a stupid and thin premise, because it went out while it was still funny.
The boys went on a rapid-fire delivery of more jokes in one segment than we've possibly ever seen. As they shifted beyond politics to start talking about high school teachers sweating a new app that shows who's been looking at your Instagram page and the "ass of an angel" on a long-lost mammal found in New Guinea, we found ourselves wondering if they were going to have any guests at all. It was almost too much to digest, but there were definitely some good ones in there, with the audience groaning and cringing, just like Colin Jost and Michael Che like 'em.
As it turns out, the plan was maybe to save Heidi's Your Co-Worker Who's Extremely Busy Doing Seemingly Nothing character's return because she made an absolute mess out of Colin's half of the desk. Her unhinged antics were even crazier than her appearance last season, and we discovered what it is that she does that keeps her so busy! She may have taken too many bites from her burrito phone because it definitely impacted all of her lines -- and accidental water-spitting -- afterward, but it added to the frantic chaos of the character. Honestly, she's crazy enough that we kind of enjoy the relentless madness of the bit.
Monologue: Timothée Chalamet
Timothée was definitely celebrating the end of the SAG-AFTRA strike as he'd been prepared to talk about his perfume ad with Martin Scorsese. But now, he's free to sing a Wonka classic, slightly tweaked, as he invites us to come with him to "a World of Shameless Self-Promotion" … at least for a little while. Then, the gears shifted entirely to something that could have easily been a pre-recorded music video but instead went down live as Marcello Hernandez joined Timothée for a rap about being a "Baby Face" -- with a lot of lines about being hung like a horse, for some reason. Punkie Johnson joined as Nicki Minaj before Kenan Thompson popped up because he really has looked the same since Kenan & Kel! This unexpected treat was right up there with some of the best SNL songs of all time.
Well, we didn't expect a sequel to Timothée's oddball "Tiny Horse" sketch from his first time hosting back in 2020, but this was a delightfully odder take on it, with Tiny Horse now Giant Horse and wreaking havoc across a post-apocalyptic future. The fakeout of the opening portion of the sketch was perfect, as was Timothée breaking into a maudlin song about his childhood friend now all grown up and trying to destroy everything. Bonus points for James Austin Johnson clearly channeling Star Wars' Emperor with his villain, making his end all the more fitting. Will this be a running gag through all his future appearances? Honestly, we're here for it.
What an incredible debut showcase for newcomer Chloe Troast. This was a musical theater piece about a "little girl" who dreams of being adopted, but it's so much more than that. She showed an incredibly interesting and gifted vocal range used perfectly for comedic effect. Then, each revelation as she talked to her friend the moon (Timothée) only made things funnier and stronger. She sold every element of this, as did Timothée in his growing shock and dismay. We don't even want to spoil too much because with this one sketch, we see all the potential in Chloe T, and why she was brought onto the show. We also enjoyed the post-sketch shot of the other girls cheering her on as this was a big deal for her in her first year.
After last episode barely used the cast, they were all over this week's show, but mostly in supporting roles. No one really dominated the night, save Timothée himself. We have to give a shout-out to Chloe Troast, though, for her big breakout sketch toward the end of the night, which was brilliantly unexpected and so much fun.
James Austin Johnson had a strong night again with his usual Trump nonsense, as well as a surprisingly delightful Rick Rubin and spot-on odd Werner Herzog. Kenan Thompson brought a little extra to his Lester Holt at the top, while his usual approach worked for Dr. Cornel West and Neil deGrasse Tyson. He can just charm his way through a sketch at this point, though he did slay his monologue rap segment.
We have to give it up for Punkie Johnson bringing the impressions, slaying us as both Nicki Minaj and Ice Spice this week, while Sarah Sherman continues to stretch herself as a more traditional performer, bringing it as the sleep paralysis patient and then dropping an impressive John Mulaney on us. Ego Nwodim didn't get nearly enough time to shine tonight, but definitely made the most of her unexpected turn as Vivek Ramaswamy. We hope he lasts long enough for her to bring it back!
Ultimately, though, we're going to give Player of the Week to Heidi Gardner, who continues to shine in unhinged characters like her "Weekend Update" spot and even her Nikki Haley in the Cold Open. She even made her relatively straight role in the gym sketch funny with her commitment to the insanity, while she nailed Allison Janney for Britney Spears.
Heidi has really stepped up after the loss of so many powerhouse women. She, Ego Nwodim, and Chloe Fineman are easily holding their own as the veteran women on the cast, with Heidi in particular feeling like she owns that top spot on the show for the women's side. She's so reliable as a performer and always funny.
"Saturday Night Live" returns next week with host Jason Momoa and musical guest Tate McRae.