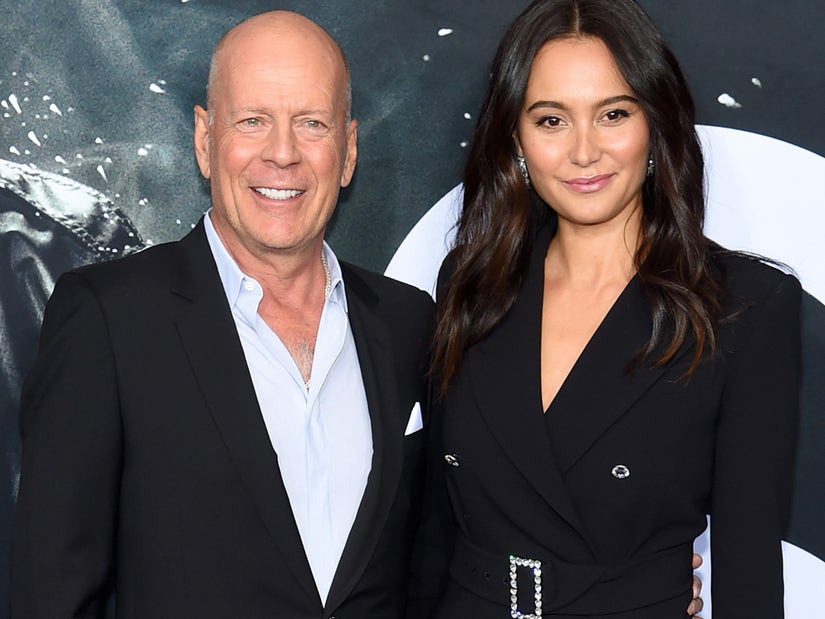 Getty
Bruce Willis' entire family, including wife Emma Heming and his children with Demi Moore, have been very public about his ongoing health issues with frontotemporal dementia, sharing updates both heartwarming and heartbreaking.
Even as Bruce Willis' wife Emma Heming stands by his side and is doing everything she can with the support of his children and ex-wife Demi Moore after his frontotemporal dementia diagnosis, she admits there is some guilt there.
In some ways, every time they share an update she's feeling that way. And it's all because she's looking at the bigger picture beyond her husband, seeing all those people who aren't living with her privilege.
"I struggle with guilt, knowing that I have resources that others don't," Heming wrote in an article published over the weekend by Maria Shriver's Sunday Paper.
"When I'm able to get out for a hike to clear my head, it's not lost on me that not all care partners can do that," she continued. "When what I share about our family's journey gets press attention, I know that there are many thousands of untold, unheard stories, each of them deserving of compassion and concern."
She said that it's heartening, in some ways, to be a voice for so many of those families struggling silently. "It's important to be an advocate on behalf of those families," she wrote, "who don't have the time, energy, or resources to advocate for themselves."
She said that their stories resonate with her, echoing the "same story of grief, loss, and immense sadness" that she and her family have been experiencing.
Heming had previously opened up about feeling overwhelmed after Willis' diagnosis, but after she's taken the time to learn more about the disease, she has "so much more hope." She talked about the incredible FTD community of support she's found.
One of the ways in which the entire extended family has been keeping hope alive is by offering focus on the positives as well as the challenges. There have been shared moments of Willis with his children or with the family celebrating and just having fun.
Willis and Heming share two children, Mabel, 11, and Evelyn, 9. He also has three children with Moore, Rumer, 35, Scout, 32, and Tallulah, 29. She praised the family for being able to "find joy in the small things," and "coming together to celebrate all the moments life has to offer."
Part of the reason she continues to share Willis' journey is because it is a part of that unexpected purpose she says she's found along the way, to help empower others and shine a spotlight on this disease.
"As much as I grieve this experience daily -- as I know so many others do -- I also know that it has made me stronger than I ever thought possible," wrote Heming. She hopes that by sharing her story, others will also "feel seen and understood."
It's the same message that Tallulah recently opened up about during her appearance on The Drew Berrymore Show last week. She said that it's partly because they are just that open, but it's also about spreading awareness.
"If we can take something that we're struggling with as a family to help other people, to turn it around to make something beautiful about it, that's really special for us," she explained.
Heming and Moore first united in support of Willis back in March 2022 when they shared that he would be stepping away from his acting work after a diagnosis of aphasia. That diagnosis then evolved into the current frontotemporal dementia one.