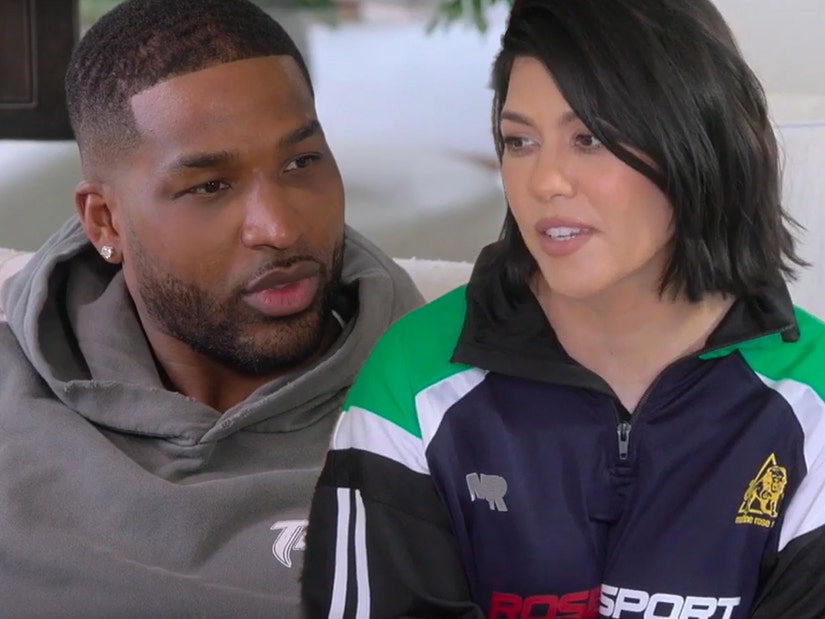 Hulu
Tristan is in the hot seat, as Kourtney -- with a notepad full of comments -- grills Khloe's ex on his past infidelities.
The preview video shows Tristan arriving at Kourt's home for a one-on-one discussion, as he continues to try to make amends to Khloe Kardashian's family members for what he put them all through by repeatedly cheating on Kardashian and hiding a whole pregnancy from her.
Waiting for your permission to load the Instagram Media.
"Tristan and I really have not connected and I just can't fake it," Kourtney says in a confessional, before the real conversation between them starts. Sitting down, he points out the notebook she's carrying -- presumably full of all the thoughts she wanted to bring up while hashing things out.
"I was gonna tell you, 'This is what I want you to take from this,'" Kourt quips, before Tristan mentions he's been going to therapy for two years and finds it helpful to take notes during those sessions.
"I'm not here to judge. I don't have any anger. I want an understanding of how you could do these things or how it got there," Kardashian prefaced the conversation, before saying she was "curious" whether Tristan ever thought to himself, "I don't have remorse."
Calling that question "fair," Kourtney then asks, "The next day after you do the deed, do you feel anything?" As he replies -- in the present tense -- "When I cheat, I feel disgusted the next day with guilt," Kourt shoots back, "Then why do you do it again?"
That's where the preview ends, though more of the conversation will play out on Thursday's new hour of The Kardashians.
Earlier this season, Kourtney revealed both she and her daughter Penelope feel a certain kind of way about Khloe's ex.
"I feel like she gets it from me," Kourtney said of Penelope's feelings about Tristan. "I told her, the first day of school I was so triggered by him. I know why, but I was like, I feel like we all brush it off and are fine and I was so triggered and I was like, I just can't do it anymore."
"Tristan has made made horrible decisions and choices with my sister," Kourt continued in a confessional. "There's times when I'm so triggered by him I can't be around him. Then there's times I just let it go because we just want harmony. He's the father of my niece and nephew."
While Khloe said she was very "proud" of herself for allowing her ex to "be the father he wants to be" for their children, she acknowledged in her own confessional that where she stands with Tristan "has nothing to do with what I expect my family members to do."
"If Penelope has her feelings about Tristan, rightfully so, good for you girl!" Khloe continued. "I want Penelope to have these feelings and I don't want to talk her out of them, because I don't want this behavior to be something I'm validating or I'm justifying. I want her to know that how she's feeling is the right way to feel. We should not accept someone treating us like this."
New episodes of The Kardashians drop Thursdays on Hulu.