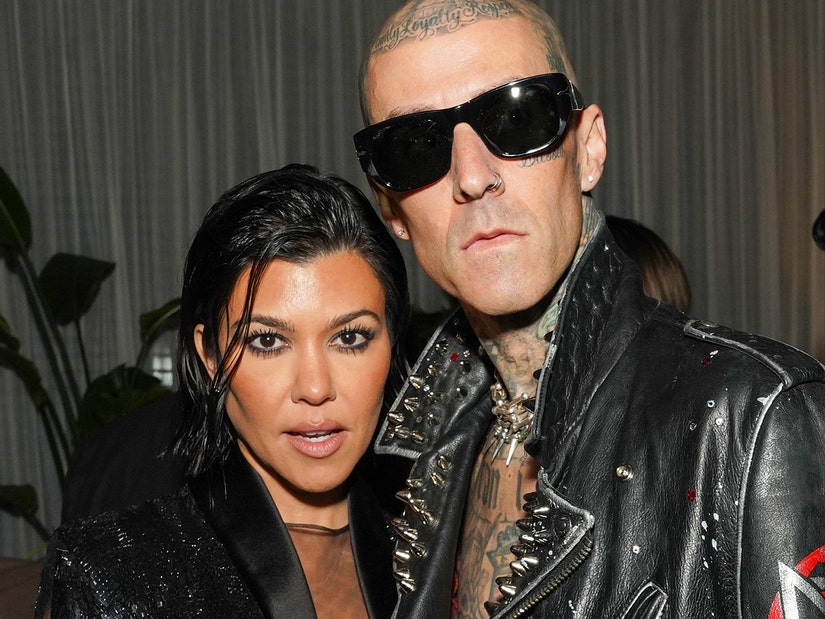 Getty
While reality star Kourtney Kardashian appreciates how much therapy has helped her, she says she sometimes misses her pre-therapy self when she had "no feelings" -- plus, extended family birthday wishes for hubby Travis Barker after birth of their first child together.
Kourtney Kardashian would never knock therapy, and in fact has encouraged her entire family to learn to be open and consider its values, she admits she does miss some aspects of herself that have fallen by the wayside.
"No-feelings b--chy Kourtney was a vibe," Kourtney told GQ in an article published Monday. "It was so nice not to give a f--k."
Kourtney was famously cold on the show, often getting into it with her siblings over her seeming lack of care or interest in them or even participating in the show.
Fans have seen a softer side of The Kardashians star since she began her relationship with Blink-182 drummer Travis Barker. The couple married in May 2022. They welcomed their first child together earlier this month.
On Tuesday, Kourtney returned to Instagram for the first time since the birth of their child to honor Travis' 48th birthday with a series of pregnancy pictures, including some topless.
Waiting for your permission to load the Instagram Media.
"To my husband, my soulmate, my best friend, my lover, my daddy to our baby boy, my everything… I wish you the happiest birthday," Kourtney captioned her post. "You make all of my dreams come true and I feel so blessed to have you by my side. I love you beyond words, forever."
Travis replied, telling Kourtney, "I love you forever my soulmate 🖤."
Travis shared Kourtney's message, along with dozens of other birthday messages on his own Instagram Stories, including additional messages from his extended family.
These included sweet messages of love from Atiana De La Hoya, who called him in one shot of them together, "the most talented amazing hardworking loving coolest t dawg ever."
Kris Jenner shared pics of Travis with the KarJenners, wishing him a happy birthday and penning, "You are such a wonderful dad, husband, friend, son and uncle." Kim also shared a family pic wishing him a happy birthday.
Khloé expressed her appreciation for her new brother-in-law, writing, "Thank you for making my sister so truly, madly, deeply happy and for all the love and blessings you bring to our family!"
Alabama Barker wrote a beautiful and lengthy message to her dad: "Happy birthday to my everything! I couldn't have asked for a better father to raise me. I'm so thankful I have you, you've always made sure you put your kids before anybody & have given us unconditional love."
"I've always been attacked to your hip, you are really my hero, you inspire me every single day... you're such a loving, caring, hardworking, hustling, amazing father to us," Alabama continued. "You gave us such a beautiful life & I'm beyond grateful for everything you do for us."
"Your mindset has taught me so much! You've always given me a different outlook on situations and helped me become a mature, smart, and down to earth young woman," she concluded her message. "You [are] my best friend. I love you whole bunches."
Travis and Kourtney certainly have a lot to celebrate, with their blended family now having grown by one with the birth of their son, likely named Rocky Barker.
While this is the couple's first child together, they were both already parents. Kourtney shares Mason, 13, Penelope, 10, and Reign, 8, with ex-partner Scott Disick, while Travis is dad to Alabama, 17, Landon, 19, and stepdaughter Atiana, 24, from his marriage to ex-wife Shanna Moakler.
The pair, who have been open about their struggles with infertility, first shared their sweet baby news earlier this year, with Kourtney making the big announcement at Travis' Blink-182 concert in June.
While Kourtney and Travis faced some health scares along the way, including Kourtney reportedly being put on bed rest towards the end of her pregnancy, the happy couple have managed to celebrate, throwing a rock show-themed gender reveal party and a Disney-clad baby shower for the little one as they anxiously await his arrival.
Now, the celebrating continues with the family coming together to honor Travis' big day.