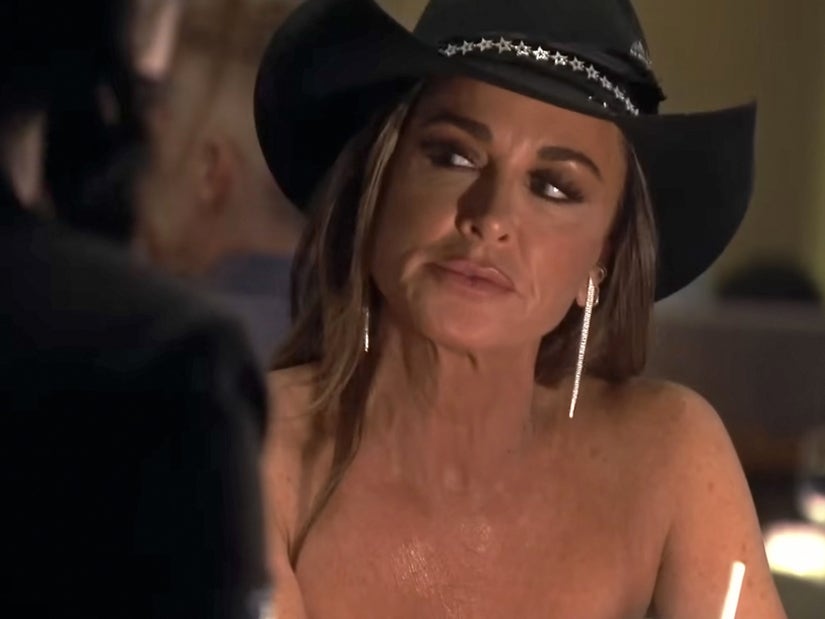 Bravo
The reality star gets choked up after being asked if she worries about the future of her marriage, says it feels like they're "growing in different directions" and talks infidelity.
On Wednesday's new hour, Kyle grabbed a bite to eat with Dorit Kemsley, where talk turned to the former's tough year in her marriage. While Richards and Umansky have separated -- but still live together -- currently, the episode was filmed before the pair split.
"I expected more from him for what I was going through," Richards said of what she felt was behind the divide between them. "Also, probably, you know how he loves to go drink and does a lot of business events and I'm supposed to go, be a wife and supportive. Sometimes it's like, I don't want to go to these parties."
In a confessional, Richards pointed out how Mauricio's position as CEO of The Agency requires him to put himself "out there" and be social. She, however, felt she was "in a place in my life where I don't want to do that. I would much rather be home reading than going to an event, especially now that I don't drink anymore."
She then became visibly upset, holding back tears when Dorit asked whether Kyle ever worried about the future or how to "sustain a marriage" if it seems they're going in different directions. Richards didn't really respond to the question.
"I think with the way my relationship is right now, I'm not happy," she did add in a confessional. "I'm sort of now working on myself inside and I feel like he's very focused on his work. So I feel like, in that aspect, we're kind of like growing in different directions."
She also added, "I don't want to wake up a few years down the road and be like, 'Who are you? What are supposed to talk about now?'"
Later in the hour, during a dinner game with the entire cast, Garcelle Beauvais asked all the married women how they would react if they learned their husband had cheated on them, just once. "Is one time enough to let it go?" she wondered.
"I don't know, I don't know if I could," responded Kyle, who then reflected on Mauricio being the subject of cheating gossip for a solid decade on the show.
"We have dealt with so many rumors for so many years ... do I look like the kind of person that would be like, 'Ah, just don't let me find out about it?'" she asked in a confessional, before adding, "No, I'm not."
The episode comes after an emotional BravoCon for Richards, who broke down in tears during a panel for RHOBH while discussing her separation from Mauricio. During the event, she also referred to their split as a "divorce" for the first time -- though later clarified she misspoke.
New episodes of RHOBH air Wednesdays on Bravo.