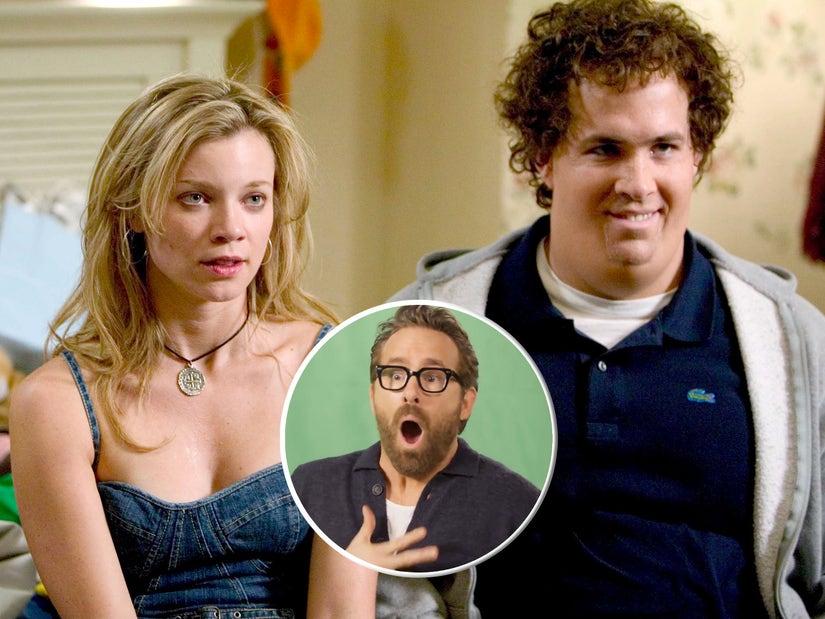 Everett Collection/American Aviation Gin
While Reynolds called the reunion a "JUST FRIENDSgiving miracle" 18 years in the making, it didn't quite go off without a hitch.
The two former costars reunite 18 years later in a very meta ad for the actor's American Aviation Gin line, which features the two playing exaggerated versions of themselves as they film what Smart believes is a sequel to the 2005 holiday comedy.
The video begins with the pair in character as Chris Brander and Jamie Palamino, with Smart's Jamie returning home from work after a tough day.
"I've had better days. The bar ran out of Aviation American Gin," she says, while holding onto a bottle of the booze. In shock, Ryan's character exclaims, "Oh no, that's so bad. That's terrible. They ran out of Aviation American Gin!"
With that, Smart asks for them to cut, saying it all seemed so "weird." Reynolds, however, assures her the green screen they're filming against will look great in post-production, promising it will look just like a real film set.
After another awkward take, Smart calls cut again, criticizing Ryan's "big reaction" to the Aviation Gin outage.
"It's been 18 years. I think the characters have changed a bit," he tells her, before they give it one last go. Again, however, Smart has questions.
"Hold on. Why would I be holding this if we ran out?" she asks, before he gives her pointers on the correct way to hold the bottle during filming. With that, she finally catches on -- asking, "So this is a stupid ad for your gin company?"
"This is a self-funded sequel predicated on a loose interpretation of IP law," he responds, before telling her, "Yes it's an ad for my Aviation American Gin."
Smart then storms out, calling him "dirty" for pulling a fast one on her and exclaiming, "You're not my f--king hero!"
Sharing the cute ad to X, the platform formerly known as Twitter, Reynolds wrote: "It's a JUST FRIENDSgiving miracle! Thank you, Amy Smart."
In the 2005 film, Reynolds starred as a successful record producer who returns home to woo his childhood crush after a full body makeover. The comedy also starred Anna Faris and Chris Klein.