While most of the article focuses on her connection to Cambodia and her Netflix project she filmed there, "First They Killed My Father," talk of the Pitt split and everything surrounding it did make its way into the full interview.
"It's just been the hardest time, and we're just kind of coming up for air," she said of going solo. "[This house] is a big jump forward for us, and we're all trying to do our best to heal our family." Jolie added that "Things got bad" int he summer of 2016, before correcting herself. "I didn't want to use that word... Things became 'difficult.'"
The reporter said Jolie became "defensive" when she brought up "Hollywood talk" that Pitt craved a "more stable, normal life" than the always-on-the-go one the family was living. "[Our lifestyle] was not in any way a negative. That was not the problem. That is and will remain one of the wonderful opportunities we are able to give our children," she responded. "They're six very strong-minded, thoughtful, worldly individuals. I'm very proud of them."
"They've been very brave. They were very brave," she added of the children. "In times they needed to be. We're all just healing from the events that led to the filing ... They're not healing from divorce. They're healing from some ... from life, from things in life."
"We care for each other and care about our family, and we are both working towards the same goal," she said when asked if their communication has improved. "I was very worried about my mother, growing up a lot. I do not want my children to be worried about me. I think it's very important to cry in the shower and not in front of them. They need to know that everything's going to be all right even when you're not sure it is."
In non-Pitt news, Jolie also opened up about reconnecting with dad Jon Voight.
"He's been very good at understanding they needed their grandfather at this time. I had to do a therapy meeting last night and he was just around," she explained. "He knows kind of the rule—don't make them play with you. Just be a cool grandpa who's creative, and hang out and tell stories and read a book in the library."
She also revealed she developed Bell's Palsy last year, but credits acupuncture for her full recovery.
"Sometimes women in families put themselves last," she says, "until it manifests itself in their own health."
"I actually feel more of a woman because I feel like I'm being smart about my choices, and I'm putting my family first, and I'm in charge of my life and my health," she added. "I think that's what makes a woman complete."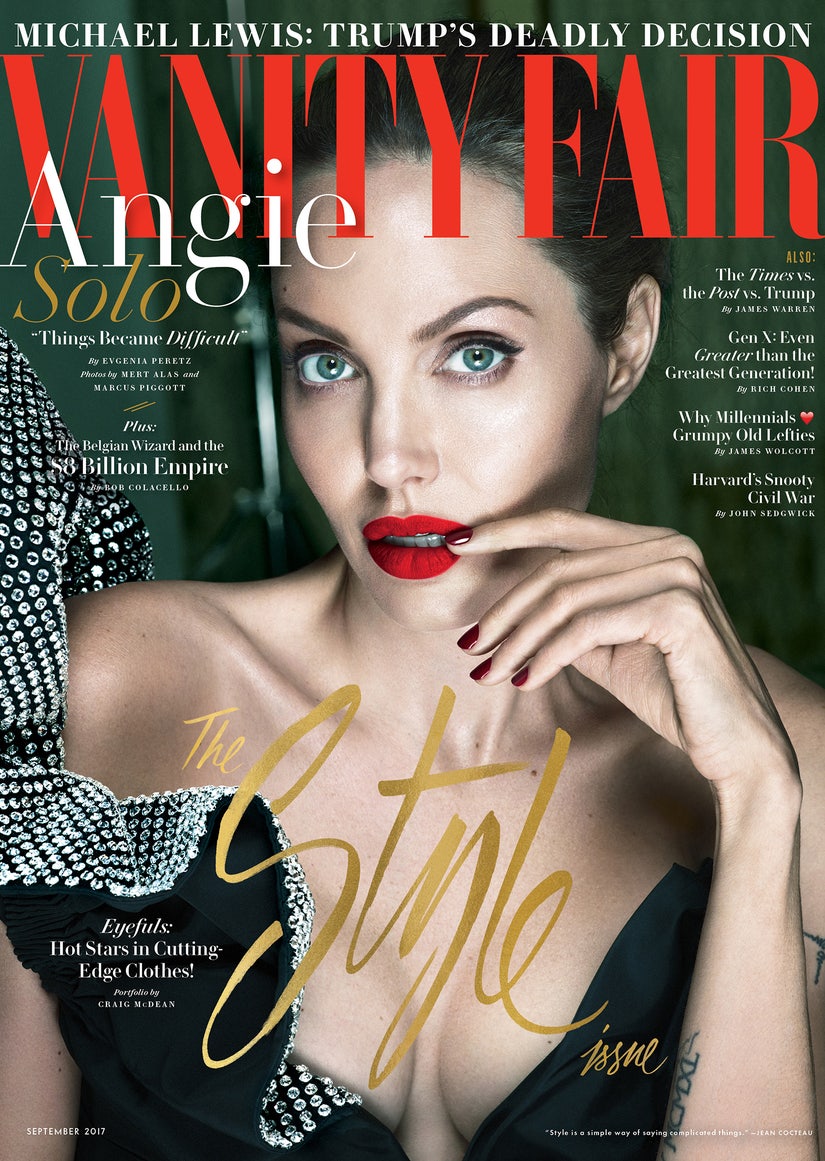 Mert Alas & Marcus Piggott