Ronnie Ortiz-Magro and Jen Harley take turns going after each other on social media before cops are called. Here's everything that went down Thursday night.
Late Thursday night, after Jen made one helluva second appearance on this season of "Jersey Shore: Family Vacation," Ronnie posted a since-deleted video to his Instagram Story of him coming home to their baby, 6-month-old Ariana Sky, crying on their bed.
The video was captioned, "This is why I had the baby, because she wasn't home at 6:30 a.m. and [left] her son alone until 9:30 a.m." Ron was heard saying, "October 21st -- I came to drop the baby off with Jen. She did not come home last night. She wants to be out drunk with her friends while her baby's sick. Jen is nowhere to be found. The bed's completely made."
In a second video, Ronnie included a timestamp of 6:38 a.m. and wrote, "Left 12-year-old son alone while she went to drink."
In response to Ronnie putting her on blast, Jen took to her own Instagram Story to share a series of screenshots (below).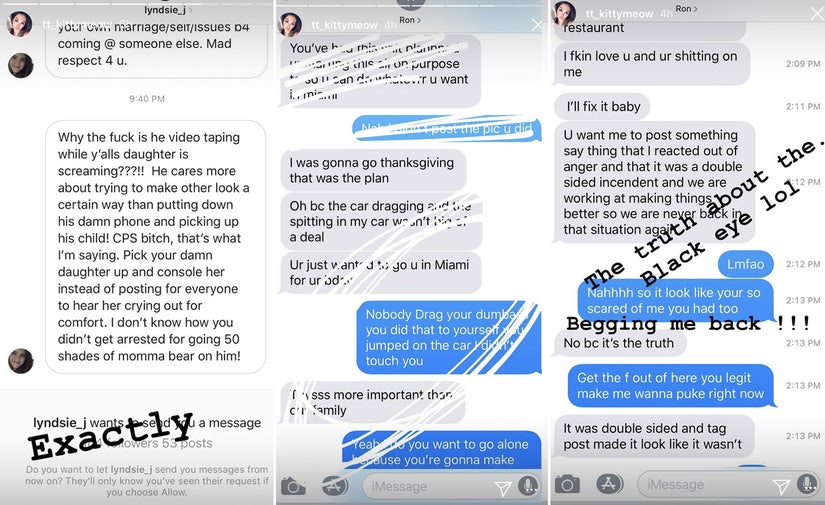 Instagram
The first screenshot was a message from a fan who wrote, "Why the f--k is he video taping while y'alls daughter is screaming???!! He cares more about trying to make others look a certain way than putting down his damn phone and picking up his child. CPS, bitch, that's what I'm saying. Pick your damn daughter up and console her instead of posting for everyone to hear her crying out for comfort. I don't know how you didn't get arrested for going 50 shades of momma bear on him!"
The next two screenshots she shared were conversations she had with Ronnie via text. In the first screenshot, Jen scratched out much of the conversation, but from what we can see, the two were discussing the alleged car-dragging incident that occurred in June of this year that led to Jen's arrest for domestic battery.
One of Jen's messages to Ronnie read, "Nobody dragged your dumb ass. You did that to yourself. You jumped on the car. I didn't touch you."
The next screenshot showed a clear conversation between the two, discussing the photo Ronnie posted two days prior of him sporting a black eye (below). He posted a close-up of his face with the caption, "Sorry for lying to my friends and family. Sometimes you love people so much, you're willing to lie and hurt the people that love you the most to protect."
Instagram
Over the conversation she shared, Jen wrote, "The truth about the black eye lol. Begging me back!!!"
"I f--king love you and you're shitting on me," Ronnie wrote. "I'll fix it, baby. You want me to post something [saying] that I reacted out of anger and that it was a double-sided incident and [that] we are working at making things better so we are never back in that situation again?"
"Lmfao. Nahhhh. So it looks like you're so scared of me, you had to?" Jen replied.
"No, because it's the truth," Ron wrote.
"Get the f--k out of here. You legit make me wanna puke right now," Jen replied.
After all the chaos erupted on social media, cops were called to Ronnie and Jen's residence.
According to TMZ, Jen showed up at Ronnie's home to pick up Ariana, but she was blocked at the front door by Ronnie and his aunt. Ron's aunt went ballistic on Jen, screaming that her motive for creating all the family drama was money. She also reportedly called Jen a whore.
TMZ also acquired video of Jen allegedly attacking Ronnie before he took to social media to share the photo of his eye. In the video, the two are heard arguing over Jen's dead dog, who she's convinced died under Ronnie's watch.
Jen's also livid at the way MTV has portrayed her on this season of "Family Vacation," telling TooFab, the network "didn't show the truth" behind her epic fight with Ron at Planet Hollywood earlier in the season.
"It was edited completely wrong," Jen told TooFab at the time. "They didn't show anything about the dog, and that's the whole reason why I went to the hotel room looking for [Ronnie], because I had found out my dog was missing. I couldn't find her. I was like putting up fliers everywhere looking for her, and Ronnie would just ignore my phone calls."
Click here to read everything Jen told TooFab.