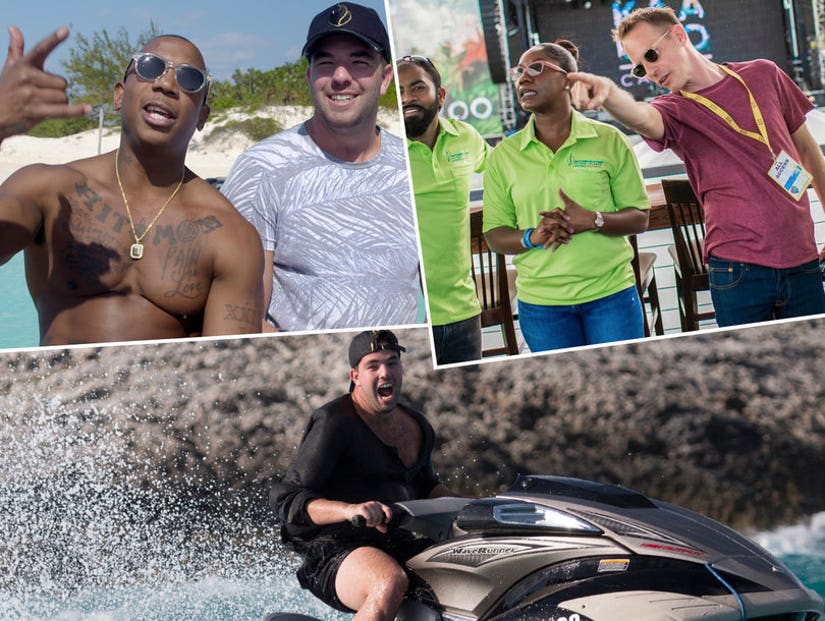 Netflix/Jason Siegel Courtesy of KAABOO
"Ja Rule should stick to rapping," the festival organizer says. "I think he's a great rapper, but he needs to stay in his lane."
If at first you don't succeed, stop. Seriously, just stop.
That's the message KAABOO Cayman organizer Jason Felts [pictured top right] has sent to Ja Rule after the rapper hinted to TMZ on Thursday that FYRE Festival Part 2 (under a new name and company) was a serious possibility. On the morning of the inaugural Caribbean Island version of the five-year-old festival brand, the normally reserved and media-shy Felts was visibly agitated that the "I'm Real" hitmaker would dare take advantage of the infamy created by the disastrous music festival -- especially when so many islanders were hurt by it.
"It's disappointing," Felts told TooFab exclusively on Friday from Grand Cayman.
"I hear Ja Rule is at the airport right now; I wonder is he on his way down here to get some tips? Ja Rule should stick to rapping," he said. "I think he's a great rapper, but he needs to stay in his lane."
"They should not attempt to do another FYRE Festival, they've lost all credibility. The people who were most affected by Billy McFarland and Ja Rule were the local people, the Bahamians. All of the locals and vendors who worked tirelessly and were never paid. Not to mention the victims of Ja Rule and Billy's Ponzi scheme in trying to lure guests to that island and pull the wool over their eyes."
We have reached out to a rep for Ja Rule for comment -- so far the rapper appears to be clear of any fraud related criminal charges. McFarland, however, is currently behind bars for fraud.
If it sounds like Felts is taking this personally, it's because he is: "I am saying this personally, not on behalf of the brand," he admits.
"I'm upset that so many people were left in a trail of destruction. I feel a personal responsibility to regain credibility for the music festival industry, to regain trust of the Caribbean as a whole, because the people of the Bahamas were f--ked over."
Indeed KAABOO has nothing to sell, since the festival is completely sold out. Rather Felts considers himself a defacto islander, having spent a good chunk of his life here. He has family in the Caymans, and he says that islanders, even when not related by blood, feel like one big family -- which is why he is so annoyed at what FYRE did to the locals, and is so annoyed at what they might do to them again.
"We don't find joy in anybody's pain," Felts said, insisting his team did not revel in FYRE's failure. "If anything it shifted more responsibility onto us to do it right."
After planning for two years, he flew 200 of his employees to set the festival up, and hired 700 locals - making KAABOO the fifth largest employer on the islands.
And while they could probably get away with a sweat shop set up, there are strictly enforcing US employment laws on themselves.
He says that the fact that Ja Rule and company blamed the weather -- the FYRE Fest documentaries revealed the already-doomed site was devastated by a thunderstorm -- is "bullshit".
"We had a thunderstorm last night and we quickly pivoted because we had contingency plans," he said.
He added that while FYRE probably started with good intentions, "I think ego and lack of expertise got in the way."
Felts for example is a jet-ski aficionado, and has been dying to get out on the water since he arrived, but he hasn't dared risked being pictured on one. Or being pictured with a pig.
"Those were my two rules," he laughs, referring to some of the more memorable scenes of Ja Rule and McFarland partying on the beach while they were supposed to be organizing a festival.
Felts arrived on Grand Cayman in October, but claims he "hasn't even touched the sand" since he got here; he's been too busy.
This first KAABOO Cayman has more scrutiny on it than it possibly could have expected, thanks to the dumpster FYRE that is inevitably associated with it.
But Felts assures the only thing they have in common "is palm trees".
"We're here to put out the FYRE," he smiles. "If Ja Rule wants to promote his own personal brand, he needs to stick to what he does well, which is rap."
"As a personality you have a responsibility to the public to use yourself and your business as a force for good, instead of for your own personal benefit."
"Personally I'm a huge fan of his, but I think you've got to be very careful about who you associate yourself with… especially when you're 'Livin' it Up'."
Besides seeing through this year's already successful KAABOO Cayman, Felts is also looking forward to their sister festival, Richard Branson's Virgin Fest, which will be announcing 5 new locations this summer.