Khloe also posted more cryptic quotes about love on her Instagram Stories.
On Tuesday, Malika posted a photo of a quote that read, "The most important promise you can keep is a promise to yourself." In response, a fan commented, "I admire how you own your mistakes and are always there for @khloekardashian she deserves all the happiness."
Malika replied to the follower and not so subtly bashed Jordyn, "I've been wrong before and I'll be wrong again but I damn sure wouldn't make excuses (alcohol) in an interview to gain self pity and save face. No one in my life would condone that coward like behavior." (If you recall, Jordyn reportedly blamed the whole indiscretion on getting blackout drunk, according to a source with TMZ earlier this week.)
"I said it before and I'll say it again, I HAVE NEVER EXCUSED MY BEHAVIOR EVER," Malika continued in another comment. "I choose to believe what I wanted to believe. I was wrong for that. WRONG IS WRONG. I'm not excusing myself for anyone else. I made my bed so I had to lye in it. Trust I took my L. It's called being an adult And I damn sure did not ask a soul to fight for what I believe in or bully anyone else."
As TooFab previously reported, Jordyn is confirmed to appear on a special episode of Jada Pinkett Smith's "Red Table Talk" this Friday. Jordyn, who is very close with the Smith family, seems to have already filmed her appearance, as she shared on IG Live of her walking to and taking a seat at the red table, where as we know, nothing is off limits.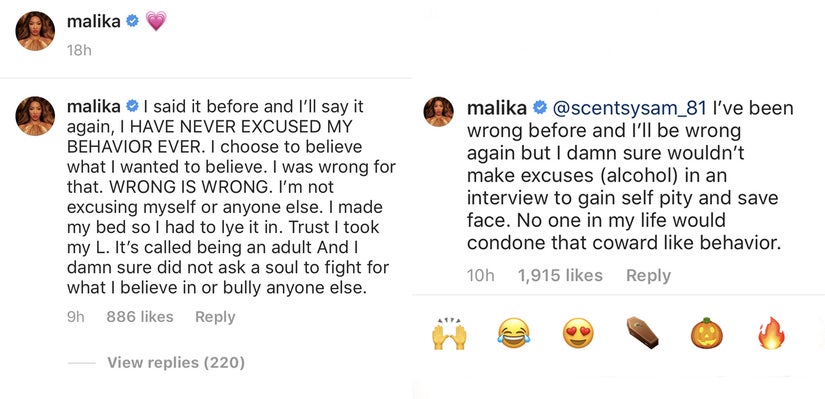 Instagram
As pointed out by Comments by Celebs, Khloe's friend, Larsa, also threw some shade at Jordyn as well. Larsa, who has been a longtime friend of the Kardashians, commented on a Hollywood Unlocked's Instagram post that spoke about Jordyn's upcoming "Red Table Talk" appearance. "Can't wait to see which version of her story she tells," Larsa wrote. "Hope it's the same she told @khloekardashian when she checked her."
While Khloe's friends bashed Jordyn, there was one major celebrity that appeared to be defending her. Actress Lena Dunham tweeted Tuesday, "Can you imagine if who you'd made out with when you were 21 had massive public shaming consequences?"
"When I was 21 I kissed my friend's crush in my bathroom during a dinner party," she recalled. "I was inexplicably wearing a dog leash. I stayed in bed for days feeling hot shame. That was enough of a consequence! Nobody slashed prices on my eyeliner brand or whatever."
Dunham added that she believes since the legal drinking age is 21, one should be 26 to appear on television. "Just weighing in on the important national issues!" she tweeted.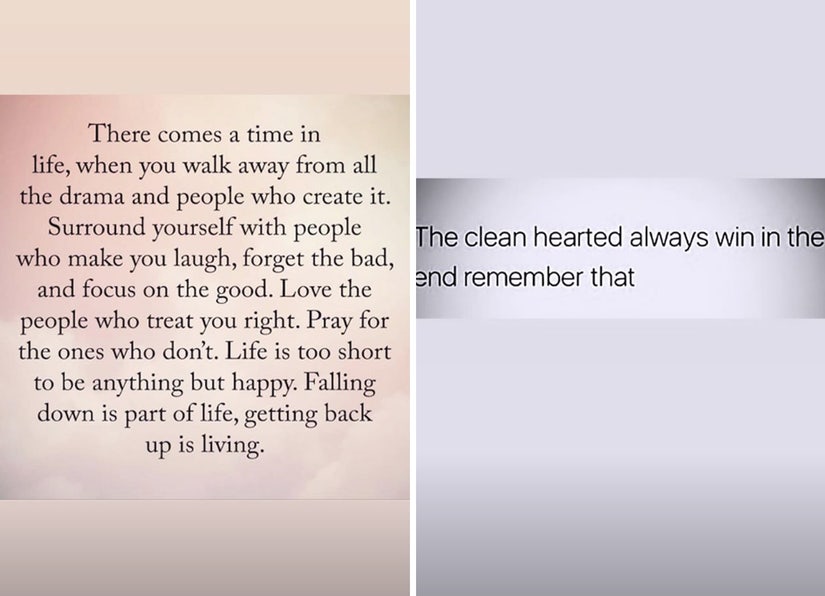 Instagram
Meanwhile, Khloe posted more messages to her Instagram Stories Wednesday morning, including one that said, "love the people who treat you right" and another, "the clean hearted always win in the end remember that."
The reality star also liked two tweets from fans, in what looks like responses to the news of Jordyn's appearance on the Facebook Watch series. "Jordyn smeared her OWN name!" a person wrote. Another said they don't really "understand the point" of Jordyn telling her story because in their opinion, there's no way Jordyn can "justify" what she did.
She slept with Khloé's baby daddy, and they havent even publicly said ONE bad thing about her, just unfollowed her, so how is that the Kardashians fault? Jordyn smeared her OWN name! https://t.co/NmRzJrwDh1

@thejakekardash
TooFab will continue to update you as this wild saga continues to unfold.