The "Jersey Shore" star might have a new man!
On Friday afternoon, the "Jersey Shore" star shared a photo and short video to her Instagram Stories from what looked like a lunch date with a mystery man.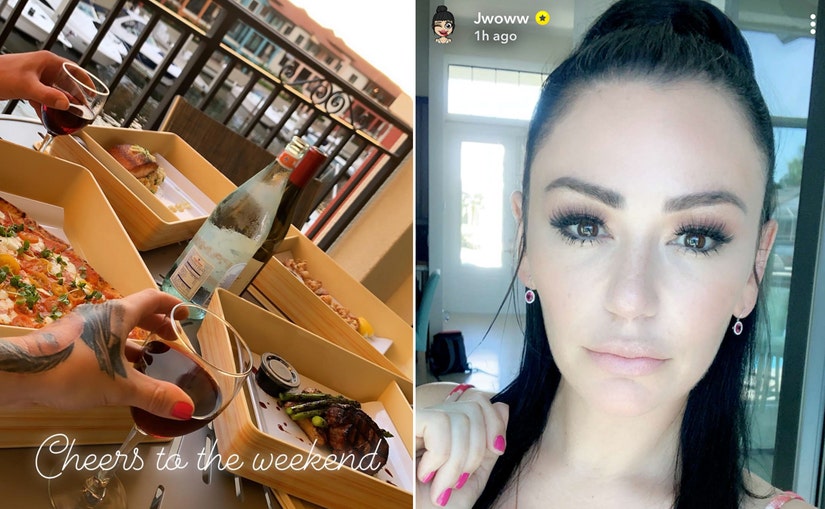 Instagram/Snapchat
In the photo, JWoww's hand is seen holding a glass of red wine as she enjoys one tasty looking meal with the unknown male friend overlooking the water. The reality star also shared a video on Snapchat of her sitting next to a guy in a car, as they listened to Sia's "Titanium."
While the man's identity remains a mystery, Jenni's rep told TooFab that "JWoww has moved on and is happy."
TooFab has also reached out to Jenni's rep for comment.
This is the first time we've seen Jenni out with a new man since her nasty split from Roger Mathews back in September 2018. The couple, who have been married since 2015, share children Meilani, 4, and Greyson, 2. JWoww filed a restraining order against Roger in December, after she accused him of abuse during their marriage. Roger has denied all allegations.
"I have been broken down, beaten, hospitalized, traumatized, threatened, degraded, battered, and abused. I got out," she said at the time. "I stand strong today. For me. For Greyson. For Meilani. They will not grow up watching their mother being a victim of domestic violence. I will be a victim no longer. Roger, know this here and for always – my kindness should never again mistaken for weakness. Remember that."
In case it wasn't clear, JWoww's rep also told the publication that "there is no reconciliation in the future" with Roger and Jenni "is excited about continuing to move on with her life."
Speaking of moving on, in recent interview with E! News, Jenni's BFF Nicole "Snooki" Polizzi said she's doing "amazing" despite the difficult divorce.
"Everyone's going through their own shit right now, it's like, we should have a reality show and we do!" Snooki said. "Jenni is doing amazing, obviously hard times, but I've never seen her more confident and happier and, you know, just things don't work out. So, hopefully, everything will work out, they could co-parent and call it a day."
The mother of two, who is pregnant with her third, said she's supporting JWoww and helping her out in any way that she can. "Jenni's my best friend, so you know we're there for each other no matter what, especially through the hard times," she said.
"So I'm trying to keep a smile on her face and distract her as much as possible," she added. "Because she is stressed. It's very stressful right now. So you know, just hanging out with her, sending her little gifts and just making sure that she knows that I'm there for her, but she's doing great."