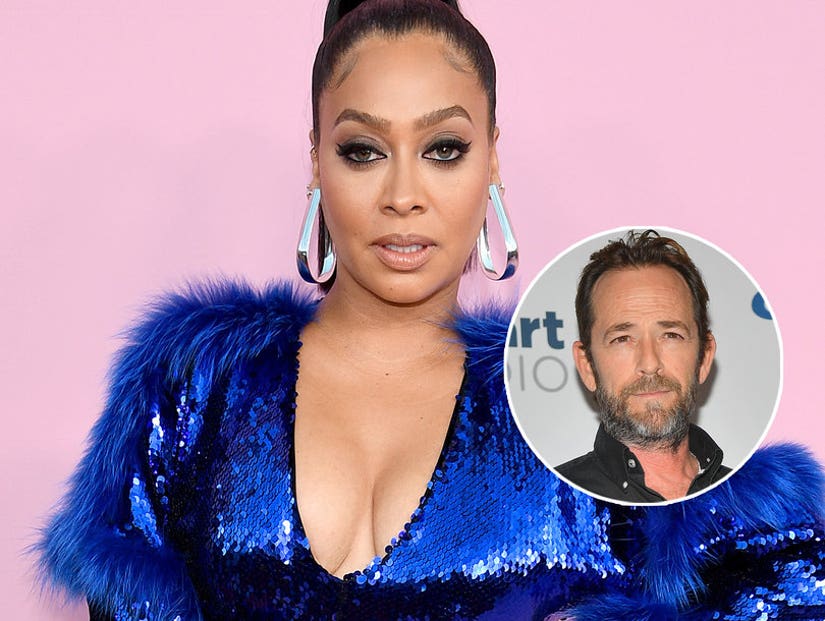 Getty
"They speak about him so highly and he's talked about so much," La La says of Luke's former co-stars.
Luke Perry's absence will be felt twice as hard when "BH90210" premieres this summer, as La La Anthony confirmed his co-stars are "trying to carry his 90210 legacy" as Dylan McKay and "are finding ways to include his memory" on the show.
La La, who became the first non-original cast member to join the production, told TooFab exclusively that the late actor is very much on his former co-stars' minds.
"They speak about him so highly and he's talked about so much," she told us. "I think it's so important for that cast to remember him on the show and off the show... people are just constantly saying what an amazing person he was."
La La sadly never got the chance to meet Perry, who tragically passed away in March after suffering a stroke, aged just 52.
"But just hearing the stories you can tell he was just a great soul and a great person, and just someone that they loved and respected so much," she said. "They are trying to carry his 90210 legacy on as well."
"They are finding ways to include his memory in the show," she added, "which I think is always the right thing to do."
While she was determined not to ruin any surprises, Lala elaborated a little on the format of the show, in which the actors play 'heightened' versions of themselves, coming back to film a "Beverly Hills 90210" sequel — so fans will get to see what the cast is up to now, as well as the characters they played.
"I don't wanna give too much away, but it's a very interesting take," she smiled. "I think people are going to be really into it."
"You get to see where the characters are, but you also get to see where the real people's lives are... it's a little bit of both, and I think that the way they are doing it is really cool," she said, adding it had a "Curb Your Enthusiasm" kind of vibe.
In the show, the 36-year-old will play Brian Austin Green's "real life" wife Shay Barnes, a hip-hop superstar to his stay-at-home dad.
"She's a superstar with an amazing career, while he's trying to get his career going, watching me live in this world of excess and him home with the kids... for a guy, when your wife is center of attention all the time, that can be really hard to deal with," she said. "And you see him going through all those emotions, which is a cool thing to watch."
Despite the obvious comparisons that are bound to be drawn, La La insists she is not playing Brian's REAL real-life wife Megan Fox, or even a version of her.
While she hasn't had a chance to meet the "Transformers" star in person yet, she is hoping for a visit to the Vancouver set so they can hang out.
"I've heard nothing but the most amazing things from Brian, he speaks very highly of her," La La said. "There's been nothing but love all the way around, Megan has been nothing but supportive of him doing this and me being a part of it."
While La La was a fan of the original, she is only realizing now just how big a phenomenon it was — and still is, 20 years later — from the reaction from fans.
"Just to see the fanatics out there has been really funny and exciting," she said. "I knew people loved the show, but now I know people loved the show.... even after all these years."
Despite being the "outsider" of the cast, La La said she was immediately adopted into the family.
"Everyone has been so welcoming and warm, the core group are so excited to be back together... the energy on set is amazing," she said. "They make it a really fun set, they feel like a family when you're there. I've been having so much fun."
As for other famous spouses, La La could neither confirm nor deny if Dean McDermott will be in the show, or if another actor will play Tori Spelling's husband — but she never saw Dean on set herself.
She did however reveal there will be "a bunch of surprise cameos that will trigger so many feelings and thoughts from the past — and that's something I'm really excited about."
"BH90210", which will consist of six one-hour episodes, premieres on Fox on August 7.
As for further seasons, La La says we'll have to wait and see how fans react... but she sounds pretty confident.