Andy Cohen said the subject was the "No. 1 question" for Tamra on social media.
On Tuesday evening, Sarah Rodriguez -- who's had a tumultuous relationship with Ryan since getting pregnant with their 4-year-old daughter, Eva -- posted to Instagram several since-deleted screenshots of a text message exchange she allegedly had with Ryan, in which he told her to "go kill yourself" before sending a photo of a bullet and writing, "This one is for you."
Before that, the texts show Sarah had said, "You talked shit about my daughter several times today. She is a child. You are supposed to be a grown up. I don't think you comprehend what you have done to my family." The person Sarah claims is Ryan then replied, "And she acts like a little bitch, just like you. So you can both get f--ked!"
Sarah has three older children who don't belong to Ryan, so it's unclear which child was being discussed in the messages; however, when someone in the comments section asked, "Is he saying this about his own daughter?" Sarah replied, "You should see what he says about me."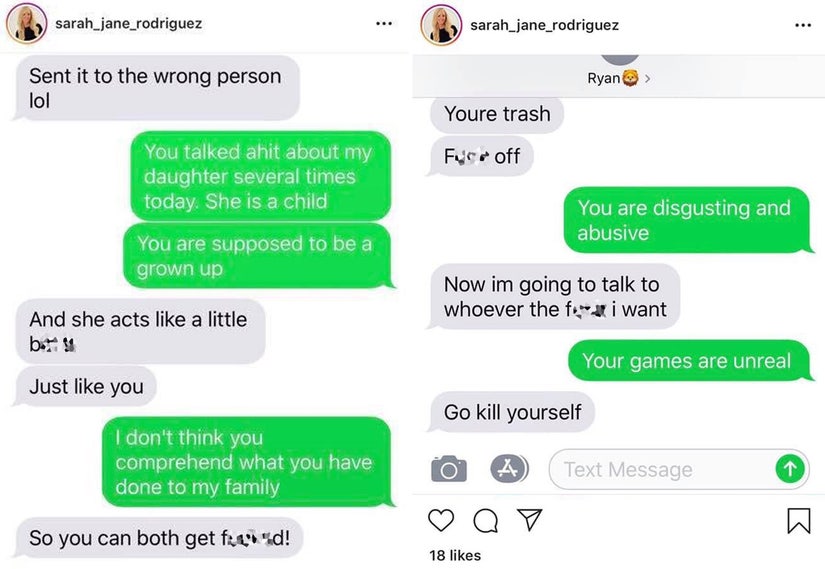 Instagram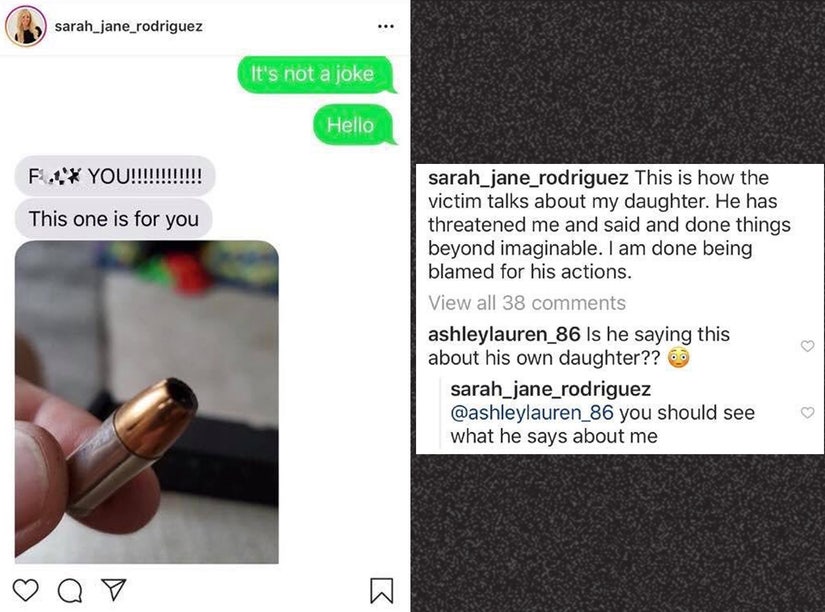 Instagram
Tamra was in the middle of an appearance on "Watch What Happens Live" when Andy Cohen asked her about the alleged text messages.
"No. 1 question for you tonight is going around and around on Twitter," Andy said to his guest, noting, "We talked about this a little bit before the show."
Reading off a fan question from his cue card, Andy said, "You have to ask Tamra about her son Ryan's texts with Sarah that [she] posted, calling her daughter a name. What's going on?"
"Calling her daughter a name?" Tamra asked, "Wait, their daughter or her daughter?" Andy didn't know.
"I don't know," Tamra said, "but Sarah tends to go on social media and posts all this stuff, then delete it, so I'm not buying into it."
In July 2018, Tamra confirmed on "WWHL" that Ryan and his one-time fiancée were "not together anymore. They just share custody of Ava."
During a 2017 episode of "RHOC," Tamra and Ryan spoke candidly about his relationship with the mother of his only child. Using his hand to demonstrate a wave-like motion, Ryan said he and Sarah were having their "ups and downs, I guess."
"The fighting that goes on doesn't need to happen," Tamra said, which Ryan said he understood. He recalled his rocky relationship with his stepfather/Tamra's ex-husband, Simon Barney, saying, "I do relate to the guy in my current situation. And I even spoke highly of him the other day, which is a trip."
"To the girls, they weren't doing any of their chores," Ryan told his mom, before starting to cry. "I said, 'You know what, girls? I had a stepdad that was an asshole. But I do thank him.'"
Back when Ryan first told his mom he had become engaged to a girl he met on Instagram, Sarah, Tamra was less than pleased. But Tamra and Sarah, who lost both her parents shortly before meeting Ryan, eventually became "super close."
In 2016, she told Bravo's Daily Dish that Ryan and Sarah were "a day-to-day thing. They're doing good today. They went to Disneyland with Ava yesterday. But it's up and down, and it's tiring, frustrating, and I just want them to get it together."
"Sarah and I are super close, and we're more like friends than the mother-daughter relationship," she explained. "So Sarah tends to tell me a lot of things that are going on in their relationship, which kind of at times I'm like, 'Oh, jeez, I don't think I want to know this.' Like, 'I don't need to know about every single fight.' But she doesn't have a lot of people out here, and she doesn't have a mom or a dad, so I've really stepped in."
This season, Tamra and "fanatic Trump supporter" Ryan have been butting heads over the latter's political disputes with his younger brother, Spencer Barney.
"The Real Housewives of Orange County" airs Tuesdays at 9 p.m. on Bravo.