"He's already treated me with more respect than Brian ever did," says the 43-year-old reality star.
On Thursday night, the "Real Housewives of Orange County" star announced on Instagram that she and her plastic surgeon-turned-boyfriend, Dr. Brian Reagan, had broken up. Shortly after, she announced she was dating someone new -- Fox News correspondent Rick Leventhal.
But in true Kelly fashion, the announcements were nothing short of entertaining.
In a series of Instagram Stories posted while out with friends, the 43-year-old reality star shouted, "The universe is telling me I broke up with Dr. Brian. Wooo! And they all know why."
After insinuating that Dr. Brian hadn't taken her side in an argument, Kelly declared that their relationship was officially over.
"This is why I'm breaking up with Brian for good. This is the last time," she said. "No going back to this asshole. At all."
Kelly celebrated the breakup by singing along to Queen's "Another One Bites the Dust," saying, "Here's our song. I broke up with Dr. Brian. Another one bites the dust!"
In a subsequent post, Kelly shared of a photo she recently took with Dr. Brian while promoting his new face lift procedure. "@drbreagan_plastic_surgeon posted that we broke up .. I'm deeply saddened and I only wish him the best!!" she captioned the shot, adding a winky-face emoji. "Good Luck, you are a talented surgeon!! I loved you deeply."
Kelly also added, "See @rickleventhal we broke up," later confirming to PEOPLE she was indeed dating the reporter. She proceeded to leave the following comments on her own post: "I was used," "I'm in the public eye and on a reality show!! Helllooo" and "A LOSER." The "RHOC" star also dropped a praying-hands and heart emoji, adding, "Hahahaha."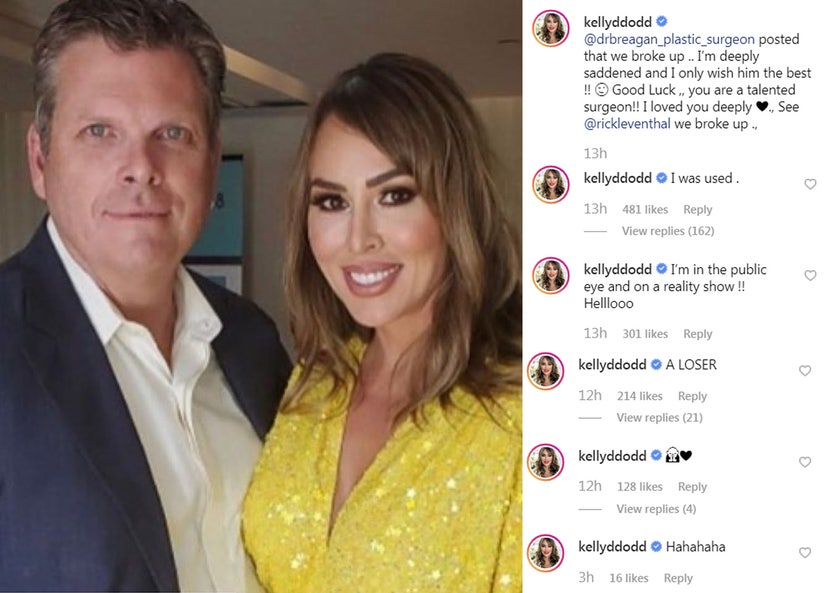 Instagram
"We met in the Hamptons," Kelly told PEOPLE of her 59-year-old new beau. "It's new, we haven't even had sex. But he's already treated me with more respect than Brian ever did."
Kelly said she "broke up with [Dr. Brian] on Aug. 3," noting that they had been "on and off for 9 months and I couldn't take it anymore."
Echoing her sporadic Instagram comments, she went on to claim that Dr. Brian was "using me for publicity."
"He wanted his business on the show. I was just a means to get there," she alleged. "And I only realized that after I caught him cheating on me and realized he's been seeing someone else all along."
But Dr. Brian denies ever cheating on Kelly, telling Page Six, "Kelly and I are no longer dating. I completely deny having cheated on her. Completely. That's not why we're not dating."
"I simply cannot make her see -- I'm not there all the time -- she's reacting. There are other things that have happened. I'm not going to share. And that's it," he continued. "She's trying to spin this and I completely deny having cheating. Because I don't want to be with her anyone she thinks there has to be another woman. But there's not. It's not. It's just not working. We've been on-again-off-again."
"My focus is on my son and my career," Dr. Brian added. "I regret ever getting involved in [reality TV] ... but this is my life and I'm just gonna get back to being a good dad, a good surgeon."
TooFab has contacted Rick seeking comment, and Kelly and Brian seeking additional comment.
Kelly and Dr. Brian were first linked romantically in November of 2018, but fans of the show met him on the Season 14 premiere, which aired last week. At the time, they had been dating for only three months, but Kelly maintained she was "in love." Dr. Brian even called her into his office to give her a pair of rose-gold, rain-drop diamond earrings.
To his face, Kelly was grateful and put the earrings on right away. But in her confessional, she was grateful it wasn't a ring "because that's not the way I wanna be proposed to. I would probably say no in a small office like this."
After a brief split in July, the twosome reconciled, but things are seemingly over for good.
Waiting for your permission to load the Instagram Media.
"The Real Housewives of Orange County" airs Tuesdays at 9 p.m. on Bravo.