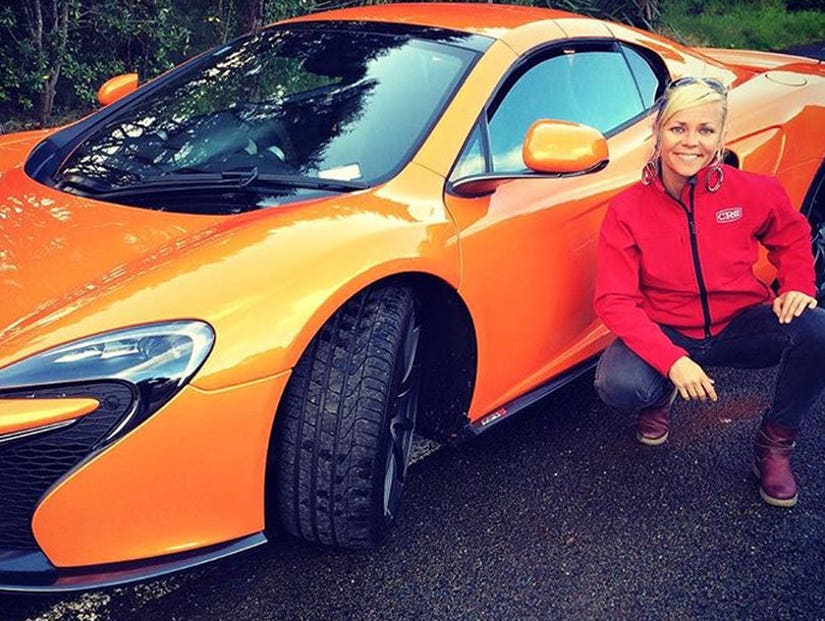 Instagram
The "Xtreme 4x4" star crashed in the Alvord Desert in Oregon while driving at speeds of over 400mph
The "fastest woman on four wheels" has died.
Jessi Combs was killed in a crash on Tuesday while attempting to break her own land speed record in Alvord Desert in Oregon.
The 36-year-old host of Spike TV's "Xtreme 4x4" was piloting the North American Eagle Supersonic Speed Challenger, a 52,000 horsepower jet-powered car, the same one she set the record of 398mph in 2013.
Harney County Sheriff's Office said it received a 911 call shortly after 4pm on Tuesday regarding a crash on the dry lake bed, which is frequently used for record attempts.
Combs death was confirmed on Instagram by her fellow crew member Terry Madden.
"So I don't know how to say any of this but it all needs said. I have never loved or been loved by anyone as much as this amazing woman @thejessicombs she was truly my unicorn and I enjoyed every single minute that I had with her," he wrote. "She was the most amazing spirit that I have ever or will ever know."
"Unfortunately we lost her yesterday in a horrific accident, I was the first one there and trust me we did everything humanly possible to save her!!" he continued. "I'm not ok, but she is right here keeping my going - I made her a promise that if this didn't go well that I would make sure and do good with it, please help me with that."
"Love you all and thank you all for being such amazing friends to her, she dedicated her life to helping support others dreams and I promise I will continue that."
After setting the fastest woman record in 2013 — which had stood since 1965 before that — Jessi had made a number of further attempts to break it again. Official records require two runs in opposite directions within an hour of each other, before calculating the average top speed of both.
Waiting for your permission to load the Instagram Media.
Her 2013 run had produced a top speed of 440 mph. In September 2016 she set a new top speed of 477 mph. While preparing for yet another try last year she reached 483mph during a test run before mechanical problems ended the attempt.
Three days before her death, Jessie tweeted of the upcoming attempt: "It may seem a little crazy to walk directly into the line of fire... those who are willing, are those who achieve great things... People say I'm crazy. I say thank you ;)"
The TV star and metal fabricator also made appearances on "Overhaulin'" and the Science Channel's "How to Build... Everything", and served as a temporary host on "Mythbusters".
"Mythbusters" host Adam Savage was among the devastated mourners on Twitter.
"I'm so so sad, Jessi Combs has been killed in a crash. She was a brilliant & too-notch builder, engineer, driver, fabricator, and science communicator, & strove everyday to encourage others by her prodigious example," he wrote. "She was also a colleague, and we are lesser for her absence."
I'm so so sad, Jessi Combs has been killed in a crash. She was a brilliant & too-notch builder, engineer, driver, fabricator, and science communicator, & strove everyday to encourage others by her prodigious example. She was also a colleague, and we are lesser for her absence.

@donttrythis