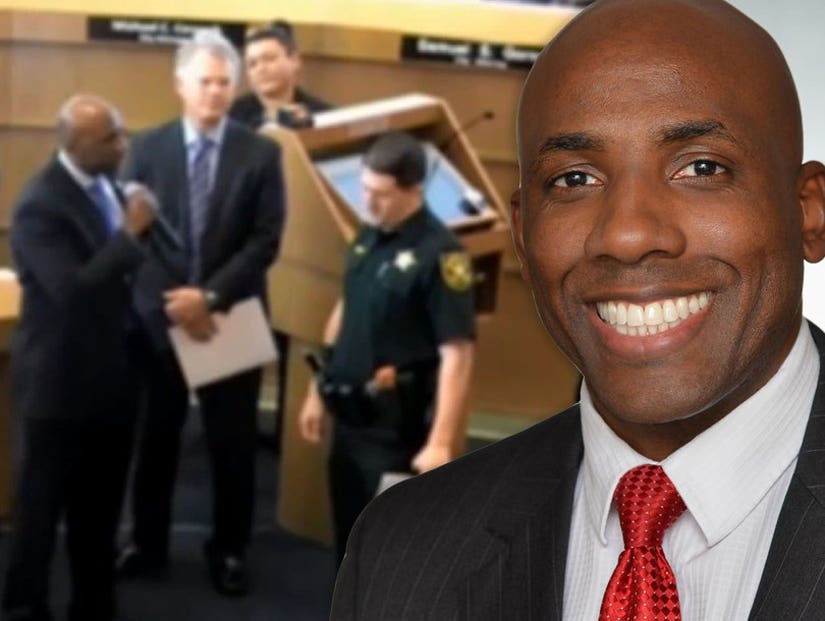 WPLG
"You lied on the police report. I believe you are a rogue police officer, you're a bad police officer and you don't deserve to be here."
You might expect the speeches at your Deputy Of The Month ceremony to be nice... but not this one.
Mike Gelin, a South Florida City Commissioner, waited for Deputy Joshua Gallardo to pick up his award on Wednesday to ambush him over "falsely arresting" him four years earlier.
The painfully awkward confrontation happened as seven members of Broward County Sheriff's Office were being honored; after receiving their certificates to applause, they filed off the stage... only for Gelin to grab the mic and call one of them back.
"I want to make a comment," he says in the video, obtained by NBC Miami. "I want to congratulate all the BSO officers who've done such a great job. Joshua Gallardo, can you come down for a second?"
Probably expecting a bit of extra praise, Gallardo returns to the stage beaming, clearly unaware he's about to have a bomb dropped on him.
"It's good to see you again. You probably don't remember me. But you're the police officer who falsely arrested me four years ago," the Tamarac commissioner tells him to his face.
"You lied on the police report. I believe you are a rogue police officer, you're a bad police officer and you don't deserve to be here."
Gallardo can only smile and nod as he stands there, flashing a thumbs up before he finally leaves the stage.
Tamarac Mayor Michelle Gomez — who can be seen trying to take the microphone from Gelin before he speaks and then hiding her face in her hand when he starts — finally gets the mic back and praises the officers.
"Ladies and gentlemen, we appreciate — as a whole — BSO and everything you do for us," she said. said. "Thank you for your service to our community, we appreciate you. Please take that away from here today. Thank you very much, be safe out there."
Indeed, Gallardo did arrest Gelin in 2015 for allegedly resisting and obstructing without violence; according to CBS Miami Gelin (who was not a commissioner at the time) used his phone to video police as they responded to a separate battery incident.
In his arrest report Gallardo said he "advised (Gelin) to move back, that this was a crime scene. He advised that he was recording the incident and that he did not have to move." he added that Gelin "failed to comply with my commands to move from the area. I repeatedly requested that he leave the area and and not continue to approach me from behind."
Gelin was arrested; however Broward prosecutors later dropped the case after reviewing Gelin's cellphone footage, concluding "it has been determined a strong likelihood of conviction is not present as images in the video do not support conviction."
After Wednesday's incident, Mayor Gomez said in a statement that Gelin's comments were "highly inappropriate."
"This was neither the time nor the forum to air personal grievances. I believe this clearly violated the City's civility code," she said. "This is NOT the way we treat employees or people who work for our City. There are proper channels to follow, but the Commissioner chose not to use them."
Gallardo, for his part, was being honored on Wednesday for bringing in a man wanted for murder in El Salvador. After pulling over the individual at a traffic stop in April, he ran his name and realized there was an international warrant for his arrest, and managed to take him into custody after a brief struggle.