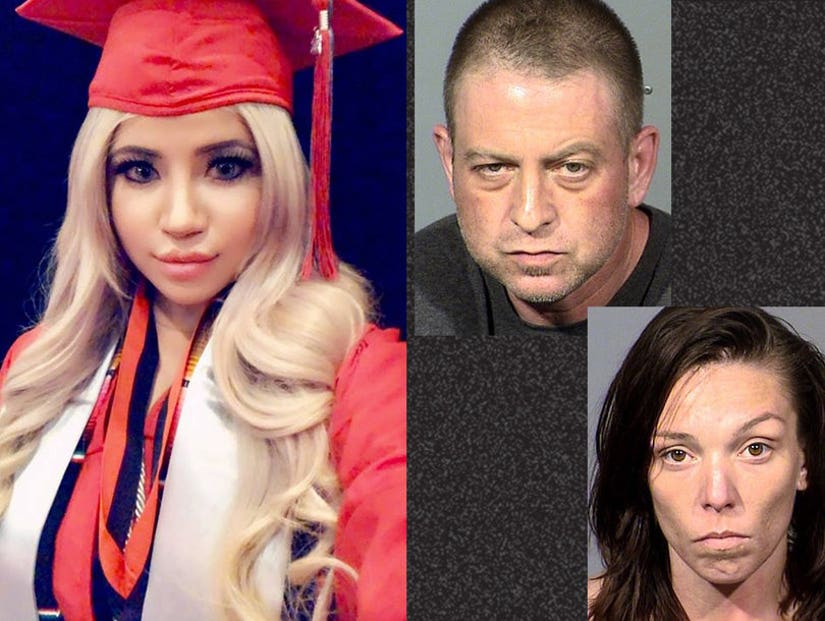 LVMPD/Facebook
Police believe 24-year-old Esmeralda Gonzalez was injected with pool cleaner and strangled to death.
A body found encased in concrete in a wooden box in the Las Vegas desert is believed to be missing model Esmeralda Gonzalez.
Police claim she was injected with pool cleaner and strangled to death -- and they believe they know who did it.
Christopher Prestipino, 45, was arrested on Friday and charged with her murder, while his 31-year-old girlfriend Lisa Mort is accused of helping him cover it up.
Gonzalez, who worked in the adult entertainment industry and boasted more than 300,000 Instagram followers, disappeared on May 31.
In the early hours of that morning, she was captured on residential surveillance video, wearing lingerie and heels, trying to open the door of a home around 300 yards from where Prestipino lived.
The occupants woke and told her she was at the wrong house, later telling police her "gait was unsteady and she appeared disoriented."
She then wandered in the direction of Prestipino's address.
Her brother, who said she suffered from schizophrenia and bipolar disorder and had been off her medication in the weeks leading up to her disappearance, reported her missing after not hearing from her for a week.
When he checked her home he found the lights on, the front door unlocked and the house looking ransacked.
In late July, police received a tip off that Prestipino was involved in the disappearance, the Las Vegas Review-Journal reported.
Chief Deputy District Attorney Pamela Weckerly claimed a second tipster told police in interviews that Prestipino "killed the missing girl."
"Esmeralda was at Christopher's house, and he ended up getting her high on methamphetamine," the witness told police, according to Weckerly. "Christopher was not aware of Esmeralda's mental problems, and she started acting bizarre and speaking in the devil's tongue."
According to the criminal complaint, Gonzalez was "left tied up to a bedpost for an extended period of time" before being murdered; She had threatened to call the police because of the drugs he had given her; when he untied her she punched him in the face. That's when he strangled her, Weckerly wrote.
"He thought she was dead, but she woke up," she added; investigators believe she was then poisoned.
Weckerly said Prestipino then went to extreme measures to hide the body.
In June, she said he called a family friend "because he needed help" moving a wooden box full of concrete into a U-Haul he rented.
The prosecutor also identified a third suspect they believe was involved: Cassandra Bascones — also known as Cassandra Garrett, Cassandra Tran and Nikki Hart — although she has not yet been arrested.
After dumping the body, Prestipino fled to Belize, but was arrested upon his return last Friday. Weckerly wrote he and Garrett were "panicked because they left the rented U-Haul dolly at the body dump site."
Prestipino faces charges of murder, first-degree kidnapping resulting in substantial bodily harm and conspiracy to commit murder, and is being held without bail.
Mort faces a charge of harboring, concealing or aiding a felon.
Mort originally claimed to know nothing about Gonzalez' disappearance; but while in jail for an unrelated drug charge, Prestipino was recorded on a phone call warning her "not to speak with anyone," while "he also directed her to wipe her phone," the prosecutor claimed.
Police have yet to formally identify Gonzalez' remains.