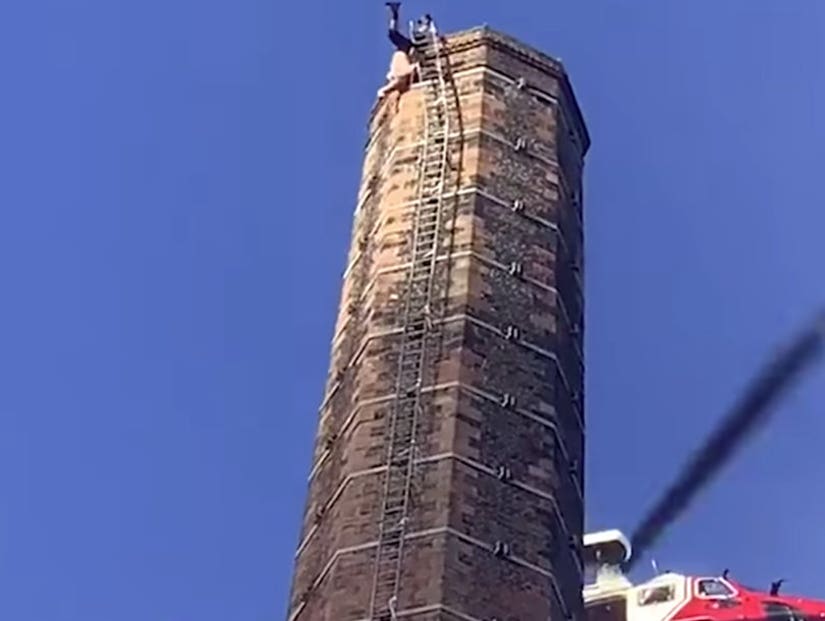 Telegraph
The man, who was heard screaming for help, died after hanging there for more than 12 hours.
An elaborate rescue operation to save a man stuck upside down atop a 270ft chimney has failed.
UK Police confirmed on Monday that the man, who had been heard screaming for help for hours, had died.
Emergency responders scrambled to the scene around 2:20 a.m. on Monday morning after residents in Carlisle reported that someone was trapped at the very top of Dixon's Chimney.
When rescuers arrived they could see the victim, shirtless and inverted, dangling from the edge by a single foot.
Using drones to assess the situation, attempts to climb the towering ladder failed after it was deemed unsafe.
They then tried two approaches by helicopter — one to grab him in flight, and another to drop a rescue team down to him — however both attempts had to be abandoned for fears the downdraft might blow the victim off the top.
"We are looking at various options to rescue this man safely," Cumbria police Superintendent Matt Kennerley said, per The Guardian. "So far, the multi-agency response has seen us utilize technology including drones."
"This is an extremely complex and rare incident and requires the specialisms of all the agencies to work together. We are very concerned about the man involved and all those involved in this operation are working tirelessly to bring this to a safe conclusion for all."
Police became even more concerned when the man stopped responding, but refused to label it anything other than a rescue operation.
After issuing an urgent call for a cherry-picker long enough to reach the top, they finally managed to get one to the scene all the way from Glasgow at 2pm — 12 hours after the man was first spotted.
Rescuers eventually managed to get him down; but at 5pm, police broke the sad news that it was too late.
"We can confirm that a man who was trapped at height on Dixon's Chimney in Carlisle, and later recovered during a multi-agency operation, has been confirmed as deceased," an officer told reporters.
He said the "highly complex rescue operation" involved police, fire and rescue services, the ambulance service, coast guard, mountain rescue, and specialist contractors.
Investigators could not yet say how or why the man, who was in his 50s, got to the top of the prominent landmark, which was built in 1836.