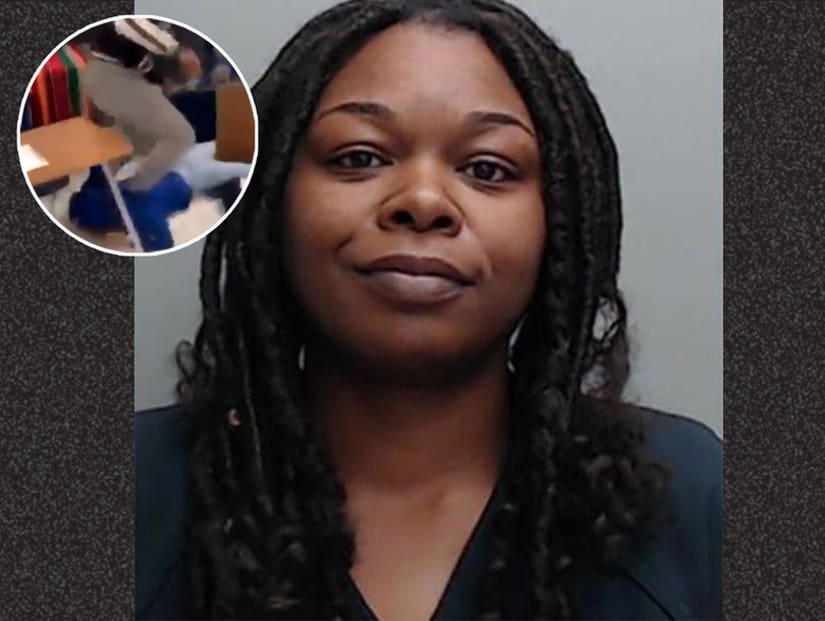 Hays County Sheriff's Office/Getty
The shocking footage was posted on Twitter.
A substitute teacher in Texas has been charged with aggravated assault after a violent attack was filmed in the classroom.
Police said Tiffani Shadell Lankford repeatedly punched a 15-year-old female student, dragged her to the ground before stomping on her head -- all of which was recorded by stunned classmates.
The incident occurred at Lehman High School in Kyle. The 32-year-old was immediately fired.
WARNING: Graphic Violence in Video Below.
The student, whose family say she has special needs and suffers from seizures, was taken to hospital for evaluation, but later released.
It is not clear what caused the altercation which happened in Spanish class; but in the shocking clip circulating on social media, the teacher appears to grab a cellphone from the seated student.
She then appears to violently punch the teenager three times in the head, tears her out of her seat, and then stomps her head into the floor while she is lying face down, before walking off.
School district spokesman Tim Savoy said Lankford had worked as a "guest teacher" since the end of August, and had filled in 18 times at the school.
"There is absolutely no excuse or circumstance that can justify what you see unfold on the video," he told NBC News. "It is unconscionable what this adult did to one of our students."
School Principal Karen Zuniga wrote in a Facebook post: "This afternoon, we fired one of our guest teachers for hitting and fighting with a student. Under no circumstance is that behavior tolerated at Lehman High School or in Hays CISD."
"Additionally, the former employee was arrested by the Hays County Sheriff's Office and faces potential criminal charges. Her actions will also be reported to the Texas Education Agency."
"We take the safety and security of our students seriously. We took swift action when this incident occurred and will do everything necessary to protect our students," she added.