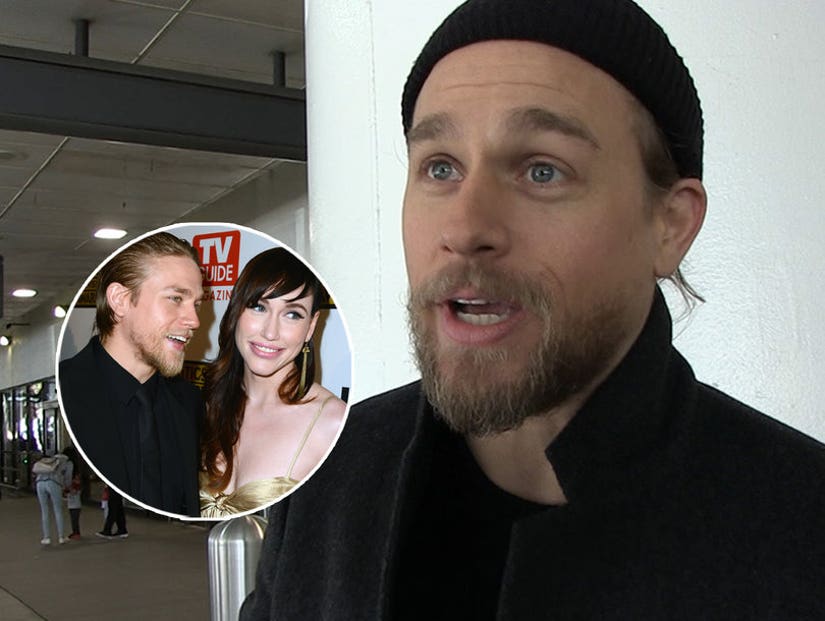 TooFab/Getty
The actor recently claimed he was "indifferent" to marriage. He now admits that was a "stupid" thing to say.
Charlie Hunnam is not indifferent to marriage — and he really regrets saying that he was.
The actor made headlines this month after he was asked his feelings on matrimony, and replied he didn't really have any — which apparently did not go down to well with his girlfriend of 14 years, Morgana McNelis.
"You know what? That was a stupid thing to say," he said after landing at LAX recently.
The 39-year-old explained that the SiriusXM interview — shared with his "The Gentlemen" co-stars Hugh Grant and Matthew McConaughey — was one of 85 he'd done over the course of three days.
"Sometimes the tone of an interview... you know, that interview was just like a lot of banter, and Hugh was sort of bantering in a very superficial — not disingenuous — but not really speaking his personal truth — we're all just bantering," he explained. "And all of a sudden we're bantering about one thing and I get asked my opinion about marriage. I just said something that doesn't really reflect my true thoughts at all."
"It's like being with your pals, sometimes not thinking like... you're not trying to articulate your sincere opinion about something; and then you see it in black and white."
During the Sirius interview, after saying he was "sort of indifferent" to marriage, he dug himself further into a hole by adding Morgana "does not say the same".
"She's very eager to get married. Yeah, so, I'll do it because it's important to her, but I don't have any great romantic feelings towards it," he told the interviewer, prompting even Grant to chime in: "I wouldn't go with that line when you pop the question."
"I have to say that really hurt my girlfriend's feelings," Charlie admitted at LAX. "I really regretted saying that, cause I actually didn't mean it at all. it was just, frankly, some stupid shit I said in the heat of the moment."
He insisted: "I'm like so romantic! The reality is I sort of consider myself married. I've been with my girlfriend for 14 years... I suppose what I was trying to articulate was that the official government sanctioning of it doesn't mean anything to me; but the romance of it means an enormous amount. I really regret saying that."
"Listen, you spent 12 hours a day for three days doing interviews straight, you're gonna say some stupid shit. Especially a guy like me that's not that smart."
So what are Charlie's true feelings on marriage? Will it ever happen?
"Watch this space," he replied.
"Family is very important to me. I was always a late bloomer, I've left it a long time because everything was great, and we were just pursuing other interests in our lives," he said.
"But we are certainly coming up to that time where we gotta start switching it up and changing gears a little bit."
"It doesn't really make me nervous because we've been together for so long, we've been together 14 years, you know? You occasionally hear stories of things changing once you get married, and people's relationships... but I couldn't foresee that happening with us, because we know each other so well."
Hunnam has been married once before, to actress Katharine Towne, whom he wed in Las Vegas in 1999, aged 18, after dating for just three weeks.
They divorced in 2002 after what he described as "three terrible, painful, expensive years."