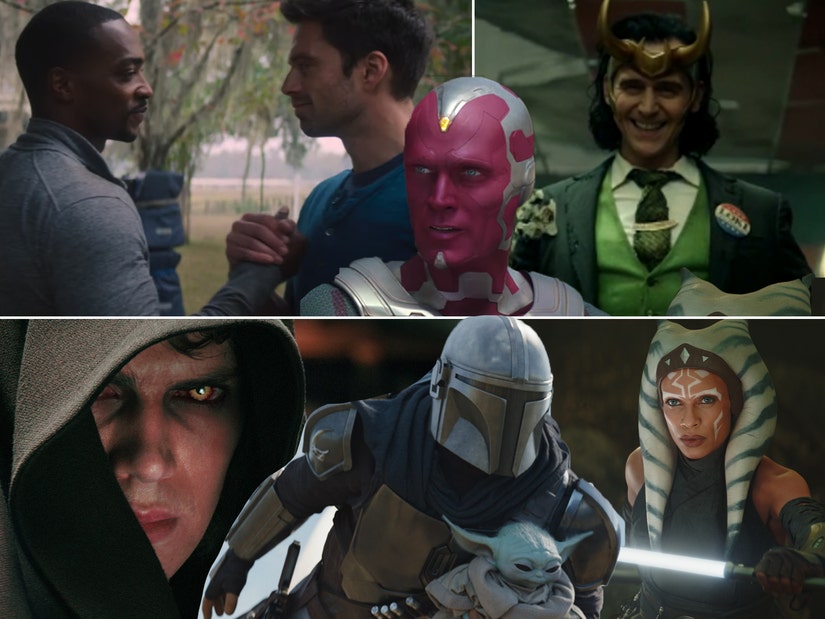 Disney+/Everett Collection
This might have been the biggest news drop of 2020.
With no huge in-person conventions like Comic-Con or Disney's own D23 in 2020 due to the ongoing pandemic -- and Marvel keeping updates on its upcoming film and TV slate close to the vest -- everyone was glued to the company's Investor Day presentation for updates on the MCU, Disney Animation, Star Wars, Pixar, Disney+ and so much more.
And, man, did they deliver.
During the presentation, Disney+ confirmed that -- over the next "few years" -- the service will be home to 10 Marvel series, 10 Star Wars series, 15 Disney live action, Disney Animation and Pixar series -- as well as 15 Disney live action, Disney Animation and Pixar movies.
While the presentation was all over the place, we'll bump the Marvel and Star Wars updates to the top -- read every major announcement below!
WandaVision is the first Marvel Studios series to debut on Disney+, starring Elizabeth Olsen's Scarlet Witch and Paul Bettany's Vision, dropping January 15, 2021. While the new trailer begins with everything looking just peachy-keen between the two in throwback-sitcom fashion, it becomes clear not all is what it seems.
The show will directly tie into "Doctor Strange and the Multiverse of Madness," which Kevin Feige promised is "really pushing the boundaries" of Marvel storytelling, will be scary and will also connect to "Spider-Man 3."
Up next for Disney+ is "Falcon and the Winter Soldier," which Feige said was a "Marvel Studios movie played out over 6 episodes," before dropping an action-packed (and very expensive-looking) trailer.
Feige confirmed "Black Widow" will still hit "the big screen" May 7, 2021, while "Loki" -- starring Tom HIddleston -- will drop on Disney+ May 2021. The show finds the titular character at "the center of his own crime thriller," following his disappearance in "Endgame."
Disney+ will also be home to the animated "What If?", exploring some superhero stories that could have been -- like Peggy Carter as Captain America -- and "Ms. Marvel," which also dropped some teaser footage.
Feige confirmed "Ms. Marvel" herself, Iman Vellani, will appear in "Captain Marvel 2." The movie will also feature a grown up Monica Rambeau, Teyonah Parris, who will first appear in "WandaVision."
After quick bits about "Eternals" and "Hawkeye," Kevin Feige also confirmed Tatiana Maslany will front "She-Hulk" on Disney+ -- which will also feature Tim Roth returning as Abomination and Mark Ruffalo as The Hulk.
As for the Nick Fury series, it will revolve around the "Secret Invasion" storyline from the Marvel comics -- and include Ben Mendelshon returning as Talon as the alien shapeshifting Skrulls infiltrate Earth.
Marvel also announced an Ironheart series about Riri Williams, the creator of the most advanced suit of armor since Iron Man. Dominique Thorne will star -- and both series will tie into the greater MCU.
There will also be a show about Tony Stark's tech falling into the wrong hands titled "Armor Wars," which will star Don Cheadle as War Machine ... a series of shorts about Baby Groot called "I Am Groot" ... and a "Guardians of the Galaxy" holiday special which will film in tandem with "Guardians 3." The special will drop in 2022, while the movie is due out 2023.
In other MCU updates: Christian Bale is officially on board for "Thor: Love and Thunder" as villain Gorr the God Butcher, "Blade" is "coming together," Kathryn Newton is joining the rest of the "Ant-Man" crew for "Ant-Man and the Wasp: Quantumania" as a grown-up Cassie Lang, and "Spider-Man" director Jon Watts is working on a "Fantastic Four" film.
Feige ended the panel by confirming they plan to honor the late Chadwick Boseman by not recasting T'Challa -- but continuing to tell stories in the world of Wakanda with the characters introduced in the first "Black Panther" film.
"I want to acknowledge the devastating loss of a dear friend and a member of our Marvel Studios family. Chadwick Boseman was an immensely talented actor and inspirational individual who affected all of our lives both personally and professionally," Feige said. "His portrayal of T'Challa, the Black Panther, is iconic, and transcends any iteration of the character from any other medium in Marvel's past. It is for that reason that we will not recast the character."
Ryan Coogler is writing the "Black Panther" sequel film now, due out July 8, 2022.
Kathleen Kennedy confirmed "The Mandalorian" is getting two Disney+ spinoffs; "The Rangers of the New Republic" and a series revolving around Rosario Dawson as Ahsoka Tano. The three shows will culminate in a "climactic story event."
The presentation teased Diego Luna's "Andor" series for the streamer, which added Stellan Skarsgard and Fiona Shaw to the cast, as well as Disney+'s "Obi Wan" -- will will take place 10 years after the events of "Revenge of the Sith" and see Hayden Christensen return as Darth Vader. Production is kicking off on the latter in March 2021.
In addition to a Lando Calrissian show, Lucasfilm is also working on an animated original series "The Bad Batch," an Original Series of animated short films titled "Visions," a mystery thriller about the "dark side powers in the final days of the High Republic era," a series about C-3PO and R2-D2 and a follow-up series to non-Star Wars project "Willow." They'll all also be on Disney+.
On the theatrical front, in addition to a previously announced "Star Wars" film from Taika Waititi, it was announced "Wonder Woman" director Patty Jenkins will direct "Rogue Squadron." See her talk about the project below:
On the non-Star Wars front, Lucasfilm is also working on the "next and final installment of Indiana Jones," from director James Mangold and starring Harrison Ford. The movie will begin filming in late spring 2021 and release theatrically in July 2022. They're also developing an adaptation of "Children of Blood and Bone."
Disney+ revealed a number of new projects based on existing Disney IP, beginning with "The Mighty Ducks TV: Game Changers," which will see Emilio Estevez return as Gordon Bombay alongside Lauren Graham and a new crop of misfit hockey players.
In additional original series news, Josh Peck will be fronting a new "Turner & Hooch" series, while John Stamos will coach a private school's girls' basketball team in David E. Kelly's "Big Shot." They also confirmed the new "Beauty & the Beast" series with Josh Gad's LeFou and Luke Evans' Gaston will be a prequel, featuring new music from Alan Menken, as well as a new series revolving around "Swiss Family Robinson," "Percy Jackson and the Olympians" and "The Mysterious Benedict Society" starring Tony Hale.
For films, Disney+ will officially be home to "Hocus Pocus 2" from Adam Shankman, a modern take on "Three Men and a Baby" for 2022 starring Zac Efron, an "Ice Age" film, "Flora and Ulysses," a new "Cheaper By the Dozen" movie starring Gabrielle Union, more "Diary of a Wimpy Kid" films, an animated "Night at the Museum" movie and sports films inspired by the real life stories of Chris Paul, Giannis Antetokounmpo and Keanon Lowe.
Disney+ is also making a "Chip N' Dale Rescue Rangers" film directed by Akiva Schaffer and starring John Mulaney N' Andy Samberg. The movie is due Spring 2022. They also confirmed Amy Adams will return for "Disenchanted," a sequel to "Enchanted" and Whoopi Goldberg will star in and produce the long-awaited "Sister Act 3," both for the streamer.
The service will also be home to a live-action "Pinocchio" with Tom Hanks and a live-action "Peter Pan & Wendy," starring Yara Shahidi as Tinkerbell and Jude Law as Captain Hook.
Disney made it clear "Jungle Cruise" is still planning on a theatrical release in July 2021, while a "Lion King" prequel and the live action "Little Mermaid" movie are also staying in theaters.
During the presentation it was confirmed "Raya and the Last Dragon," starring Kelly Marie Tran, will land in theaters and Disney+ via Premier Access on the same day. The movie will drop on March 5, 2021.
Disney+ will be home to Disney Animation's first animated series, which will revolve around Baymax from "Big Hero 6," and a short-form series revolving around some of the background characters in "Zooptopia," called "Zootopia+"
Both Princess Tiana and Moana are getting their own long-form, musical comedy series -- taking both women beyond the settings of their films. Tiana will drop in 2022, while Moana will come in 2023.
Disney+ will also debut a sci-fi series in collaboration with Pan-African entertainment company Kugali, titled "Iwaju."
The animation studio also confirmed their 60th film, titled "Encanto, will travel to Colombia for a musical with songs in both English and Spanish about a magical family who lives in "a magical home."
"Soul," the company's 23rd feature film, is the next Pixar film on the horizon. The Jamie Foxx-starring movie will debut December 25 on Disney+.
"Dug Days," starring Dug from "Up," will get his own series co-starring Carl and some adorable puppies in Fall 2021, while Lightning McQueen and Mater will have their own "Cars" spinoff show following them on a road trip across the country in 2022.
Pixar will also debut a long-form series called "Win or Lose" in 2023. The show will follow a "middle school softball team in the week leading up to their championship game, and each episode is told from the perspective of a different character."
The company will debut a new film, "Luca," set in Italy and revolving around the friendship of two young boys during one memorable summer in 2021. Pixar will also drop two films in 2022, "Turning Red" -- about a 13-year-old girl who turns into a giant red panda when she gets too excited -- and the sci-fi film "Lightyear," "the definitive origin story" of the character of Buzz Lightyear, who will be voiced by Chris Evans.
Introduction, Hulu and FX Announcements
Hulu, which is also included in the Disney bundle, will also launch new films from 20th Century Studios and Searchlight.
On the Hulu and FX TV front -- reminder Disney owns both -- it was announced that Kris Jenner, Kim Kardashian, Kourtney Kardashian, Khloe Kardashian, Kendall Jenner and Kylie Jenner will "create global content, which will stream exclusively on Hulu in the U.S. and in multiple territories on Star internationally" expected in late 2021.
FX also confirmed they're working on an "Alien" TV show, based on the film series, helmed by "Fargo" and "Legion" creator Noah Hawley. The show will be set "not too far in the future" and take place on Earth. "The Handmaid's Tale" was also given an early Season 5 renewal, while "It's Always Sunny In Philadelphia" got a four-season renewal.