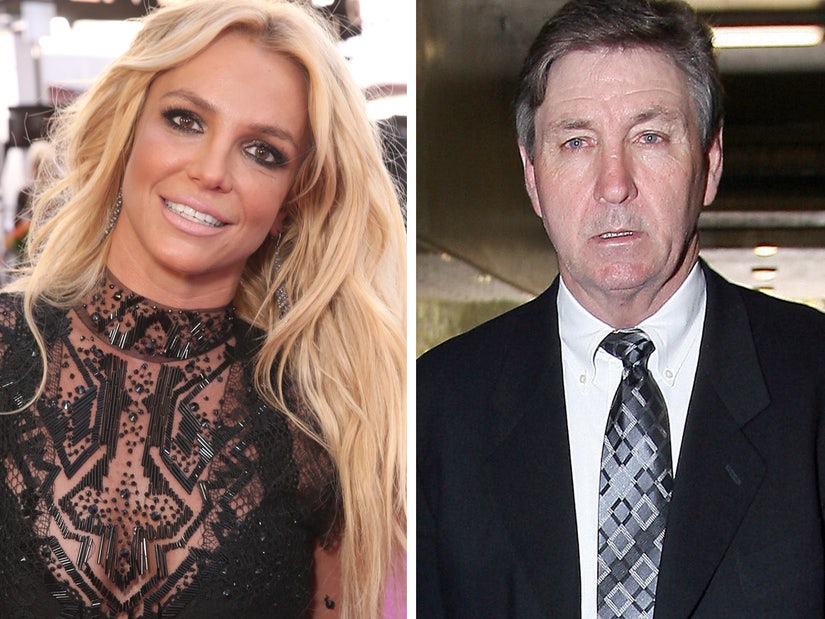 Getty
Britney's lawyer, meanwhile, says they're "disappointed" by her father's statement.
The #FreeBritney movement just scored a major victory -- Britney Spears' father, Jamie Spears, has agreed to step down as her conservator.
In new legal docs filed Thursday, per TMZ, he indicated he would do so "when the time is right" and intends to "with the Court and his daughter's new attorney to prepare for an orderly transition to a new conservator."
While he did agree to step down, Jamie's lawyers don't believe there are any "actual grounds for suspending removing" him as head of her estate -- and wrote, "it is highly debatable whether a change in conservator at this time would be in Ms. Spears' best interests."
The docs went on to say that Jamie's "public battle" with Britney wouldn't be good for her either and called him the "unremitting target of unjustified attacks." They continued: "Regardless of his formal title, Mr. Spears will always be Ms. Spears' father, he will always love her unconditionally, and he will always look out for her best interests."
Britney's lawyers released their own statement about the development, saying they are "pleased but not necessarily surprised" by Jamie's decision. "We are disappointed, however, by their ongoing shameful and reprehensible attacks on Ms. Spears and others," the statement continued.
"We look forward to continuing our vigorous investigation into the conduct of Mr. Spears, and others, over the past 13 years, while he reaped millions of dollars from his daughter's estate, and I look forward to taking Mr. Spears's sworn deposition in the near future," it went on. "In the interim, rather than making false accusations and taking cheap shots at his own daughter, Mr. Spears should step aside immediately."
The next status hearing in the case is scheduled for Sept. 29.
Spears has been under a conservatorship since 2008, with her father in control of both her personal and professional life. In June, amid the ongoing battle to oust her dad, Britney herself spoke out about the situation for the first time, during a blistering and heartbreaking 20-minute statement in court.
She painted a horrific picture of abuse from being forced to perform despite her protests to being forbidden to have children with her boyfriend Sam Asghari because the conservatorship won't allow her to get her IUD removed. She even says she was put on lithium against her will after she shut down her Vegas residency. "I would honestly like to sue my family, to be totally honest with you," she said.
After the news broke on Thursday, stars began to reiterate their support for Britney on social media.
"I'm so happy to hear this news," tweeted Paris Hilton. "It's been so long overdue but I'm so glad that Britney is on her way to finally being free. Sending so much love!"
Tweeted Cher: "IF I WAS BRIT I'D GET A FORENSIC ACCOUNTANT. I COULDN'T HAPPIER 4 HER IF I WAS TWINS."
"It's wonderful so many have supported Britney!" exclaimed Dionne Warwick. "I've just heard the news! Wonderful things can happen when we stand together… but not too close because I have just learned that some of you do not bathe."
Eiza Gonzalez, who was in the Netflix film all about conservatorships "I Care A Lot," shared a lengthy post of her own on Instagram.
"Congrats @britneyspears this is such beautiful news and a huge step even though there's ways to go. Progress is progress. Conservatorships are dated and archaic," she wrote. "This moment in time is poignant and should ripple effect to push for the reforming of these laws. We should be more aware how conservatorships are rigged and systematically built to pray on innocent people with mental and physical disabilities to take monetary advantage. Lift the curtain a bit more on how corrupt it is. It's time to see a woman live her life under her own terms and be able to move forward from innocent mistakes she made as a young woman. As a die hard lifetime Britney fan this the best news I've heard this year!!! beautiful soul keep fighting for your justice."
Meanwhile, Lynne Spears -- who was slammed in Jamie's court filing -- released a statement saying she was "pleased Jamie has agree to step down." Her attorney's statement added, "Lynne entered into this conservatorship to protect her daughter almost three years ago. She has accomplished what she set out to do. She will have no further comment."