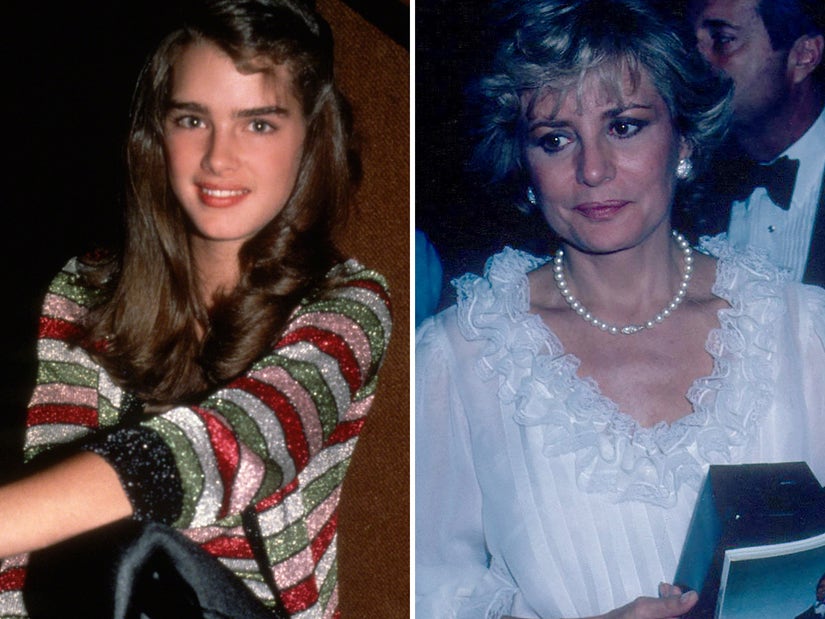 Getty
15-year-old Shields was put on trial for her controversial Calvin Klein ad
In particular, Dax and Brooke talked about her 1980 Calvin Klein campaign and the media's response.
Brooke, then 15 years old, modeled the jeans and notoriously said, "You want to know what comes between me and my Calvins? Nothing."
The innuendo broke that era's version of the internet ... something the young teen was unfairly held accountable for.
Amid the media frenzy, teenage Brooke was put on trial in various interviews, including a sit down with Barbara Walters. The decorated journalist probed the adolescent about her sexual history, her "measurements," how her mother "took her childhood," and other invasive questions.
Dax called the interview "maddening" while also noting that he was not there to skewer Walters but rather the era she was a product of.
"It's practically criminal," Brooke said of the interview. "It's not journalism."
In a recent interview with Vogue, the '80s icon reflected on the backlash she received at the time over the Calvin campaign.
"I was away when they all came out, and then started hearing, 'Oh, the commercials have been banned here, and Canada won't play them.' And paparazzi and people screaming at me and screaming at my mother, 'How could you?' It just struck me as so ridiculous, the whole thing," she said of the hoopla.
"They take the one commercial, which is a rhetorical question. I was naive, I didn't think anything of it. I didn't think it had to do with underwear, I didn't think it was sexual in nature," Brooke recalled. "I would say it about my sister, 'Nobody can come between me and my sister.'"
"I think the assumption is that I was much more savvy than I ever really was," she added.
"If they had intended on the double entendre, they didn't explain it to me. If they'd explained it to me, why? Would they have wanted me to say it differently? It didn't phase me, it didn't come into my sort of psyche as it being anything overtly sexual, sexualized in any way."
"I feel like the controversy backfired," Brooke mused. "The campaign was extremely successful. And then, I think the underwear sort of overtook the jeans, and they understood what sells and how to push the envelope. There's an appeal to it that is so undeniable, and they tapped right into it. They knew exactly what they were doing, and I think it did set the tone for decades."