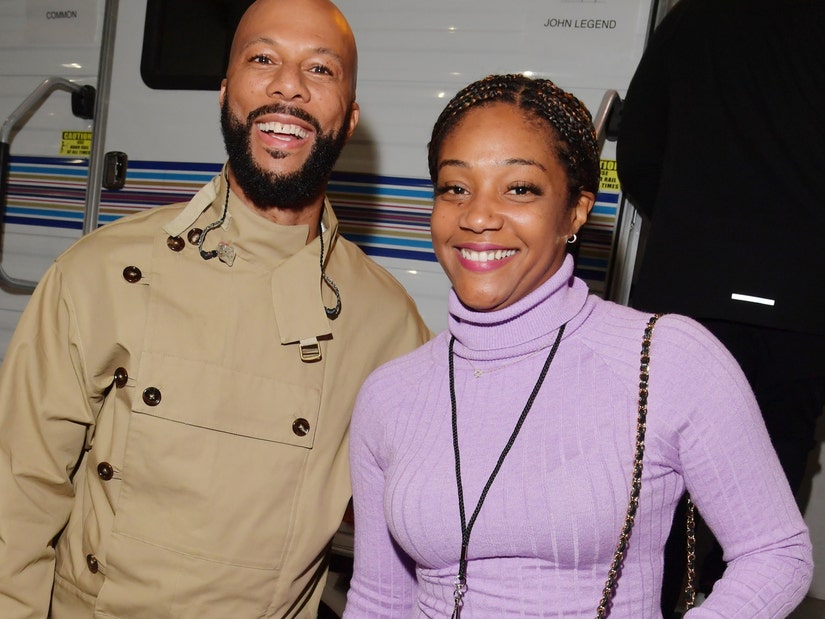 Getty
He blamed their busy schedules -- but Haddish claims "that's not what you told me."
update 12/23 at 10:15am PT:
Tiffany Haddish wasn't too thrilled with ex-boyfriend Common's comments about their breakup.
Appearing on Fox Soul's Hollywood Unlocked With Jason Lee Uncensored -- the same show on which the rapper spilled about their split -- Haddish said she was surprised after Common claimed their busy schedules were what caused them to go their separate ways.
"I was disappointed. I was very disappointed," she told Lee when asked whether she was angry he spoke out. "I was like, Oh, okay, that's not what you told me, but okay."
When asked to share what Common told her, she added, "That's between us."
"I'm fine with it. It's gonna be a new opportunity," Haddish said of the split. "I miss him. I miss him from time to time, but that's with any relationship, any intimate relationship that you might have, you miss them. But I'm fine with it. It's cool."
Lee wondered how the breakup news got out there in the first place, with Haddish saying it wasn't exactly a secret amongst their inner circles.
"More than two people in my camp knew and I'm sure a bunch of people in his camp knew because I sure was calling them like, 'Can you get my stuff out of his house? Can you send it to my house? Thank you, appreciate it,'" she shared.
She added that Common "might be the type of person that never really settles with somebody" and instead is "like a bee going from flower to flower." That being said, she added she wished him "nothing but joy and happiness," before giving a thumbs up.
When asked whether she'd ever date another famous man, she wouldn't fully commit either way -- but exclaimed, "I would f--- one!"
The two went public with their relationship in August 2020, after going on a virtual Bumble date during at the start of the pandemic. The were were already friends after working together on "The Kitchen" in 2019, but that friendship turned to romance.
Appearing on Fox Soul's Hollywood Unlocked With Jason Lee Uncensored this week, Common opened up about what went wrong, while heaping nothing but praise on his now-ex.
Waiting for your permission to load the Instagram Media.
"First of all, Tiffany is, for me, one of the best people I've met in life," he began when asked what happened. "One of the best-hearted and most authentic and caring people that I've met in life. That's what made me love her and be in love with her and want to be in a relationship with her and grow with her."
Calling their time together "the most mature relationship" he's ever been in, he said the communication and respect between them was unbeatable. The 49-year-old rapper went on to say that most of his relationships in the past have "been on the move," due to his busy work schedule -- something he and Haddish didn't really have to worry about as much when the world shut down.
"I think once Tiffany and I got back on the move, it didn't allow for us to spend as much time and put as much energy into our relationship," he explained.
"I don't think the love really dispersed I just think it was like we weren't feeding the relationship. We both care about our crafts and what we do. And we care about love too and partnership, but I think the energy that has been put into our careers and continuing to want to do the things that we do for ourselves and for people, it's like, it was hard for me to balance all of that and keep the relationship fed."
Saying the decision to part ways was a "mutual thing," they agreed they'd continue to love and be there for each other -- but not while in a romantic relationship, "because we won't be able to give to that."
"I don't want to be one foot in, one foot out," he added.
Common went on to say that there was no third party involved in their split, saying, "that's not where my heart and head is." In the end, it came down to their schedules -- concluding that "it's hard when the other person is working just as much, to actually give time and love and nurture into the relationship."