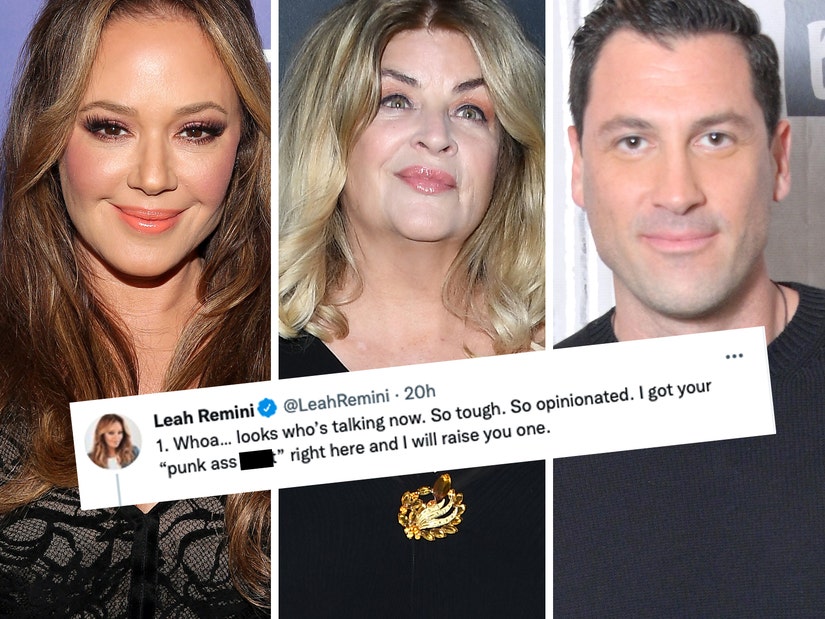 Getty/Twitter
"Pretending you pray to any God is sad," says Remini -- as Alley makes thinly veiled threat to "reveal secrets."
Leah Remini got in on the action over the weekend, chiming in on Kirstie Alley after Maksim Chmerkovskiy called out his onetime "Dancing with the Stars" partner over her tweets about the situation in Ukraine.
"So @KirstieAlley can comment on things she knows nothing about like mental health, psychiatric drugs, and virology, but she won't comment on Putin who is an evil tyrant?" Remini posted on Friday. "No comment about Russia invading Ukraine? The killing of innocent people? The displacement of Ukrainians?"
Added Remini, an ex-Scientologist, "Scientologists aren't allowed to believe in anything else other than Scientology. So who is she praying to?"
On Sunday, Remini shared a screenshot of what appears to be a since-deleted tweet from Alley, responding to some of her critics like Leah.
"I don't care what the punk ass t---- say. I believe in the power of prayer," it read. "I will continue to pray for the people of Ukraine. Putin is a c--- and a coward and I'll pray his own soldiers refuse to do his dirty work. PS, I pray to the same God as you do. So get over your nasty selves."
Remini replied, writing, "1. Whoa… looks who's talking now. So tough. So opinionated. I got your 'punk ass t---' right here and I will raise you one. That's to you and the rest of you p---- ass Scientology bitches (men & women) who are very brave on social media but can't handle any real confrontation."
"Anytime. Anyplace. Stop with the fake tough talk and bring it. You all have been invited to the table many times to handle this face-to-face. But you can't handle it," she continued. "By the way, none of this is very Christian of you of you @KirstieAlley. Your friend Maks is in a war zone and innocent people are dying. Pretending you pray to any God is sad. I wish you did. Stand by your own belief system which tells you there is no God."
Without naming either Leah or Maksim, Alley appeared to respond to them both again, making thinly veiled threats to "reveal secrets" about them both.
"Almost Time to take off the gloves. I have a curtesy policy to not publicly reveal secrets about other celebs, but I'm done with the public lies and covert jabs. And not so covert," wrote Kirstie. "Don't get too excited🤣🤣🤣🤣there are only two… but two too many never the less. One shoots her mouth off and has an IQ of about 75 and the other one like you to think he's a hero .. gotta plot this out."
Remini once again wasted no time hitting back:
2. You feeling froggy @kirstiealley?

Leap then…by all means.

Give up those secrets on others in an attempt to destroy people.

It's Sunday, time to do Gods work right?

Stop playing. Get to work, hon. You just keep proving who you and your cult really are.

— Leah Remini (@LeahRemini) February 27, 2022 @LeahRemini
Maksim Chmerkovskiy has rejected Kirstie Alley's prayers for the situation in Ukraine.
On Saturday the 42-year-old, who is currently pinned down in the capital of Kyiv, slammed his former "DWTS" partner over her unhelpful tweet.
In a somewhat self-contradictory post, the 71-year-old "Cheers" star wrote: "I don't know what's real or what is fake in this war. So I won't be commenting. I'll pray instead."
She later deleted it — but not before Maks caught wind of it, reposting a grab on his Instagram stories, with a stinging reply:
"Dear Kirstie, we haven't spoken in a while, but I clearly remember being right next to you while you were organizing trucks of aid during Hurricane Sandy and I remember all that you were saying to me about situations where innocent are suffering," he wrote.
"That same energy is needed right now. No one needs your prayer if you don't know what's real or fake."
Alley appeared to defend her comments as she got it with commentators:
I'm sorry that I'm not an expert on APPARENTLY EVERYTHING.. like some of you jack wagons. It's ok to admit you don't know things. 🙄🙄🙄

— Kirstie Alley (@kirstiealley) February 25, 2022 @kirstiealley
Maksim meanwhile had much higher praise for someone who was actually helping the situation back in the US: Bethenny Frankel.
"My friend Bethenny Frankel, so she set up right outside the border with Poland in Polish territory. Right after people cross, she receives them and gives them aid.
"A lot of women and children, they get separated from their men — fathers, sons, husbands, whatever — at the border because they are not allowed to leave," he explained. "And so the women make it out without the men, and Bethenny is there to help them out. She has a lot of aid and she's doing an incredible job."
On her own Instagram, Frankel has been sharing her efforts to ship 100,000 hygiene kits, survival kits, blankets, generators and sleeping bags to Ukraine's NATO aligned bordering countries, where they will await refugees fleeing the conflict.
100 percent of donations to her Bstrong campaign are now going to the Ukraine crisis.
Waiting for your permission to load the Instagram Media.
Maksim meanwhile shared terrifying footage from the ground, including a civilian building — "I know that building, I pass by that building a lot" — being struck by a Russian rocket.
He also shared footage purporting to be of captured Russian soldiers, which as many commentators pointed out, looked like frightened children themselves.
To his friends and family back in the US — including his brother Val — he asked that everyone continue the outcry, and keep sharing information.
"Let's just be as loud as we can — as loud as we can," he asked.
"Everybody far away going back to their regular Saturday, [saying] 'It's somebody else's fight': you are correct. it is not your fight. It is not your fight... until it is," he warned.
"I don't want to be dramatic — but I don't feel safe in my distant Malibu if Ukraine falls under this situation."
Maksim was posting from inside his bunker-equipped hotel in Kyiv, as a strict 5 PM curfew was in place.
"Anyone outside after 5pm will be considered a saboteur and will be arrested," he said.