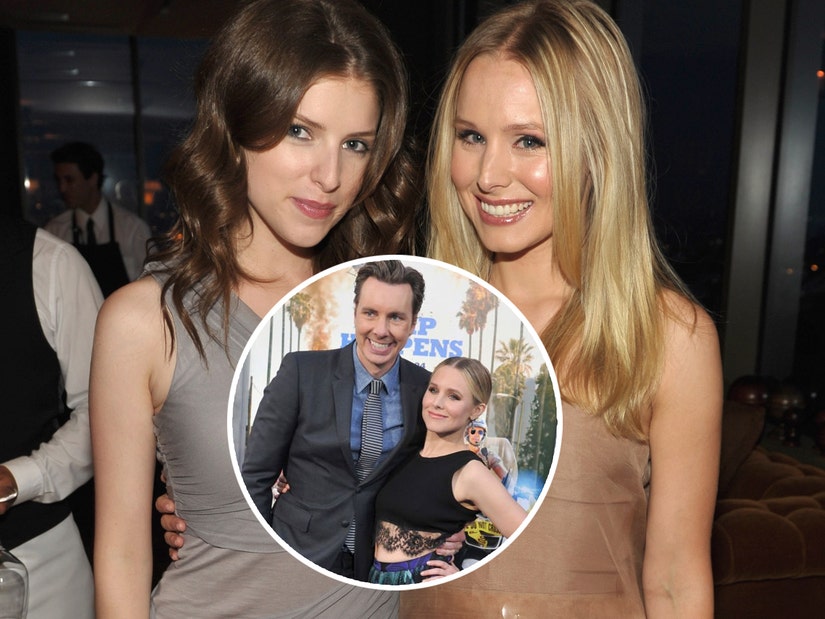 Getty
"I really feel like I have a comically shocked look on my face," said Kendrick after Dax revealed his insight.
The confession came after Dax actually offered up some intel about Bell to compliment his guest, about an hour into their discussion.
"I've known Kristen for 15 years. She has only had jealousy over a single human and it's been you," he told her. "I never saw it, it blew my mind. Kristen was like, 'Who is this other short person?' 'Oh, so she can sing like that too.' 'Oh, I'm already here, we got another one?!'"
"I asked her if I could tell you that today and she said, 'Oh my god yes, of course,'" he continued. "In the whole 15 years, she's had nothing but benevolence for everyone and she monitored you, recognized how brilliant you were, lost some roles to you and slowly processed the whole thing and has nothing but wonderful feelings for you. You're the only person that ever made her jealous that I witnessed."
Kendrick was definitely caught by surprise at the revelation -- remarking, "I really feel like I have a comically shocked look on my face."
"Man, that is bizarre. I had been debating, depending on how this conversation went, sort of saying, gosh, I actually have a funny thing with your wife where I never felt like she liked me," the "Pitch Perfect" star then revealed.
FYI: Bell and Kendrick have never worked together on a project, but have been photographed mingling at a couple events in the early 2010s.
"And I do think that a massive percentage of that is just genuinely, when it comes to really sweet angelic blonde girls, I just assume they think I'm weird, they think I'm this weird little troll," she explained. "I don't think of Kristen as short, I think of her as this angel. She's just so sweet and I feel so rough around the edges that I was like, she must not like me."
When asked by Shepard what she was basing her perception on, Kendrick admitted, "I couldn't tell you" -- before reiterating there was never anything she got from Bell that made her think that way, but was instead something she made up in her own head.
"Maybe there was some energetic thing there. In all likelihood, there wasn't, but it was just my typical thing of certain women who look a certain way scare me and I just assume they won't like me," she said.
"I definitely don't have the reputation she has of being just the sweetest little honey bear, absolutely not my reputation," she also acknowledged.
Though they then moved on with the conversation, Dax circled back to the subject a few minutes later just to make sure everything he had said previously was crystal clear. "I have to be ultra clear with you, she never disliked you. I just want to say that for the record. Never disliked, jealous, which I'd never seen," he said, as Anna said the whole situation was "so unfathomable" to her.
"I'm so, like, what?!" she added, before calling the confusion "fascinating."
After they again moved on with the conversation, Kendrick again brought it back up as Shepard's insight really started to sink in.
"That makes me feel nice," she concluded, before spreading the love by saying Bell is "unbelievably talented and successful at all the things."