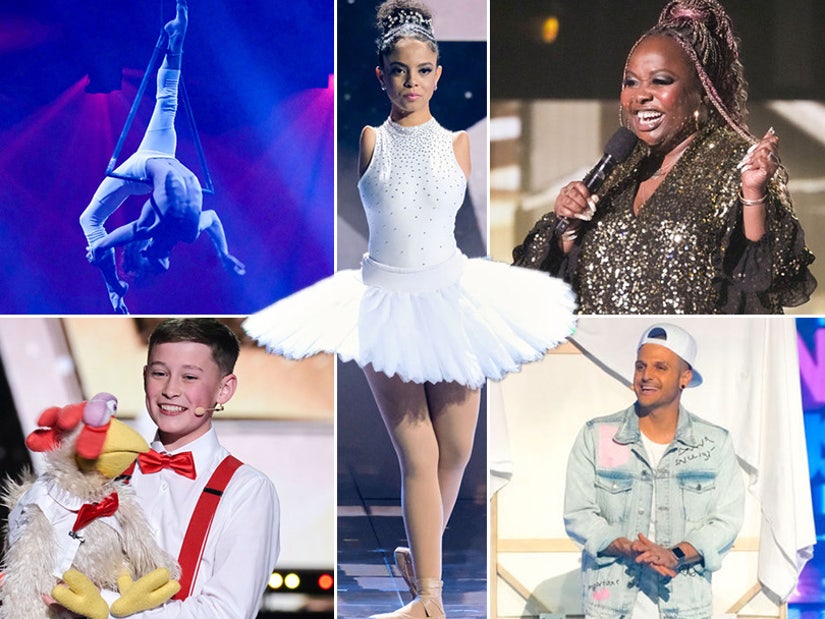 NBC
Season 16 runner-up Aidan Bryant again faces winner Dustin Tavella, among eight other acts vying for only two spots in the finals -- Detroit Youth Choir, Sara James, Jamie Leahey and more!
The night offered up an epic Season 16 rematch with Dustin Tavella, who won that summer, again facing off against his runner-up, Aidan Bryant. But there was, of course, even more competition for both of them, including a surprising act that most recently won India's Got Talent, Divyansh & Manuraj.
Back for redemption from the American edition were teen singer Sara James, Argentinian dance troupe Malevo, the Detroit Youth Choir, and stand-up comic Jackie Fabulous. And then there's Tone the Chief, a novelty act from a decade ago that came on the show to be a one-hit wonder -- so guess which song they performed all these years later?
Like Aidan, the current "Britain's Got Talent" runner-up, 13-year-old Jamie Leahey (and Chuck) was hoping America's love for ventriloquists would propel him to the finals. A runner-up in Germany, pointe dancer Vitoria Beuno, was also hoping to better her performance there with a chance here.
Tonight, Terry Crews had all the Golden Buzzer power, meaning he was the only one eligible to push that button and send someone straight through to the finals. One of his previous Golden Buzzers, Detroit Youth Choir, was among the contenders. Could he resist pushing it for them again, or would someone else stand out even more?
Fair warning, since I'm safe at home, I'm probably going to be a little harsher than my colleagues Howie Mandel, Heidi Klum, and Simon Cowell. But I might be nicer, too. Maybe.
And just for fun, I'm gonna rank them from worst to first to see how my favorites do and then we can see how you did -- i.e., if you agreed with me.
(rapper - AGT:S8 semi-finalist) Kind of a hilarious act the first time around because the goal was to be a one-hit wonder … and so they performed the same song every single round of the competition. They got the "B-Double-O-T-Y"s in the house bopping, but it wasn't enough to win then. Hilariously, they shared that it was erroneously uploaded to the children's section in 2013 where it went straight to number one (for two days).
So what did they bring nearly a decade later? The exact same thing. Of course. The song is catchy and they're definitely delivering it with a lot of energy, but didn't Sir Mix-a-Lot already cover this topic in the most iconic way possible? It's a cute novelty act performed very well, but it's not going to win a show like this. We do hope they get some viral success out of it because they seem like genuinely good guys who are just looking to get some fun out of life.
(ventriloquist - BGT:S15 runner-up) The charm of Jamie and Chuck is their banter and relationship. With this short audition, we basically got only a hint of that before they performed a song, which is becoming the go-to stunt for ventriloquists. We'd have liked to see a little more emphasis on the comedy, because they're really quite charming. There are better ventriloquist singers (Darci Lynne comes to mind), so with what we got, we found ourselves feeling a bit underwhelmed.
(singer - AGT:S17 finalist) A sweet young girl last year when she competed, we're thrilled to hear she's achieving her musical dreams back home in Poland, achieving 8 million Spotify dreams and performing all over the country. She has such an impressive instrument at such a young age (she's still only 14!) and is already a big star there, having won "The Voice Kids" and represented Poland at "Junior Eurovision." This would just be another feather on her already impressive cap.
We were not at all on board with her choice to have so much echo on her vocal for the entire first verse and chorus. Her voice is so mature and beautiful that we were feeling cheated out of hearing her full talent on this stripped-back take of Harry Styles' "As It Was." We'd have rather seen her do a medley that included perhaps some of her own original music, even if it is in another language, to give us a sense of her artistry. It was vocally impressive, as always, but not dynamic enough at this level.
(dancer - Germany's Got Talent [Das Supertalent]:S15 runner-up) Here's the thing about dance. It's a full-body experience that requires years of training and mastery of all of your extensions and limbs because balance is such a key component. The fact that Vitoria is taking on pointe without arms changes everything for her because she loses two of those key components to control her balance. It's amazing how she's been able to compensate for that and bring genuinely beautiful, lyrical movement across the floor. The instinct is to expect bigger and flashier moves, but then we have to consider how many use arms to execute them. Vitoria is a gorgeous and inspirational performer who had some truly magical moments up there. She touched our hearts with this piece, delicate and at times simplistic as it was.
(comedian - AGT:S14 semi-finalist) From single to married, Jackie's whole demeanor and her act has evolved since last we saw her. Her material was all from the point of view of a married woman in her early 50s and it was sharp and bitingly hilarious. The "Morgan Freeman" content wasn't as finely honed as the later bits about her love life, but the whole act really held together nicely and did what all good comics should be doing; making you comfortable and inviting you into their reality where things are much funnier than in yours. Jackie does that very, very well.
(beatboxer & flautist - India's Got Talent: S9 winner) Certainly an act like nothing we've seen before on "AGT," and what a refreshing and interesting way to start the show. We'll start by saying that Divyansh is an incredible beatboxer, but who'd have thought pairing him with an equally outstanding flautist would create such magic. It was mesmerizing in that we had no idea where it was going. We actually enjoyed the more Indian music than their take on "Believer," but it just goes to show the different cultural tastes around the world (as we suspect this act would have struggled to win in America -- even though they're pretty great at what they do).
(dancers - AGT:S11 semi-finalist) The first thought that came to our minds after seeing this was, "Are you not entertained?!" The traditional Argentinian Malambo dance style was well represented with great footwork, incredible drumwork and more. We loved how they used they created percussive sound with rhythm throughout and their energy never let up from start to finish. It was a relentless piece that required precision from everyone, as they were often working in tandem. Other than one briefly wobbling drum, what we got was perfection in execution.
(choir - AGT:S14 runner-up) As soon as we saw that it was Terry's night to hand out the Golden Buzzer and then we saw that this act was on the show this week, we wondered if he would again hand out the honor to one of his favorite acts of all time. Their story inspired him as much as their music back in 2019 and they had a very, very good run that year … with Terry screaming in their corner the whole way.
Once again, there's just something about the passion these kids put into this performance, and the belief that their director Mr. White has in them, that leaves us feeling emotional. It was a solid choral performance -- though we'd still like a little more choir arrangement so they're singing a melody and accompanying harmonies to add more layers to the piece. We love the physicality of what they do, with an infectious energy that takes us on that journey right with them.
As always, they raise the roof and excitement level in the room, and it was evident that again their story and passion and commitment to what they do touched Terry. These kids speak to the kid he was, so it was almost inevitable the moment they were booked on a week he had this kind of power that he would once again grant them his Golden Buzzer. We just found ourselves wondering if he'd decided to do that before anyone had performed.
(magician - AGT:S16 winner) As always, Dustin has this amazing ability to blow us away with his magic, inspire us with his story and touch us with his heart. It's one of the most heartwarming and beautiful acts we've ever seen, the perfect way to combine motivational speaking with something that grabs your attention in a whole different way to where you almost don't realize how special his words are behind the magic. Dustin remains a one-of-a-kind soul who brings more than one kind of magic to the stage. Our jaws drop, but so do the tears.
(aerialist - AGT:S16 runner-up) Knowing he was facing the guy who beat him two years ago, Aidan put in even more time on his craft, but also felt even more pressure on himself. At only 18 years old, could he hold it together enough? Now that he's got a few more years under his belt, did he get better enough to beat Dustin, who is a master at his craft?
Well, Aidan stepped up in a huge way. He said his flexibility and choreography were improved. If anything, he understated it. He's practically a contortionist now and the sheer audacity of some of his moves, holding on by his neck, by the slightest connection of his body as he spins and flies through the air. We were breathless watching this performance and seeing things we haven't seen yet (and a mistake that could have killed him but he made it work). And he's only 18. Imagine where he'll be in the next decade! The back half of the act wasn't as mind-blowing, but the overall performance was just incredible.
Interestingly, in our rankings above it again came down to Dustin Tavella and Aidan Bryant. To be honest, the only reason we put Aidan ahead of Dustin here is because he improved so dramatically from the last time we saw him. Dustin was equally stellar, but we had to reward that exponential growth. Would America?
Unlike last week, it really did feel like this week's acts were a little easier to predict. Honestly, Malevo and Divyansh & Manuraj were the only other acts that really felt like "All-Star" material this week. In prediction a Top 3, we just had a feeling that the Indian winners were a little too avant garde for American audience, so we'd put Malevo alongside our personal Top 2. As for who might win, it's really hard to say.
Last week, The Bello Sisters surprised us with a big victory from the Superfans, so if it's the same people this week voting -- or people with a similar mindset -- that could spell success for Aidain. Perhaps this year's fans are interested in these dangerous acrobatics acts. Dustin inspired and moved us, but was it too much of the same?
We kind of had a feeling that the Superfans would also see the incredible growth that Aidan had since we last saw him and feel compelled to reward that hard work that so clearly paid off. This could well have been his big redemption moment. And to topple an "AGT" winner -- the guy who beat him -- would make it that much sweeter.
Aidan Bryant was the first to get the good news, sliding into America's Top 3. He was joined by a big surprise for us -- but certainly an impressive and unique act -- Divyansh & Manuraj. Maybe America is a little more avant garde than we anticipated. We'd love if this brought more unique musical fusions to the "AGT" stage. We love our fusion restaurants, so why not variety acts?
Then, in a truly stunning upset that left us completely stunned, Vitoria Bueno took the final spot. We acknowledge that she's incredible to be able to do what she does with her disability, but we're just not as sold on it as a winning act in this format. Plus, what a shocker that Dustin Tavella didn't even place!
With our predictions thrown out, the only thing we got right at this point was that Aidan did actually beat Dustin. At the same time, we didn't think the other two acts would make it this far. It would be easy to say Aidan wins from here, but they may have a larger base of support than we anticipated.
A "Got Talent" winner and two runners-up -- clearly, these are among the best acts the franchise has ever seen as they're here again. Alas, this was as far as the journey would go for Vitoria, leaving an aerialist against a unique flute/beatbox combination.
In the end, it was Aidan who came out victorious, redeeming his last "AGT" appearance by beating Dustin and setting himself up again for a shot at total victory. While he doesn't have to face Dustin again, he does now have to face Bello Sisters, Light Balance Kids and Detroit Youth Choir (and that's just these first two weeks). It's going to be a competitive finals!
"America's Got Talent: All-Stars" continues Mondays at 8 p.m. ET on NBC.