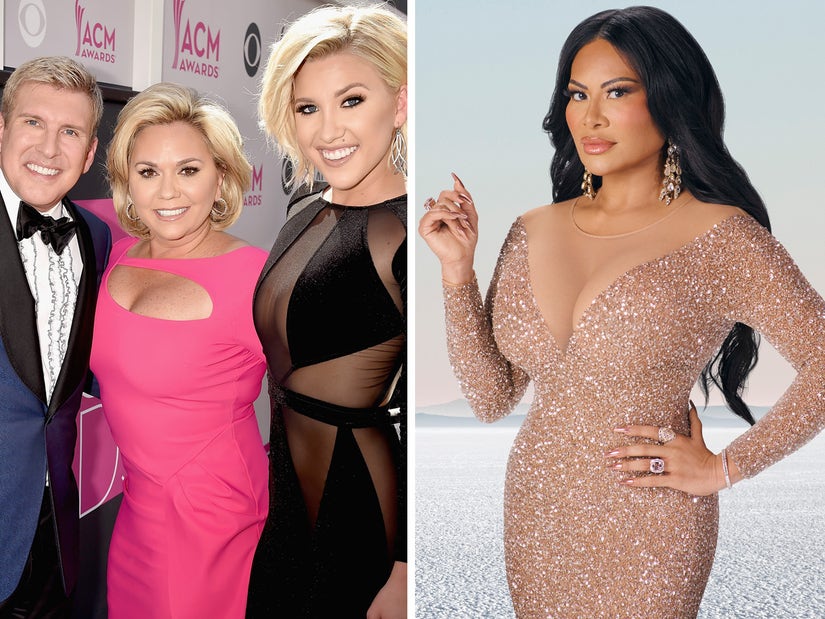 Getty
"We're standing by our truth that it is not guilty, [and] there are no victims."
On Tuesday's episode of Savannah's "Unlocked" podcast, which was recorded on Julie's birthday last week, the "Chrisley Knows Best" star compared her parents' sentence to Shah's, questioning why the latter received a shorter prison sentence than Todd, 53, and Julie, 50.
In November, Todd was sentenced to 12 years behind bars, while his wife Julie was given 7, after being convicted of bank fraud and tax evasion earlier this year. The couple -- who have maintained their innocence -- both received 16 months probation. Todd and Julie reported to their respective Florida prisons on Tuesday to begin their sentences.
Meanwhile, earlier this month, Shah was sentenced to 78 months -- or about 6.5 years -- in prison after pleading guilty to one count of conspiracy to commit wire fraud. The 49-year-old reality star was convicted for her role in a nationwide telemarking scheme, in which many of the victims were elderly and working class.
And Savannah took issue with that fact, saying that it doesn't sense that Shah was found guilty of scamming victims, while she believed there were "no victims" involved in her parents' case.
"Put the cases side by side, and it makes no sense -- it just doesn't," the 25-year-old said to her mom, who noted that Shah's case included elderly victims who "provided victim statements."
"There were hundreds of victims who were elderly, and people that provided statements that lost their homes, threatened to end their lives," Savannah said. "There were so many different things, and she got six and a half years. Make that make sense!"
"Then on the other side," she continued, bringing up her parents' situation, "you have someone who has not admitted to guilt and who will stand firm in that."
Savannah added, "People can say whatever they want to say, in a way that hurt us because they wanted us to say, 'Oh hey, we're guilty ...' We never did that because that's not the truth. We're standing by our truth that it is not guilty, [and] there are no victims."
Julie chimed in, agreeing with her daughter. "There were no victim statements. There were no victim statements read. There were no victim statements received to our knowledge," she claimed.
Savannah went on to say, "None of it adds up, and to me, there's more to it. ... I have committed myself to figuring out what that is and for us to get to the other side of this so that we can help other people who are going through things like this."
Meanwhile, on Tuesday, the day her parents surrendered to prison, Savannah shared a post on her Instagram Story in honor of her mom.
Alongside a photo of Julie smiling, Savannah wrote, "Will forever fight for this smile ❤️I love you mama."