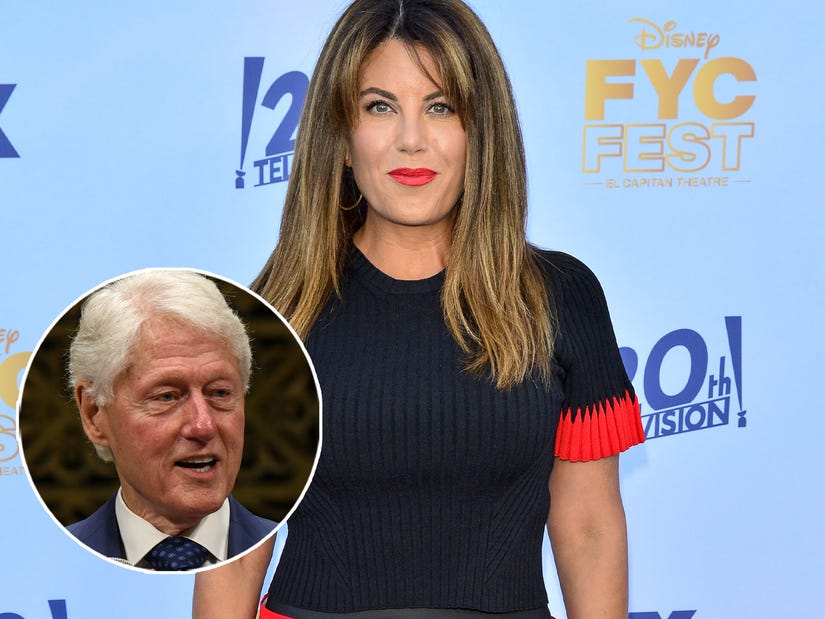 Getty
The 49-year-old also throws shade at "one of the world's worst friends: Linda 'Judas, hold my beer' Tripp."
On January 21, 1998, news broke about Lewinsky and then-President Clinton's affair. The latter was impeached as a result, while the former became the subject of public shaming in the 1990s after explicit details of the scandal with Clinton were made known to the public during the impeachment process.
In a newly-published piece, which she wrote for Vanity Fair, Lewinsky, 49, listed 25 "randoms" she has "observed and learned in the quarter century" since her name "became public 25 years ago."
In one note, the writer joked about her affair with Clinton, now 76, writing, "As the years pass, one's taste in partners gets better. (Wink.)."
At another point, Lewinsky threw shade at Linda Tripp, stressing to "choose your friends carefully."
"Twenty-five years ago I had one of the world's worst friends: Linda 'Judas, hold my beer' Tripp," she wrote. "While I have since let go of the resentment and bitterness that surrounded her and her betrayal, it's not lost on me how very fortunate I am to have been able to trust new people. My most emotionally intimate relationships are with my incredible friends. These are the investments most worth nurturing."
Lewinsky has previously said she felt completely betrayed by Tripp, who had been recording their private conversations, and then turned over those recordings to independent counsel Ken Starr as part of the proceedings that would lead to Clinton's impeachment.
In her Vanity Fair piece, Lewinsky also shared more things she's learned in the last 25 years, including accepting that everyone makes mistakes.
"One thing everyone has in common is that we have all made mistakes. It's inevitable. Get comfortable with the Art of the Mistake," she said, while adding in the following section that one "cannot run away from your narrative."
The anti-bullying activist also spoke about some shifts she's noticed from the public at large over two-plus decades.
Lewinsky pointed out how "the blame-the-woman mindset has thankfully receded" and referenced the Clinton scandal as an example. She also explained that fortunately "bullying comedy" isn't very popular now, saying it's "gotten tired."
For her 25th thought, the "American Crime Story: Impeachment" producer wrote, "Lastly, I don't know how to say this other than to be direct and insufferably corny: You can survive the unimaginable. (Not for nothing did I name my film and TV production company Alt Ending.)"
Read her full piece, here.