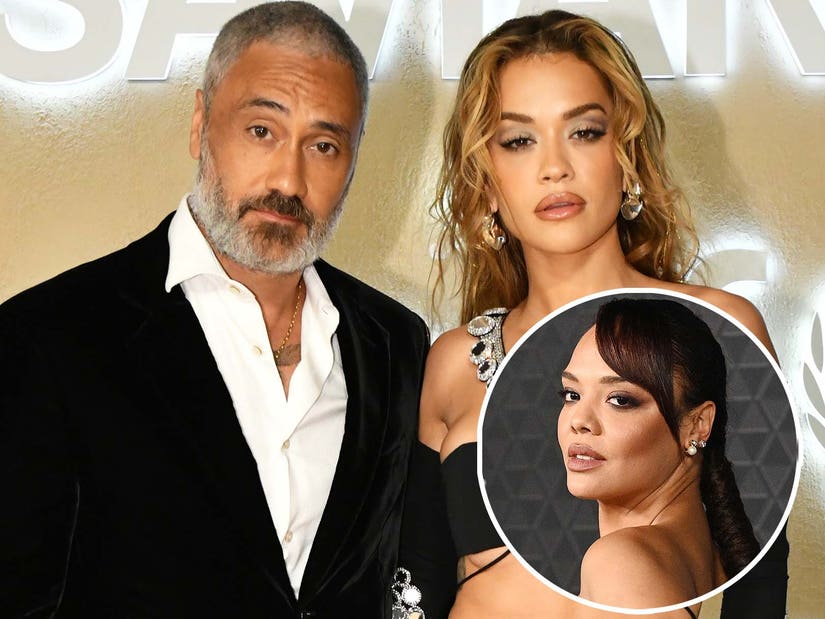 Getty
After a series of photos of them at a bar emerged and went viral
Back in May 2021, Waititi was photographed with his arms around both women who seemed to be laughing hysterically at a joke while sharing a drink. After the photos made the rounds on the internet, rumors the trio were in a throuple went viral.
"I just chose to not acknowledge that because it's ridiculous," Ora told GQ Hype in an interview on Monday. "I think when some things are so absurd, and it's hard to fathom any sense of it, you just have to ignore it. I've taken that approach for a lot of things, because you don't want to put energy towards something that's nonexistent. It's like trying to explain something that didn't happen means you're feeding into nothing."
The "Body On Me" singer explained the photos were the product of friends having fun on a night out while Waititi, 47, and Thompson, 39, were filming their movie "Thor: Love and Thunder."
"Have you ever been in a situation where you've had a lot of drinks and everyone's your best friend? And then the next day you're like, 'I was talking to this person in the smoking area for four hours and I've got no idea who they are?'" she continued. "Literally – that [photo] was just a bunch of friends having a good time. They [Taika and Tessa] had a crazy schedule and everyone was letting loose. I love that. Each to their own."
Though the photos sparked a few crazy rumors, Ora explained how something positive had come from the pictures for her fanbase.
"The good news though, is that when I was on Twitter talking to my fans, all of my incredible LGBTQIA+ fanbases were like, actually – whether this is true or not – I'm so inspired that this is being normalized publicly," she noted. "That made me really happy. You don't know who it's touching."
Ora and Waititi sparked rumors of a secret wedding in August 2022, after they were photographed wearing matching gold bands in London. The two made their relationship Instagram official in April 2022 when Ora posted a photo of her and the Marvel director caught in an embrace. She captioned her post, "Good times, memories, random things on my phone and the ones I love."