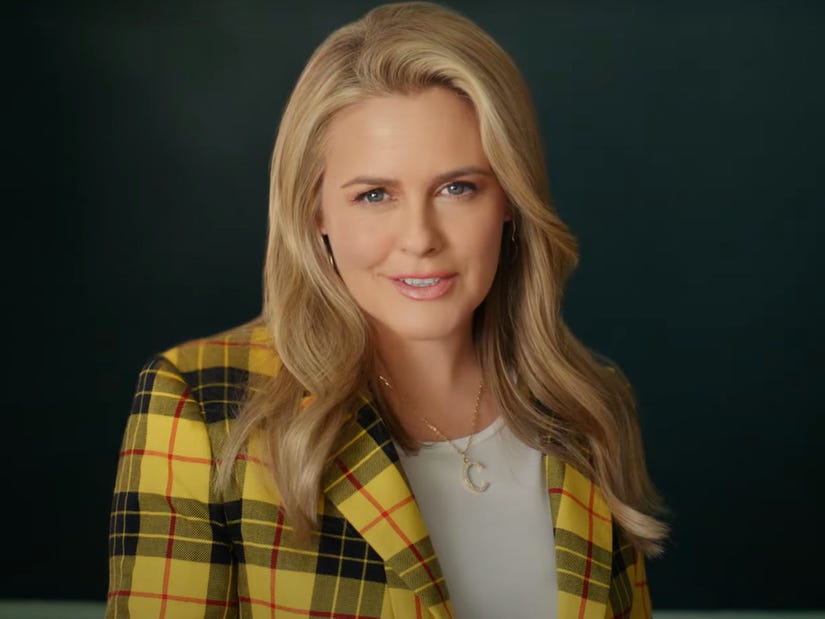 YouTube
"Don't bug -- your girl is back."
In a new 15-second teaser of her Super Bowl ad for Rakuten, which dropped on Wednesday, the actress reprised her role from the 1995 comedy, once again donning Cher's iconic yellow-and-black plaid blazer and matching skirt.
The ad -- which was set to Supergrass' "Alright" from the "Clueless" soundtrack -- featured Silverstone appearing in a classroom while wearing her famous outfit and carrying shopping bags (of course). As students gawked, she strutted up to a podium at the front of the class -- undoubtedly a nod to the film.
The 41-year-old turned around, faced the camera, and said, "Don't bug -- your girl is back." As the teaser ended, the words "Get a clue" flashed on the screen as well as the date of the Super Bowl.
Silverstone posted the epic clip on her Instagram on Tuesday. Alongside the video, she wrote, "It looks like the cat is out of the designer handbag. 👜 @rakuten."
In an interview with People, Silverstone spoke about her partnership with Rakuten, which provides users with cash back and deals while shopping online.
"Rakuten makes it easy to save while you shop, and working with them to revive 'Clueless' for the Super Bowl stage made sense with how much Cher loved shopping -- no doubt she would have tons of Cash Back," she told the outlet.
Silverstone has revisited her iconic character in fun ways in the past.
Waiting for your permission to load the Instagram Media.
Back in June 2021, the "Batman and Robin" star made her TikTok debut by recreating a classic scene from "Clueless." In the clip, which featured her then-10-year-old son Bear, Silverstone donned a version of Cher's yellow plaid blazer, and performed a hilarious take on the scene of Cher describing what high school boys are like before she is rudely confronted by one herself.
As shown in the TikTok, Silverstone pushes her son out of the way as she exclaims, "Ugh, as if!" to No Doubt's "Just a Girl."
The following month, Silverstone celebrated the 26-year anniversary of the film's release by recreating another memorable "Clueless" moment in a TikTok video. Again recruiting her son, "The Crush" star reenacted the famous scene in which Cher's dad questions her attire -- the white, spaghetti-strap slip dress a la Calvin Klein.
In August 2021, Silverstone channeled Cher once again for a TikTok video. She recruited her pal, fashion designer Christian Siriano, to recreate the scene in which Cher attempts -- and ultimately fails -- to seduce her crush, Christian, while watching the movie "Spartacus" in bed.
Meanwhile, in 2019, Silverstone rocked her character's plaid, yellow suit jacket when she performed Iggy Azalea's "Fancy" on "Lip Sync Battle" -- after Azalea paid homage to "Clueless" in the original music video.